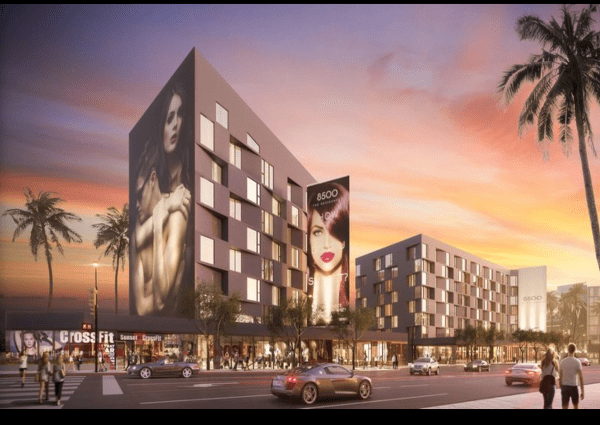 With a 6-1 vote, West Hollywood's Planning Commission reluctantly agreed to amend the zoning code to allow residential buildings in commercial zones that have been illegally renting residential units with short-term leases of 31 days or longer to legally continue doing so for the next ten years.
The change also allows for residential buildings on the Sunset Strip that have already been offering those illegal short-term rentals to now rent 30% of the residential units in the building for periods ranging from 5 to 30 days, provided they pay transient occupancy tax (hotel room tax).
Buildings wanting to offer these short-term rentals must provide copies of leases to prove they have already been doing illegal short-term rentals before they can get the required administrative permits to allow them to now do short-term rentals legally.
After getting that administrative permit, buildings in the Sunset Strip wanting to offer the 5-to-30 day rentals in 30% of the units must also apply for a conditional use permit.
Buildings that have NOT been doing illegal rentals are ineligible to apply for permission to offer short-term rentals.
These zoning changes stem from the settlement of a lawsuit between the city and the owner of the AKA West Hollywood residential complex at 8500 Sunset Blvd. The West Tower of that complex has been offering luxury apartments for rent with leases as short as 31 days since its opening in January 2018, despite city ordinances that make that illegal.
While the AKA West Hollywood complex is the primary beneficiary of this plan for short-term rentals, other residential buildings in commercial zones like the Dylan and the Huxley on La Brea Avenue will also profit from the plan. The Dylan and the Huxley have been offering illegal short-term vacation rentals through Airbnb and other vacation rental websites according to several commissioners, but this will now allow them to do so legally. (The city banned vacation rentals in residential apartment buildings in March 2018).
City staff estimated that 300 residential units in commercial zones will be covered by this plan. AKA West Hollywood has 101 of those units for short-term rentals with 30 of the units now available for the 5-to-30 day stays. AKA requested creation of the 5-to-30 day category as part of the settlement.
William Delvac, a land-use attorney representing BPREP 8500 Sunset LLC, which owns AKA West Hollywood, said that AKA mainly rents units to entertainers/artists in town working on projects for a few months, families of patients receiving medical treatments, people needing housing for a few months while their homes are being renovated, newly separated or divorced people who need housing while they figure out what to do next, etc. Rates for a one-bedroom unit in the AKA West Tower range from $295 to $375 a day, or $9,145 to $11,625 a month.
The commissioners felt they had little choice but to approve the plan since it comes out of the lawsuit settlement, but indicated they didn't like it.
"I feel like I'm operating with one hand tied behind my back," said Commissioner Adam Bass. Several other commissioners echoed his sentiments.
The zoning change allowing for short-term leases only lasts until Dec. 31, 2029. This ten-year window for the short-term leases was negotiated as part of the settlement. Starting on Jan. 1, 2030, all the units will have to become long-term rentals with minimum leases of one year.
As City Attorney Lauren Langer explained, the city is backing this zoning amendment because it offers some "certainty." The lawsuit between the city and AKA West Hollywood, first filed in September 2018, has been expensive and could have gone on for another three or four more years. Similarly, there is no telling what a judge might ultimately rule. With this compromise, the city will have a guarantee the units will become permanent long-term housing beginning in 2030.
Long-term housing is the city's ultimate goal, although Langer indicated the city may consider creating a medium-term land-use category that would cover extended-stay hotels and corporate housing, something the city currently doesn't permit.
Commission John Erickson cast the lone vote against the zoning change, feeling the public wasn't getting a fair say in this decision since it was coming out of a lawsuit settlement.
"This is bad public policy. This is a bad land use policy to fit an agreement," Erickson said.
Of the ten people speaking during the public comment period, eight opposed the plan. Resident Douglass Hoblan questioned why the city was writing policy to accommodate a business that has been violating the law, while resident Michael King said long-term tenancy is what contributes to the stability and well-being of a neighborhood and of the city.
The West Hollywood Chamber of Commerce also opposed the plan, with chamber president Genevieve Morrill saying it was an "overreach" that is just a settlement of a lawsuit.
The two people speaking in favor of the proposal during public comment were both connected to AKA.
Several commissioners were skeptical of this settlement, afraid that in 2029 AKA West Hollywood will request an extension for the short-term housing. They wanted to condition the zoning amendment so that no extensions would be possible, but Langer advised against it, noting it would tie the hands of future City Councils. Instead, the Commission added language to indicate to future Commissions and City Councils that it did not intend for the plan to be extended.
With this zoning change, the Commission also clarified that "dwelling units" are intended for long-term use with initial leases of one year or longer. Subsequent lease renewals can then be on a monthly basis. Apartment buildings, duplexes and accessory dwelling units (sometimes known as "granny flats") are all covered by this definition.
Owners of condominiums and single-family homes are exempt from the one-year lease requirement and can offer rental leases as short as 31 days.
The City Council must now approve this zoning change before it becomes official.
In a separate but related matter, the Commission voted 5-1-1 to give AKA West Hollywood the conditional use permit (CUP) that allows it to offer the 5-to-30 day rentals in 30% of its units.
Erickson voted against this CUP as he was opposed to the entire plan while Bass abstained, saying he didn't feel comfortable voting on a CUP that falls under a zoning ordinance that technically does not yet exist since the City Council has not yet approved it.
While the AKA West Tower has a total of 110 units, nine of the units are set aside for long-term rental to low-income residents. City staff reports all nine of those "affordable" units are now occupied.
The East Tower of the AKA complex has 80 units, all of which are rented as long-term units. Eight of the units in the East Tower are set aside for low-income residents, and are all currently occupied.
The AKA West Hollywood complex is part of the Sunset-La Cienega project, which straddles both sides of La Cienega Boulevard on the south side of Sunset Boulevard.
The project, originally known as the Sunset Millennium, was first approved by the City Council in 1999 after a long and contentious battle for approval. Developer Sunset Millennium Associates planned a hotel-office-retail complex to be developed in three parcels. The Sunset Millennium was also the first major commercial development project proposed in the city since cityhood in 1984.
In 2005, the project was altered to include a residential component with 190 units in two towers on the middle of the three parcels. Those 190 units were approved to be sold as condominiums.
In 2011, the CIM Group purchased the project after the City Council agreed to reduce the required public parking spaces by approximately 375 spaces and eliminate a tunnel under La Cienega connecting the parking garages on each side of the street, plus allow the 190 residential units to be rented as apartments.
After construction was completed, the CIM Group sold the middle parcel to BPREP 8500 Sunset LLC in June 2017 for a reported $250 million. BPREP 8500 is a company controlled by New York City-based Brookfield Properties and Pennsylvania-based Korman Communities, which operates the AKA short-term corporate rental business.
BPREP claimed it did not know the city banned short-term rentals when it purchased the property. Despite that, AKA West Hollywood opened for short-term rentals in January 2018. AKA contends it is not a hotel since it does not have typical hotel amenities such as a bellman and a concierge, requires leases and rent in advance and comes fully furnished complete with full kitchen and washers and dryers in units.
The two nine-story towers of the AKA West Hollywood complex were designed by renowned architect Lorcan O'Herlihy.