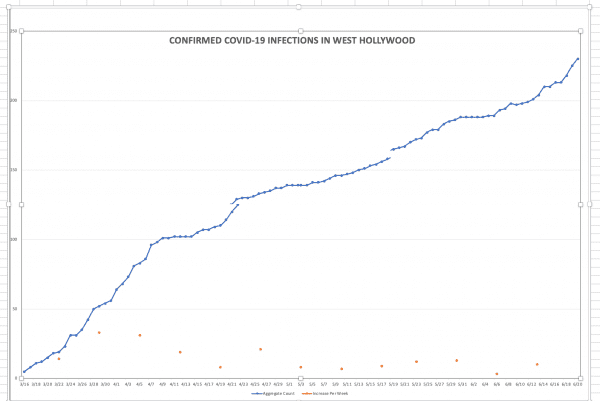 The Los Angeles County Department of Public Health reports 230 confirmed COVID-19 infections in West Hollywood as of today, an increase of five from yesterday's 225.
In its daily update, the Health Department reports 2,364 new infections countywide, bringing that total to 88,262 as of today. The Health Department says there have been 27 new deaths related to infection with the COVID-19 virus, with a total of 3,171 deaths across the county so far.
The number of COVID-19 related deaths of West Hollywood residents remains at four.
"The recent increase in daily cases and rates of positive test results indicates that there is more community spread of COVID-19 in L.A. County," said Public Health Director Barbara Ferrer. "It is as important as ever to use the tools we have to slow the spread of the virus. Please practice physical distancing and wear a cloth face covering. If you have been exposed and/or if you have tested positive for COVID-19 or waiting for results, please self-isolate and stay away from other people, even those who live in your household. These actions save lives."
The Health Department's database shows that 4,960 West Hollywood residents have been tested for the virus. However, the registration website for COVID-19 testing at the Los Angeles city- and county-supported sites is showing no appointments available. According to the Heqlth Department, "the lack of availability is primarily due to L.A. City not opening slots for registration at city-operated sites beyond tomorrow, June 24, as they migrate to a new vendor and registration platform; in addition to paring back testing sites and slots.
All county-supported testing sites, which had appointments opened through Friday, are also full. "L.A. County is also experiencing high demand at the state-supported testing sites, which are full for the remainder of the week," according to the Health Department. Later today, more appointments will open for LA County-supported sites for Saturday (June 27), Sunday (June 28), and Monday (June 29).
There are some additional testing sites that are run independently from the county or state that still do have same day or next day availability. Individuals can visit covid19.lacounty.gov/testing/ for a list of sites that have available testing and to register.
Beverly Hills as of today has 203 infections, an increase of two from Saturday's count. The number of confirmed infections in Culver City has increased by one to 189. The Hollywood neighborhood now has eight new confirmed infections, bringing its total to 403. The Melrose neighborhood's infections total 780, an increase of 11 from Monday's count.
The Health Department reports that there are 1,515 people who are currently hospitalized, with 27% of them in the intensive care unit and 18% on ventilators. Testing results now are available for nearly 979,000 individuals and 8% of people testing positive.
Residents are required to wear face coverings when outside their homes. However, they will not be required for children under two years of age, anyone who has trouble breathing, or anyone who is otherwise unable to remove a face covering without assistance. Children between two- and eight-years-old should only wear face coverings with adult supervision.
Such coverings have been determined to reduce the likelihood that an infected person can transmit the COVID-19 virus through the air by coughing or sneezing or even talking. Some people who are infected may be unaware of it and not showing symptoms at first.
Residents with questions about the COVID-19 pandemic and who are looking for resources to deal with it can find answers on the City of West Hollywood's website. Here is a list of links to sections about particular subjects and issues:
Residents with questions about the COVID-19 pandemic and who are looking for resources to deal with it can find answers on the City of West Hollywood's website. Here is a list of links to sections about particular subjects and issues: