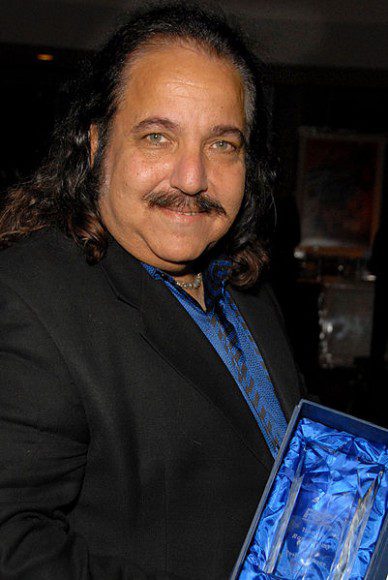 UPDATE: KTLA 5 reports that Ron Jeremy's attorney, Stuart Goldfarv, says the Rainbow Bar & Grill on Sunset Boulevard is the place where his client is alleged to have assaulted the women.
Adult film star Ron Jeremy was ordered today to be jailed in lieu of $6.6 million bail on charges of raping three women and sexually assaulting another in separate incidents in West Hollywood dating back to 2014.
The 67-year-old defendant, whose real name is Ronald Jeremy Hyatt, was handcuffed and taken into custody in a downtown Los Angeles courtroom where he appeared on three counts each of forcible rape and forcible penetration by a foreign object and one count each of forcible oral copulation and sexual battery, according to the Los Angeles County District Attorney's Office.
Jeremy faces a possible maximum sentence of 90 years to life in state prison if convicted of all charges. He is set to be arraigned on the charges on Friday.
The defendant is accused of raping a 25-year-old woman at a home in West Hollywood in May 2014. He is also charged with raping another woman and sexually assaulting a third victim on separate occasions at a West Hollywood bar in 2017 and raping a 30-year-old woman at the same bar last July, according to a statement released by the D.A.'s office. The District Attorney's office declined to identify the bar where the incidents allegedly took place, although that inevitably will be revealed during the trial.
Prosecutors earlier had said they declined to file a case against Hyatt, "due to insufficient evidence, stemming from an incident in 2016."
Deputy District Attorney Paul Thompson of the Sex Crimes Division filed the case on Monday.
Jeremy faces up to 90 years in prison if convicted as charged. Prosecutors said they would ask that Jeremy be required to post $6 million in bail to be released.
Jeremy's porn career was commemorated in one of West Hollywood's two porn star blocks of fame. However, the block that contained his name and hand and footprints was removed from the sidewalk in front of the Hustler store at 8920 W. Sunset Blvd. after the building was purchased by the developers of the London's Arts Club. That block was moved to Hustler's location at 6540 Hollywood Blvd. West Hollywood's other porn block of fame is in front of Studs, the adult theatre at 7734 Santa Monica Blvd. across the street from the intersection with Genesee. Its stars include Harry Reems, Linda Lovelace and Jay Lawrence.
The Guinness Book of World Records credits Jeremy with "Most Appearances in Adult Films" (some 2,000). He also has been inducted into both the AVN and XRCO halls of fame and he has a spot on the Adult Star Path of Fame in Edison, N.J. Jeremy also has worked in a number of non-porn films ("They Bite," 1996, and "The Boondock Saints," 1999). And he was the subject of a documentary, "Porn Star: The Legend of Ron Jeremy," available on DVD.
His television appearances have included "The Surreal Life" with Tammy Faye Bakker and Comedy Central's "Chappelle's Show." His musical accomplishments include a rap single called "Freak of the Week," which peaked at 95 on the Billboard rap charts. He also has appeared in PETA advertisements.
His memoir, "Ron Jeremy: The Hardest (Working) Man in Showbiz," was published by Harper Collins in 2007. He later opened a swingers nightclub named Ron Jeremy's Club Sesso in downtown Portland, Ore., and created a brand of rum called "Ron de Jeremy."