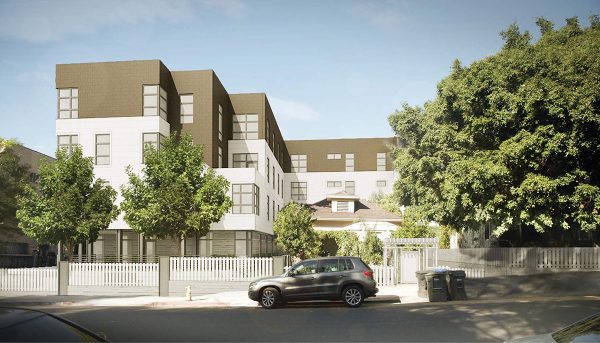 In a "virtual" meeting on July 27, the West Hollywood Historic Preservation Commission will reconsider a previously rejected plan for a building on Palm Avenue that will provide housing and care for the elderly.
The building is proposed for the lots at 923-931 N. Palm Ave. It would contain 48 studio apartment units, with a stand-along bungalow on the lot used as another senior housing unit. There would be parking underneath the building.  It would be behind two other bungalows at 927 and 931 Palm Ave., just north of Cynthia Street, that were designated as historic landmarks in 2013.
In July 2017, the Commission refused to approve the project, agreeing with neighbors of the site that the four-story building would overwhelm the two historic bungalows. Federal historic property guidelines allow new structures to be built adjacent to the historic homes, provided that "when visible and in close proximity to historic buildings, the new construction must be subordinate to these [historic] buildings."
The commissioners said they believed the new building would drastically alter the intent of the historic designation, which was to preserve a feeling of what the Old Sherman district was like when the bungalows were built in 1902.
Duff Bennett, who lives in the house at the rear of the 931 Palm property and was an organizer of the opposition in 2017, has begun alerting neighbors to the upcoming virtual meeting.  Bennett has asked them to call in and express their opposition.
West Hollywood, which has developed a number of "aging in place" programs to help its elderly residents stay in the city, has no senior living facilities. That was called out earlier this year when Jeanne Dobrin, a long-time resident who was active in civic affairs, died at the age of 99 at a senior care facility on Highland Avenue. "' Aging in place' is a myth if we cannot partner with a developer or hospital or nursing home to create a state of the art assisted living facility / senior living center within West Hollywood," said Larry Block in an op-ed published in WEHOville. 
The architect for the project is Ed Levin, a member of the Historic Preservation Commission, who in 2017 recused himself from voting on it because that would be a conflict of interest.
The meeting will take place at 7 p.m. on Monday, July 27.  The city has yet to publish the event on its online meeting calendar or offer information as to how residents can tune in to participate in it. When that information is available, WEHOville will update this story to include it.
Correction: An earlier version of this story said the meeting would take place this coming Monday. Actually it is scheduled for July 27. The story has been updated with that correction.