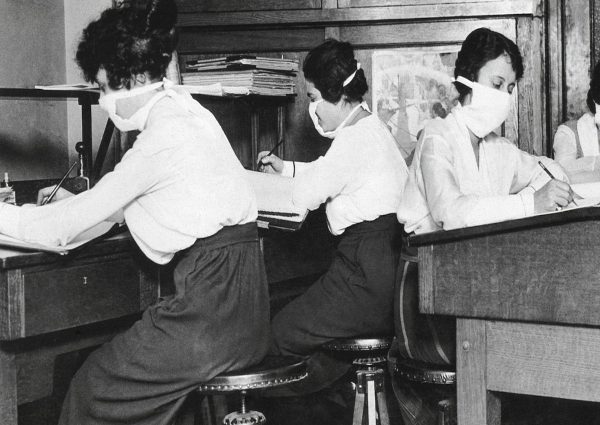 Beginning in 1918, the world experienced one of the deadliest health pandemics in human history. The pandemic became known as the Spanish Flu – not because it originated in Spain, but because Spain was one of the few countries that allowed public reporting. (Other countries discouraged transparent reporting of data, largely to encourage morale for the ongoing war effort.)
In the United States, public health officials offered advisories to protect people from spreading the flu. Prohibiting public gatherings, closing theatres and schools, and committing to excellent personal hygiene were among the recommended practices. One important precautionary measure was wearing masks in public. Organizations such as the Red Cross sold masks to people who were out in public without them. Failure to wear a mask could result in charges of "disturbing the peace" and fines or jail time for continued violations.
Cities had difficulty enforcing ordinances that codified these advisories, largely because of public pushback. In San Francisco, officials repealed their original ordinance in response to public outcry, but later reinstated it when reported cases of the flu significantly increased. Then, the Anti-Mask League of San Francisco formed. They collected signatures to repeal the mask ordinance and to recall the leading public health official in the city. Chief among their arguments was infringement on civil liberties.
Less than one month later, the mask ordinance was repealed. The global health pandemic, however, lasted more than two years, claiming tens of millions of lives. San Francisco was reported to have suffered the most of all major American cities, with a death rate approaching 30 deaths per 1,000 people. Experts say that communities enforcing stricter regulations — starting enforcement efforts earlier and for a longer period of time — had lower death rates.
Now, 100 years later, we are in much the same set of circumstances — though San Francisco has done an exceedingly better job this time around. In West Hollywood, we also have a responsibility to learn from history. While efforts to re-open our city are ongoing, COVID-19 is still with us, and we do not yet have a vaccine or cure.
We continue to encourage everyone to remain Safer in the Community. Practice physical distancing. Wash your hands for at least 20 seconds and use hand sanitizer. Monitor your symptoms. Get tested. Quarantine for 14 days if you have been exposed to someone who has tested positive. Make a plan with your doctor.
In accordance with State law, as well as county and city orders, West Hollywood requires wearing a face covering in public. All of the city's media outlets carry the message. The city's parks feature signage as a reminder. Face coverings are readily available throughout the community. In addition to DIY options, local stores now have reusable and disposable face coverings part of their regular inventory.
To enforce the Health Officer Orders, Block by Block Ambassadors and Pacwest security guards have issued warnings to people without face coverings in public. LASD personnel from the West Hollywood Station are distributing masks to people who do not have them, and issuing warnings and citations for failure to wear face coverings, as appropriate. The city's Code Compliance staff regularly respond to complaints about lack of face coverings or failure to comply with other protocols. Businesses are struggling to stay alive, so we must do all we can to get them into compliance and support efforts to keep them in compliance so people are as safe as possible.
The highest number of confirmed cases in the Los Angeles area is among people ages 18 to 40 years old. No one is immune. Not only must you protect your own health, but also consider the safety of our most vulnerable community members — those living with compromised immune systems or respiratory issues, or our older adults and seniors. They simply cannot risk being out in public with people who are not wearing face coverings. Choosing not to wear one means isolation and loneliness for others. If someone asks you to wear a face covering, do the right thing! It is a gesture of kindness, courtesy, and compassion to wear a face covering. Consider it your civic duty to stop the spread of coronavirus. We ALL have an important role to play in making sure our residents can stay healthy, our businesses can thrive safely, and our visitors can return with confidence to West Hollywood.
When we look back on this time, we want to see that we learned from our past. We do not want this pandemic to be named after our country because we lived in ignorance, or failed to accurately report the data, or refused to take it seriously. We do not want another economic shutdown or a growing death toll. We do not want neighbors turning against one another over the simple act of wearing face coverings to stop the spread. The quality of life for all of West Hollywood's residents and the vibrancy of our local economy are at stake.
Wear a face covering.
Physically distance and respect people's space.
Most importantly, take care of each other.
For Los Angeles County data: http://ph.lacounty.gov/coronavirus
For the latest from the City of West Hollywood: www.weho.org/coronavirus