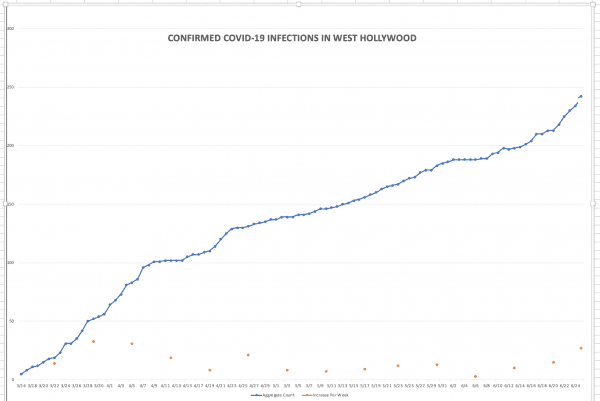 The Los Angeles County Department of Public Health today reported 2,169 newly confirmed COVID-19 infections and 23 new deaths related to the virus, with its director continuing to express concern about the rate of infections.
"We are at a critical moment in our COVID-19 recovery journey," said Dr. Barbara Ferrer. "Over the last few weeks, businesses and public spaces have reopened, and many more people have been out and around others. With increased contact among non-household members, there are many more opportunities for transmission of COVID-19, particularly if public health directives are not followed, and the data is now showing concerning trends. We're safer in the community only if we follow the very specific directives issued by public health."
Today's infections bring the total in Los Angeles County to 95,371, with 3,285 deaths. The number of West Hollywood residents confirmed to be infected has increased by two to a total of 242. The death toll remains at four. According to today's report, 5,269 WeHo residents have been tested for the virus.
In its report today, the Health Department said the seven-day average of daily new cases is over 1,900, an increase from the 1,379 average two weeks ago. There are 1,698 people currently hospitalized, higher than the 1,350 to 1,450 daily hospitalizations seen in recent weeks. Testing results are available for over 1,037,000 individuals, with 9% of people testing positive.
In a statement yesterday, Ferrer mentioned recent decisions to open up more non-essential businesses as a matter of concern. Those businesses include bars, which have been allowed to open if they follow rigid requirements that include making customers sit at tables or stools that are six feet apart from one another. On a quick walk today along Santa Monica Boulevard west of La Cienega, this writer noted that Mother Lode bar has re-opened. Also open are Trunks, Fiesta Cantina, Rocco's and Beaches.
More than a dozen people walking along Santa Monica Boulevard this afternoon were not wearing face coverings, which are required under an urgency order issued by the Health Department and City Manager Paul Arevalo. Failure to wear face coverings is an issue in other areas. One WEHOville resident said that a security guard outside the Real Real retail store on Melrose Avenue today wasn't wearing a face covering. She approached him and a sales clerk to alert them that a face covering was required and, she said, they were dismissive. She also called the city's Block by Block security ambassadors and was told that they couldn't enforce the requirement.
The West Holywood Sheriff's Station has said that it will alert people that they are violating the law if they aren't wearing a face covering, and that it is distributing face coverings to people not wearing them. However, there were no officers visible on Santa Monica Boulevard on the city's Westside this afternoon.
Face coverings are required because there is evidence that they can reduce the chance that someone infected with the virus can spread it through the air by sneezing, coughing or even talking. People infected often may be unaware of it because it can take many days for the virus to make someone feel ill.
By law, anyone outside who is over the age of two must wear a face covering, with exceptions for certain disabled people. .
According to today's Health Department report, the number of confirmed infections in Beverly Hills as of today has increased by nine to 218. The number of confirmed infections in Culver City increased by four to 197. The Hollywood neighborhood now has 13 new confirmed infections, bringing its total to 428. The Melrose neighborhood's infections have increased by 11 to a total of 823.
Residents with questions about the COVID-19 pandemic and who are looking for resources to deal with it can find answers on the City of West Hollywood'swebsite. Here is a list of links to sections about particular subjects and issues: