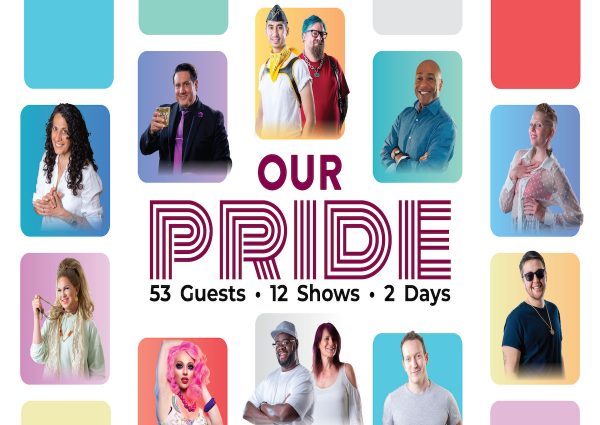 Here TV, America's first and largest LGBTQ+ video channel, is partnering with The Fight Magazine and WEHOville.com for OurPride, a two day, 12-hour virtual Pride event featuring discussions with activists, political leaders, drag queens and comedians in addition to live entertainment from a rainbow-wide stripe of musicians and artists. OurPride will take place today and Sunday and will be broadcast on all Here TV platforms including the Here TV App, Amazon, Roku, Sling, Facebook Watch, Instagram TV, Here TV's AVOD service Planet Out, and all major US cable operators.
"Pride stands for equality for all," said Christopher Donaldson, vice president of content at Here Media. "Inspired by the Civil Rights Movement, Pride started as a protest against an unjust system that refused to recognize the humanity of the LGBTQ community. Trans and queer people of color at Stonewall fought for their right to live without fear and today we celebrate their great contributions to our movement. Here TV recognizes the importance of intersectionality. We see strength in diversity and inclusion. We're thrilled to partner with The Fight Magazine and WEHOville.com for the worldwide broadcast of OurPride as a way to uplift our brothers and sisters during this unprecedented time in history. Happy Pride"
The event will also include exclusive interviews with leaders and influencers from the trans community, the Los Angeles Leather Coalition, Tom of Finland Foundation, our elders, the drag community and many, many others.
"On Feb. 1, 1967, gay men and lesbians gathered outside the Black Cat bar on Sunset Boulevard to peacefully protest a police raid that resulted in the arrests of the bar's gay and lesbian customers," said Henry (Hank) Scott, editor and publisher of WEHOville.com. "In the 53 years since then, the LGBTQ communities in Los Angeles and nationwide have allied themselves with one another in a largely successful fight for equality. WEHOville is proud to ally itself with The Fight in the production of OurPride, a celebration of that fight and the incredibly diverse communities that have come together to remind us to be Proud of who we are. "
Those appearing on OurPride include Congresswoman Katie Porter, Iman, L.A. County Supervisor Shiela Kuehl (3rd District), Congresswoman Linda Sanchez, Margaret Cho, David Hernandez ("American Idol"), West Hollywood City Councilmember John Duran, Gina Yashere, LA LGBT Center CEO Lorri L. Jean, LA City Councilmember Mitch O'Farrell, Jai Rodriguez, Luckie Alexander, Erin Foley, Oneup Duo, Ian Harvie, Mumu, Sizzy Rocket, and more.
The OurPride website has all the information you will need to celebrate Pride this weekend from the comfort of your home.
Here TV launched in 2004, making it the world's first SVOD LGBTQ+ video service and is available on all major US cable operators including Xfinity, Spectrum, Cablevision, FiOS, U-Verse, Cox, as well as Amazon, Roku, Sling and the Here TV app (www.here.tv) where it can be viewed on all iOS and Android mobile devices. Here TV reaches millions of viewers each month and has produced Academy award-winning films in addition to receiving four Daytime Emmy Award nominations.