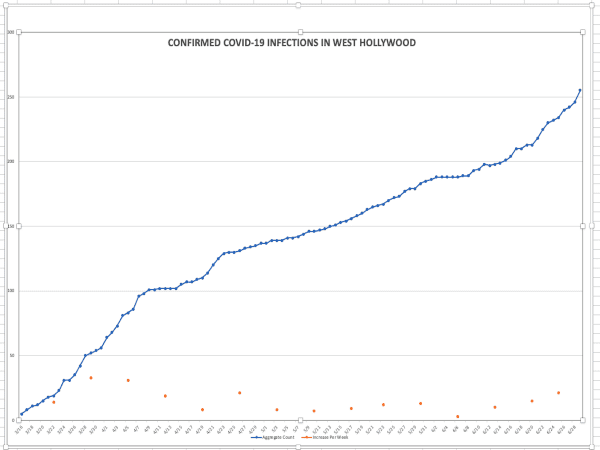 UPDATE 7:15 p.m.: The Health Department's database reports that six people at the West Hollywood Sheriff's Station have been confirmed to be infected with the COVID-19 virus as have three employees of Whole Foods at 7871 Santa Monica Blvd.
As of today, there are 255 confirmed COVID-19 infections in West Hollywood. That is an increase of nine from the 246 reported on Sunday and the largest day-over-day increase reported so far.
The Los Angeles County Department of Public Health today announced 2,903 new COVID-19 infections countywide, which it said is the single largest one-day case count since the pandemic began. That brings the total number of confirmed infections in L.A. County to 100,722. The Health Department reports 22 new COVID-19 related deaths, bring the total number of people who have died from virus-related issues to 3,326.
"The alarming increases in cases, positivity rates and hospitalizations signals that we, as a community, need to take immediate action to slow the spread of COVID-19," said Health Department Director Barbara Ferrer. "Otherwise, we are quickly moving toward overwhelming our healthcare system and seeing even more devastating illness and death."
In today's announcement, the Health Department cited data indicating a steep increase in infections. "The seven-day average of daily reported new cases of COVID-19 is nearly 2,000, an increase from the 1,379 average two weeks ago," it said. "There are 1,710 people currently hospitalized, higher than the 1,350 to 1,450 daily hospitalizations seen in recent weeks."
"For individuals, we are all still safer at home, but if you must be out, practice physical distancing and wear a cloth face covering at all times when you are around others," Ferrer said in today's announcement. "Our actions to slow the spread cannot wait – we need to do these actions now and for the weeks ahead in order to prevent even more serious illness and death.
"Everyone must always wear a face covering securely over your nose and mouth and keep six feet apart from others not in your household when out and about. Businesses must continue to follow Public Health directives. It is the collective responsibility shared between everyone including businesses and residents to slow the spread of COVID-19 to prevent an overwhelming surge of COVID-19 cases at healthcare facilities and save lives."
As of today, 235 residents of Beverly Hills have tested positive for COVID-19 as have 205 residents of Culver City. The Hollywood neighborhood to the east of West Hollywood today has 452 confirmed cases.  The Melrose neighborhood has 874.
Residents with questions about the COVID-19 pandemic and who are looking for resources to deal with it can find answers on the City of West Hollywood's website. Here is a list of links to sections about particular subjects and issues: