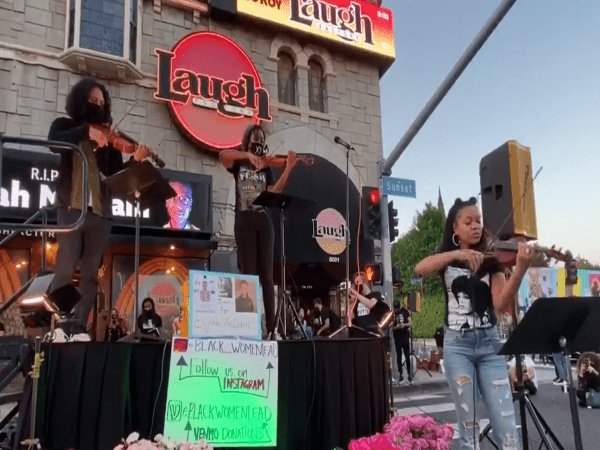 Protests against police violence against Black people have continued to take place in and around West Hollywood since June 14, when tens of thousands marched down Santa Monica Boulevard to protest the deaths of George Floyd and Breonna Taylor.
The latest protests have been small. But one this evening on Sunset Boulevard in front of the Laugh Factory stood out for its music.
That event, organized by Black Women Lead and Justice for Elijah McClain, was to raise awareness of the death of McClain, a 23-year-old Black man who died last summer after being put in a chokehold by a police officer in Aurora, Colo.
Billed as a "violin candlelight vigil," it attracted more than one hundred people who sat on pavement in front of a platform where several violinists performed. Andrew Kimmel, a web and tv producer, captured the event live and shared it on his Twitter feed. @andrewkimmel
McClain was stopped by police officers on Aug. 24 when someone called 911 after seeing him walking home from a convenience store. The caller said that McClain, who was wearing a ski mask, "looked sketchy." McClain died of a heart attack after being choked by police officers trying to handcuff him and being injected with ketamine, a sedative. The police officers were cleared of wrongdoing, but concerns were raised about the circumstances of McClain's death after protests began over the killing of George Floyd.
McClain was a massage therapist who taught himself to play the violin, which was the inspiration for the violin performances.
Cars were parked across Sunset Boulevard at Crescent Heights to stop traffic from getting near those sitting on the street to participate in the vigil. That drew nearly 250 comments on the Citizen app, with most complaining about the vigil blocking traffic and objecting to continuing protests against police violence and some and some making overtly racist comments.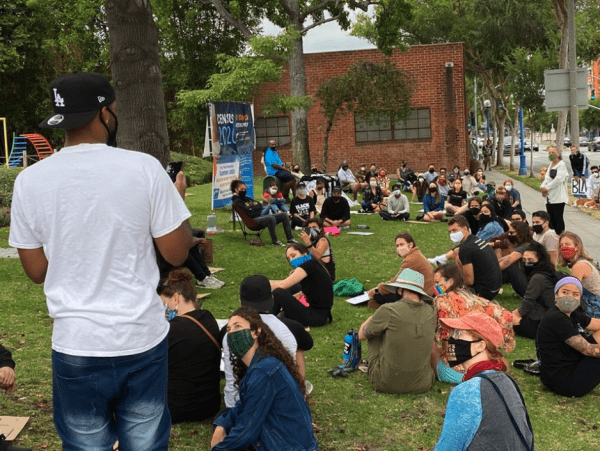 There also was a protest against police brutality on Sunday on the lawn at Plummer Park facing Santa Monica Boulevard. More than 50 people, most of whom appeared to me in their 20s and early 30s, attended. It was peaceful, with no law enforcement officers present and those attending wearing face coverings.