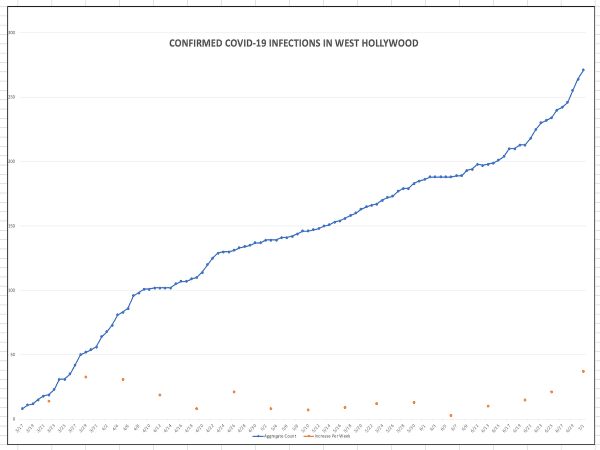 Today there are 2,002 newly confirmed COVID-19 infections in Los Angeles County, the fourth consecutive day that the number of infections has topped 2,000. The number is likely to be higher given that the Los Angeles County Department of Public Health reports that it hasn't yet received the count from one of the larger testing labs.
In West Hollywood there are 271 confirmed infections today, an increase of seven from yesterday's count.
Overall, Los Angeles County now has 105,507 confirmed COVID-19 infections and 3,402 COVID-19-related deaths. In response to the growth in infections, Gov. Gavin Newsom today banned indoor dining in restaurants.  The West Hollywood Sheriff's Station says that it will begin issuing administrative citations to people not wearing face coverings in public. The fine is $250 with an additional $50 administrative fee. Such face coverings have been proven to reduce the likelihood that someone can transmit the COVID-19 virus to another by sneezing, wheezing, coughing or talking.
The Health Department reports that 1,889 people have hospitalized with COVID-19-related illnesses, again much higher than the range of 1,350 to 1,450 daily hospitalizations in recent weeks.
The Health Department's COVID-19 database continues to show that 5,746 WeHo residents have been tested for the virus, the same number as yesterday. It is not clear now often that database is updated.
In addition to today's restaurant closings, the surge in infections led Gov. Newsom on Sunday to order the closing of bars, which he had permitted to re-open only 10 days earlier. The Health Department also has ordered the closure of LA County beaches from July 3 through July 6 at 5 a.m. to prevent crowded situations that could result in more spread of COVID-19. All public beaches, piers, public beach parking lots, beach bike paths that traverse that sanded portion of the beach, and beach access points will be temporarily closed to the public. The order also prohibits fireworks displays.
As of today, the number residents of Beverly Hills who have tested positive for COVID-19 is 243, an increase of five from yesterday's count. There are 214 Culver City residents confirmed to have the virus, an increase from the 210 yesterday. The Hollywood neighborhood to the east of West Hollywood today has eight new confirmed cases, bringing its total to 477. The Melrose neighborhood's confirmed infections are now 915, up 13 from yesterday's count of 902.
Residents with questions about the COVID-19 pandemic and who are looking for resources to deal with it can find answers on the City of West Hollywood's website. Here is a list of links to sections about particular subjects and issues: