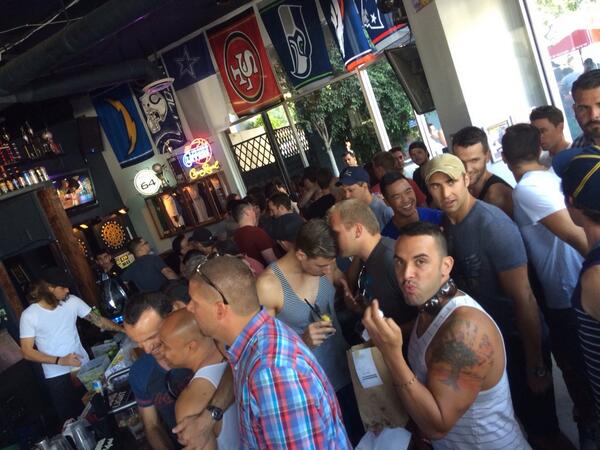 The temporary closing of bars and restaurants because of the COVID-19 pandemic has turned into a permanent closing for Gym Bar, the popular gay sports bar at 8737 Santa Monica Blvd.  It is the first of West Hollywood's bars to announce that it is closing for good.
In a post today on Facebook, Hunter Haliniak and Rick Schmutzler, co-owners of Gym Bar, said an emotional farewell to the bar's clients. It has been a regular meeting place for many, including the members of WeHo Dodgeball who frequently gather there after their games.
On March 16, Los Angeles County health officials ordered the closing of bars in Los Angeles County as part of an effort to reduce the exposure of people to others who might be infected with the COVID-19 virus.  Then they were allowed to re-open on June 10 so long as they followed strict social distancing and sanitation rules.  However, on June 28, Gov. Gavin Newsom ordered that the bars be closed in response to an increase in COVID-19 infections in 19 counties, including Los Angeles County.
It's said that Gym Bar already was feeling the financial impact of the closing of West Hollywood Park Auditorium because of the park renovation. Members of WeHo Dodgeball used to play at the auditorium and then rallied weekly at Gym Bar after the games.
Schmutzler said that in addition to the financial impact of COVID-19 he also had had to deal with "a really nasty one, two punch of a landlord who has been really inflexible in working with us." Schmutzler didn't elaborate, however WEHOville has learned that Gym Bar's landlord is Elias Shokrian of Calitex LLC in Beverly Hills.