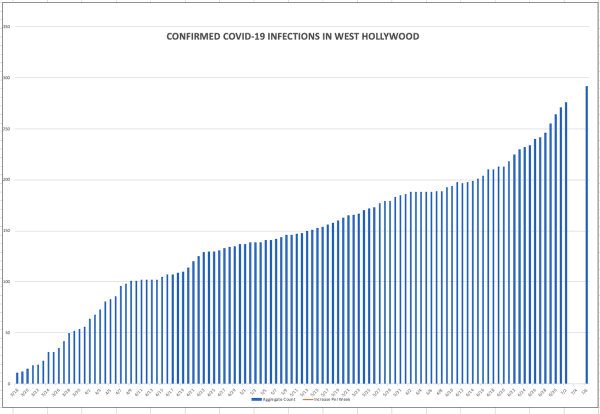 The number of confirmed COVID-19 infections in West Hollywood increased by 16 over the past four days, bringing the count to 292 as of noon today.
The Los Angeles County Department of Public Health today reported 1,584 newly confirmed COVID-19 infections, bringing the countywide total to 116,570.  The Health Department reported 48 new deaths, bringing that total to 3,534.
The Health Department said that nearly half of the newly confirmed infections are of people between the ages of 18 and 40. While people in that age range counted for 10% of hospitalizations in April, they now constitute 25% of those hospitalized.
Today's report is of infections and deaths confirmed on Sunday. The Health Department halted its daily reporting from Friday through Saturday while it made adjustments to its reporting system.  Earlier this morning it reported that there were a total of 7,232 newly confirmed COVID-19 infections on Thursday, Friday and Saturday of last week, with Friday's total reaching an unprecedented 3,187 confirmed infections.
The Health Department's COVID-19 database continues to have issues. While the Health Department reports a total of 292 infections in West Hollywood, its database reports 234 infections.  The database still reports that only four West Hollywood residents have died of COVID-19-related issues, but given the contradictions between the Health Department's announcements and the information in its database it is unclear whether that number has increased.
In today's announcement, the Health Department presented evidence that there has been a reduction in the social isolation recommended to reduce the possibility of transmission of the COVID-19 virus. It said that a study by USC's Dornsife Center reports that within the past seven days, 55.2% of L.A. County residents have had close contact (within six feet) with people who do not live with them. That is an increase from the 30.5% reported from April 8 to 14. 
To reduce the likelihood of virus transmission, people are ordered to wear a face covering securely over the nose and mouth when outside of one's home and to keep six feet apart from others not in your household.
As of today, 306 Beverly Hills residents are confirmed to be infected with COVID-19, an increase from the 246 reported on Thursday. In Culver City, the number of infections is 230, up 16 from the 214 reported on. Thursday.  The Hollywood neighborhood today reports 526 infections, up from 477 reported on Thursday.  And the Melrose neighborhood is home to 978 infected people, an increase of 61 from Thursday's 917 infections.
Residents with questions about the COVID-19 pandemic and who are looking for resources to deal with it can find answers on the City of West Hollywood's website. Here is a list of links to sections about particular subjects and issues: