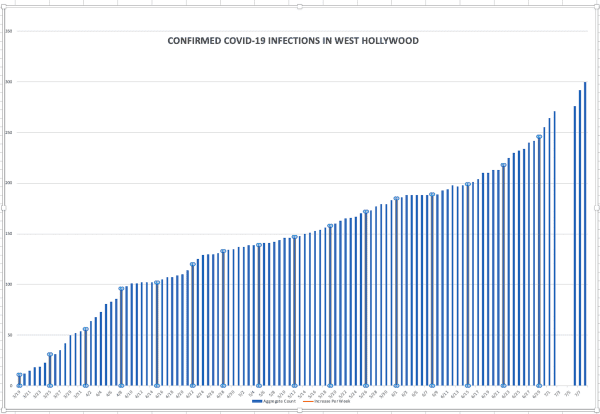 The Los Angeles County Department of Public Health today reported 2,496 new COVID-19 infections, bringing the countywide total of 123,004.  It also reported 65 new COVID-19-related deaths, bringing that count to 3,642 thus far
In West Hollywood the number of confirmed cases now is 304, an increase of four from yesterday's report, according to today's Health Department announcement. However, the Health Department's COVID-19 dashboard, which it recently redesigned, reports 248 infections in West Hollywood. The Health Department has not responded to numerous requests from WEHOville to rectify the difference between the number of infections it reports and the number it states in its database, which appears to be infrequently updated.
There are 2,000 people currently hospitalized with COVID-19 illnesses, with 26% of them in hospital intensive care units and 17% on ventilators. That is substantially higher than the 1,350 to 1,450 daily hospitalizations seen three weeks ago.
The number of confirmed infections continues to grow in communities adjacent to West Hollywood. The Health Department today reported 329 confirmed infections about Beverly Hills residents, an increase of 18 over yesterday's count. Culver City today reports 234 infections, up by two from yesterday. The Hollywood neighborhood is home to 559 infected people, an increase of 16 from the 543 reported on Monday. And there are 1,008 people in the Melrose neighborhood who have been confirmed to be infected. Yesterday's count was 1,005.
Residents with questions about the COVID-19 pandemic and who are looking for resources to deal with it can find answers on the City of West Hollywood's website. Here is a list of links to sections about particular subjects and issues: