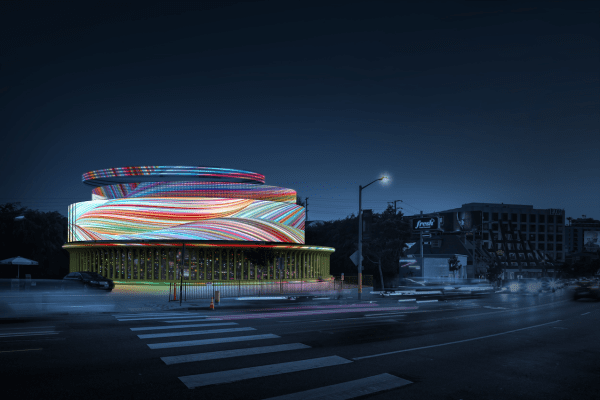 The City of West Hollywood has announced the winners in a competition to revitalize the Sunset Strip with new designs for the billboards for which The Strip is known.
The Sunset Arts & Advertising Program includes 21 projects that not only include billboards but also renovations to some existing buildings and creation of new public spaces. The billboards also will be connected with some buildings that have been designated as historic resources and some new development projects.
The city received 43 applications for its Sunset Arts & Advertising Program. They were evaluated by a team of seven people with backgrounds in architecture, filmmaking, outdoor advertising, and historic preservation. The evaluation was based on "specific criteria related to design quality, economic development, public benefit, sustainability, and adaptable design, which were formulated based on the policy's adopted design principles," says a report of the project.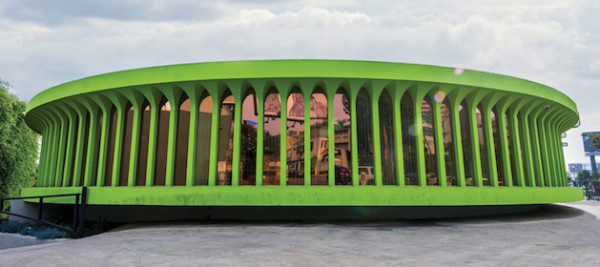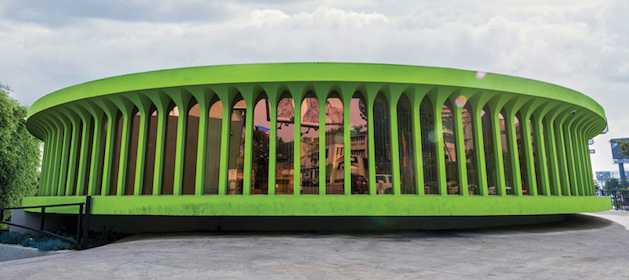 The billboard, media and advertising companies whose projects qualified were Ace, Big Outdoor, Consumer Experience Group, Daktronics, iKahan Media, Orange Barrel Media, OutFront Media, Netflix, Pop! Outdoor Media, Porter 24, Prismview/Samsung, Sensory Interactive, StandardVision • Symblaze Inc., 3.0 Outdoor, and "~sedna."
Architecture and design firms and artists involved with the selected projects were Alex Israel, AXIS/GFA Architecture + Design, Eric Owen Moss, Hunt Design, Lorcan O'Herlihy Architects [LOHA], Mark Mothersbaugh/Mutato Muzika, Mithun | Hodgetts + Fung, Office Untitled, P-A-T-T-E-R-N-S, RCDF Studio / Rogerio Carvalheiro , RCH Studios, Refik Anadol, and Steven Kent Architecture
Each of the proposed projects will require review by the city Planning Commission and the City Council before moving forward.
The projects offer a variety of benefits including a new outdoor public gathering space as part of the Sunset Urban Theater, landscaping improvements at the Comedy Store, new parklets, and new seating. "In order to qualify, projects either needed to propose significant building renovations, make substantial upgrades to their facades, and/or undergo required seismic building upgrades," says the city's report on the project. "Fourteen of the projects will include varying degrees of building upgrades that will enhance the Sunset Strip and breathe new life into these buildings. Three ground-up new development projects are proposed with the program and mark a major investment for Sunset Boulevard."
"Each project will contribute to a new digital arts program. The digital signs will dedicate 17.5% of operational time (91,980 minutes per year) to art and/or civic announcements."
Fees associated with each new sign will include a contribution to help fund the city's arts programming. The West Hollywood Arts and Cultural Affairs Commission will review and approve the arts programs. Because digital signs can attract greater advertising dollars than traditional billboards, the city anticipates a major increase in the money it receives from the billboard owners.
As to historic and cultural preservation, five buildings have been selected to be designated as city cultural resources as part of the program. Another five will use advertising revenue for the ongoing maintenance and upgrades to historic and culturally- significant buildings. This includes the iconic venues such as the Whiskey, Roxy, Rainbow, and Comedy Store. Others include Gil Turner's (9101 Sunset), the Beauty Pavilion (8760 Sunset), Constance Bennett Building (8743 Sunset), Burman Furs Building (9069 Sunset), 9157 Sunset, and Piazza del Sol (8439 Sunset).
Below are illustrations of most of the projects.