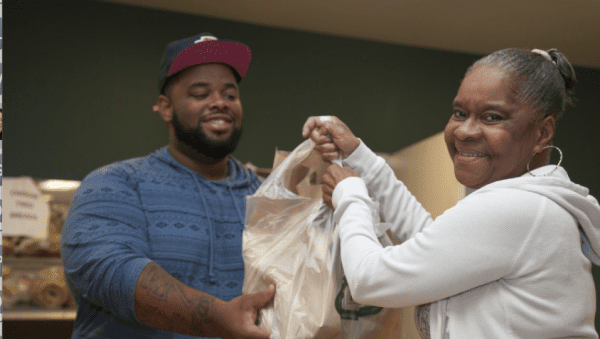 Project Angel Food and APLA Health are expanding their longtime partnership to include a new distribution site for food insecure people living with HIV/AIDS.
Project Angel Food will host a satellite food pantry for APLA Health's Vance North Necessities of Life Program (NOLP). The pantry will be in operation every Saturday beginning tomorrow.  The hours of operation are 1:30 to 5 p.m. The pantry will be in the parking lot behind Project Angel Food's 922 Vine St.
The satellite food pantry is intended to alleviate overcrowding at APLA Health's NOLP food pantry in Koreatown. "APLA Health clients who reside in the Hollywood neighborhoods immediately surrounding Project Angel Food, will now be able to travel shorter distances to collect their pre-bagged groceries (including fresh dairy, frozen meats, fresh produce, and an assortment of canned and dry goods, as well as hygiene items and cleaning supplies) and will experience reduced wait times upon arrival," Project Angel Food said in announcement of the pantry.
"Those clients who are unable to travel, due to any number of HIV/AIDS related health complications, will be referred to Project Angel Food's medically tailored meal delivery program, as they have been since the beginning of the organization's partnership with APLA Health."
Speaking of the partnership, Jeff Bailey, director of HIV Access Programs at APLA Health said "both our organizations were founded at a time of great adversity and we find ourselves in such times again. We've seen a nearly 25% increase in the number of people who use our food pantries and this initiative with Project Angel Food will ensure less people will go hungry in our community."
"No one should have to worry about where their next meal is coming from, but the line between food security and insecurity is razor thin for some people and accessibility to nutritious food is a primary barrier," said Tonya Hendricks, program manager for Vance North Necessities of Life Program. "Our collaboration with partners like Project Angel Food is a giant step forward in making food and nutrition services more accessible to our clients."
Project Angel Food, which was created 30 years ago to assist those with HIV and AIDS, expanded service in 2004 to include people living with serious illnesses such as cancer, kidney failure, and congestive heart failure. During the COVID-19 pandemic it has delivered medically tailored meals to people with life-threatening illnesses who are at high risk for COVID-19. In the past two months alone, it has gone from serving 1,600 people a day, to serving 2,100 people a day. APLA Health has maintained essential programs throughout the COVID-19 pandemic to provide medical, dental, and behavioral healthcare as well as critical support for people living with HIV to those who need it. Last year, NOLP delivered more than 105,000 bags of groceries—the equivalent of nearly 1.8 million meals—to low-income individuals living in Los Angeles County.