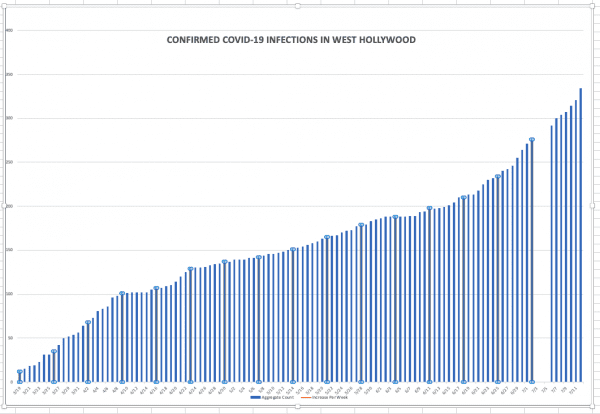 The Los Angeles County Department of Public Health today confirmed 3,322 new COVID-19 infections and 18 deaths from COVID-19 related illnesses.
To date, Public Health has identified 133,549 positive cases of COVID-19 across all areas of Los Angeles County, and a total of 3,809 deaths associated with the virus.
There are 2,093 people hospitalized with COVID-19 related illnesses, with 26% of them in the intensive care unit and 19% on ventilators.
Barbara Ferrer, director of Public Health, today acknowledged that people are feeling "COVID fatigue." "We have been battling this virus for several months and I know that 'COVID fatigue' is a very real thing," she said. "I want to encourage everyone to remain vigilant and continue to use all the tools we have to prevent further transmission of the virus. Closely following all protocols for physical distancing, wearing cloth face coverings and washing hands frequently are crucial at this moment for preventing more serious illness and death from COVID-19."
In West Hollywood, 334 residents are confirmed to have been infected with COVID-19, up 13 from yesterday's count of 321.
The Health Department today reported 389 confirmed infections in Beverly Hills, an increase of 17 from yesterday's count of 372. The number of infections in Culver City has increased by five to 247.  Confirmed infections in the Hollywood neighborhood have increased by 23 to a total of 606.  In the Melrose neighborhood, there are now 1,063 confirmed infections, an increase of 22 from yesterday's count.
Residents with questions about the COVID-19 pandemic and who are looking for resources to deal with it can find answers on the City of West Hollywood's  website. Here is a list of links to sections about particular subjects and issues: