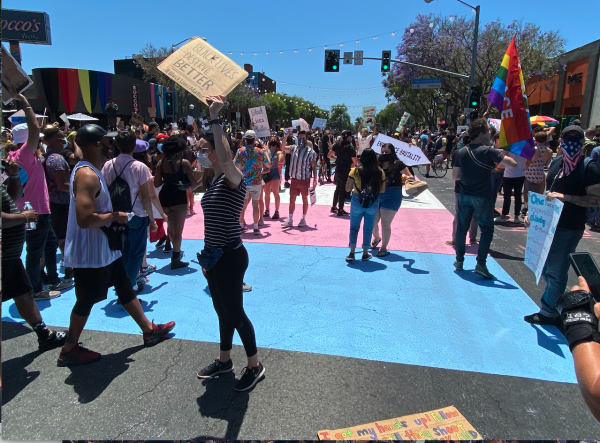 Across the nation, protestors are tearing down Confederate statues, symbols of hate and division that were largely erected during the Jim Crow era as a way to terrorize Black Americans in those communities.  Some statutes have met their end via mob rule – unfortunately allowing an opening for right wing provocateurs to target Union statues or bad faith arguments from politicians proclaiming anarchy.
Nevertheless, protestors bypassed community meetings, public comment, and staff review due to passion and urgency of the moment.   Similar passion and urgency led local West Hollywood activists to paint a magnificent transgender flag at the intersection of Santa Monica Boulevard and San Vicente Boulevard.  That flag played a significant role in the historic All Black Lives Matter protest march, serving as an impromptu stage for stunning trans performers at the route's conclusion.
Alarmingly, the City of West Hollywood removed the flag from the intersection days after its triumphant arrival.  The flag, and its positioning, was an exclamation point of visibility for our transgender community, who form the backbone of the gay rights movement.  However, the unsanctioned nature of the display gave the city an opening to unceremoniously erase it.
I implore the community the encourage the city to return the transgender flag to Santa Monica Boulevard through our official channels, which, while complex, should ensure its long lasting impact.  The opportunity exists.
The city's Department of Public Works is requesting the removal of all decorative brick-patterned crosswalks along Santa Monica Boulevard.  These brick crosswalks bring distinction to our main street but have grown worn over the years and are difficult and expensive to repair.  Public Works recommends we replace these decorative brick walkways with traditional continental crosswalks, a reflective white-striped walkway, which are advantageous due to low maintenance cost and superior safety.
However, our piece of the storied Route 66 carries history and culture unparalleled in other stretches of the highway.  Removal and replacement of the deteriorating brick crosswalks provides us an opportunity to replace them with designs that incorporate not only cost efficiencies and safety but also culture and art.
Pressingly we could incorporate the transgender flag into crosswalks similar to our popular rainbow crosswalk across San Vicente Boulevard.  Mindful that the application of this design should be easy to maintain, which is an unfortunate drawback to our current rainbow crosswalk.  We do not have to stop there.  For example, we can incorporate Taiwanese culture along Formosa Avenue, adjacent to the historic Formosa Cafe.  We can highlight art of Jewish tradition along Fairfax Avenue.  The canvas is here and in need of repair and re-imagination. 
Join us at the next Transportation Commission, July 15 at 6:30 p.m., via ZOOM teleconference as this item is on our agenda. Speak your mind and support the city rightfully returning the transgender flag to our main street, our backbone, our foundation.  Let us know your thoughts on replacing crosswalks across Santa Monica Boulevard, which speak to the creativity, culture and needs of the City.
Here is a link to the Transportation Commission Agenda.