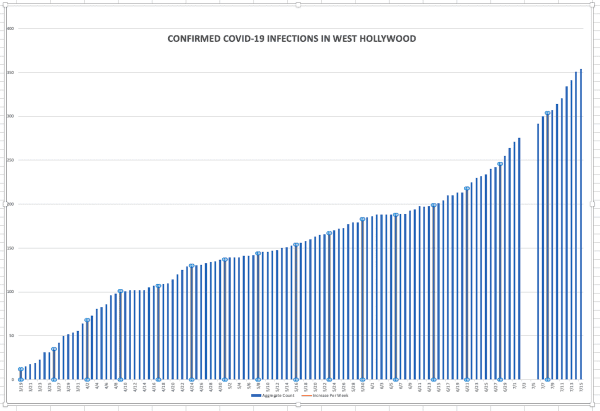 Today's soaring number of hospitalizations and confirmed COVID-19 infections suggests Los Angeles County is far from reaching the leveling off that health officials have been hoping for.
The Los Angeles County Department of Public Health today reported that 2,193 people are in the hospital with COVID-19 related illness, the highest number reported in a single day. The three-day average of hospitalizations now is 2,084, more people hospitalized each day than at any previous point during the pandemic.
The Health Department has confirmed 2,758 new COVID-19 infections and 44 COVID-19 related deaths as of today. At the beginning of June the seven-day average of new infections was 1,452. Now it has doubled to 2,859 cases a day. The Health Department has identified 143,009 positive COVID-19 infections across Los Angeles County and a total of 3,932 deaths.
According to the Health Department's database, as of today five staff members at Katana, the restaurant at 8349 Sunset Blvd., have been confirmed to be infected. It is one of only two places in WeHo where the Health Department has listed confirmed infections. The other is the West Hollywood Sheriff's Station, where five employees have been infected.  In Beverly Hills, the Health Department report three employees infected at Gallery Michael at 224 N. Rodeo Drive and at the Watermark of Beverly Hills assisted living center at 220 N. Clark Drive, one staff member and two residents have been confirmed to be infected and one resident has died of a COVID-19 related illness.
As of today, 354 West Hollywood residents are confirmed to have been infected with the virus, an increase of three from yesterday. The number of those who have died from the virus remains at four.
Beverly Hills, whose population is roughly equivalent to that of West Hollywood, now has 425 confirmed infections, an increase of six from yesterday. To date, eight of its residents have died of COVID-19 related illnesses. Culver City's infections total only 266, up five from yesterday's 261. However, the Health Department reports that 27 of its residents have died. Twelve of those deaths occurred among residents in the Marina Pointe Healthcare and Subacute at 5420 Sepulveda Blvd., where 44 residents and 21 staffers have been infected by the virus.  In the Hollywood neighborhood, 644 people have been confirmed to be infected, up nine from yesterday's count, and nine have died so far. And in the Melrose neighborhood, the number is 1,116, .up from 1,100 yesterday. Forty-seven of those infected have died.
West Hollywood residents with questions about the COVID-19 pandemic or who are looking for resources to deal with it can find answers on the City of West Hollywood'swebsite. Here is a list of links to sections about particular subjects and issues: