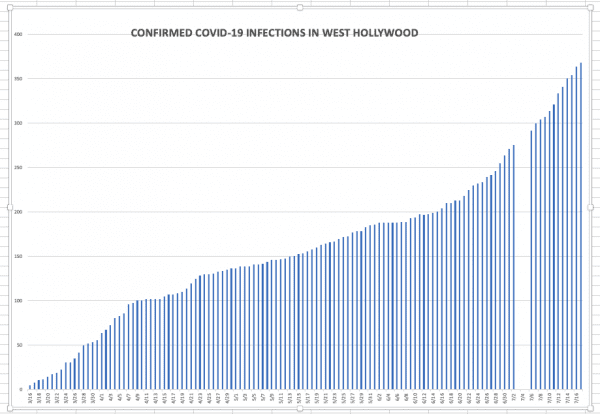 The L.A. County Department of Public Health today has confirmed 2,885 new COVID-19 infections and 62 deaths related to the virus.
To date, the Health Department has identified 150,319 COVID-19 infections in L.A. County and 4,047 deaths.
The number of confirmed infections in West Hollywood as of today is 368, an increase of four from yesterday's count. The number of deaths remains at four. Beverly Hills continues to see a more significant increase, with 19 newly confirmed cases today, bringing the total to date to 472. The number of confirmed cases in Culver City as of today is 275, an increase of three from yesterday's count.
In the Melrose neighborhood to the south of West Hollywood the number of confirmed infections is now 1,168, up 15 from yesterday. And in the Hollywood neighborhood to the east it is 692, up 13 from yesterday.
In Beverly Hills, the Health Department has confirmed that four employees of the Spago restaurant at 176 N. Canon Drive have been infected with the COVID-19 virus. One of those four isn't showing any symptoms as of yet. Seven employees of the Sunrise senior living facility at 201 N. Crescent Drive in Beverly Hills, are infected as is one resident. As reported earlier, there are two people at the Watermark of Beverly Hills senior living center who are confirmed to be infected.  The Rehabilitation Center of Beverly Hills, which actually is located in Los Angeles at 580 S. San Vicente Blvd., has 29 residents infected with COVID-19 and 41 staff members with the virus. Katana on Sunset Boulevard, with seven infected employees, is the only West Hollywood restaurant where the Health Department has confirmed infections.
In today's announcement of the latest infection county, Health Department Director Barbara Ferrer called out multisystem inflammatory syndrome (MIS-C), which is affecting a number of children under the age of 21 who have been exposed to the virus or have contracted it.
MIS-C "is a condition where different body parts can become inflamed, including the heart, lungs, kidneys, brain, skin, eyes, or gastrointestinal organs," according to the Health Department.
""We know that more than 10,000 children and teens have been infected with COVID-19," Ferrer said. "Those who are affected with MIS-C are rare, but we are monitoring for this devasting condition. I also want to warn parents that even though our children and teens may not show the same symptoms and illness of COVID-19 when compared to older people, they can spread COVID-19 like anyone else and should wear face coverings if they are two years old and older and they should continue to practice physical distancing and avoid gathering with people outside of their household. I know this is difficult and frustrating, but we must stop the spread of this devasting virus."
Residents must wear face coverings when out in public and can be cited for not doing so. The citations come with a $250 fine and a $50 administrative fee. As of yesterday, the West Hollywood Sheriff's Station has cited 12 people for not wearing face coverings in pubilc.
West Hollywood residents with questions about the COVID-19 pandemic or who are looking for resources to deal with it can find answers on the City of West Hollywood's website. Here is a list of links to sections about particular subjects and issues: