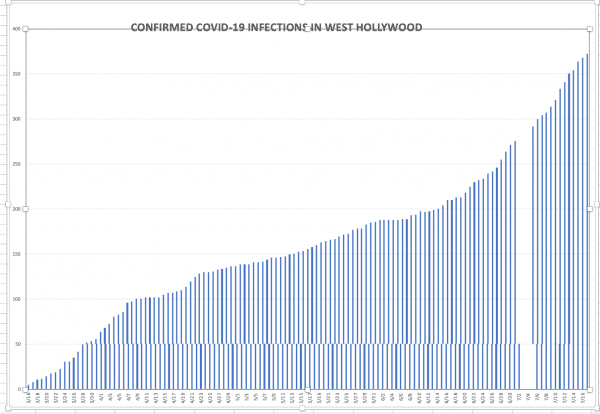 Today's count of confirmed COVID-19 infections in Los Angeles County shows the number of infections remains high. The L.A. County Department of Public Health today has confirmed 2,770 new COVID-19 infections and 37 deaths related to the virus.
To date, the Health Department has identified 153,041 COVID-19 infections in L.A. County and 4,084 deaths.
As of today, there have been 373 infections confirmed among West Hollywood residents, an increase of five from yesterday's count. The number of deaths remains at four. Beverly Hills now has 482 confirmed infections, up 10 from yesterday's count. The number of confirmed cases in Culver City as of today is 275, an increase of three from yesterday's count.
In the Melrose neighborhood to the south of West Hollywood the number of confirmed infections is now 1,178, up 10 from yesterday. And in the Hollywood neighborhood confirmed infections have increased by 12 to a total of 704.
In today's announcement of the latest infection county, the Health Department repeated its urge that residents make sure they are doing their part to reduce the spread of the deadly virus. "Residents should always wear a face covering securely over their nose and mouth and keep six feet apart from others not in their household when out in public and wash hands frequently," the Health Department said. "Everyone should avoid the Three Cs: Crowded places, Confined spaces and Close contact with others not in your household. Public Health reminds everyone that you remain safer at home."
Residents must wear face coverings when out in public and can be cited for not doing so. The citations come with a $250 fine and a $50 administrative fee.
West Hollywood residents with questions about the COVID-19 pandemic or who are looking for resources to deal with it can find answers on the City of West Hollywood's website. Here is a list of links to sections about particular subjects and issues: