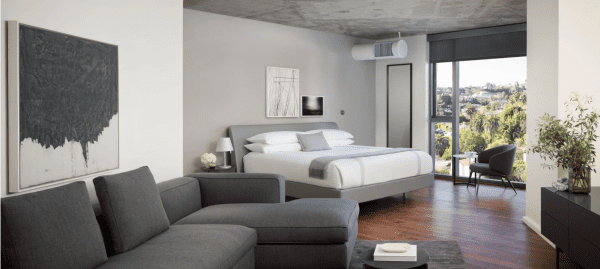 Sometimes you manage to close a door on one problem only to find you have opened the door to a host of others. 
At Monday's City Council meeting, as part of a settlement of a lawsuit by the owner of AKA West Hollywood, the City of West Hollywood will approve a mandate that all rental units in apartment buildings, duplexes and accessory units have leases with a minimum one-year term.
However, while this represents the best way for the city to define what constitutes a "dwelling unit," the settlement opens up yet another setback for preserving West Hollywood's housing stock. That's because Item 3 (a) on the Council's agenda, which includes the one-year lease mandate, also would allow owners of single-family dwellings and "individual" condo units to lease them out for "extended stay" tenancies of just over 31 days.  (It does not appear that any provision was made to allow condo homeowners associations to prohibit this practice.)
So, rather than rent to long-term tenants, owners of condos and single-family homes will be able to engage in what is essentially a new form of Airbnb, which will take units off the market for people who actually need long-term housing. A City Hall memo says this is "encouraging a diverse housing stock to address the needs of all socioeconomic segments of the community."
What City Hall is talking about in referring to "all socioeconomic segments of the community" is people who need housing for a couple of months such as folks in the movie and entertainment industry and, supposedly, medical experts visiting Cedar-Sinai Medical Center. The city is essentially defining people who are "visiting" West Hollywood as "residents" in order to maintain a fiction that we are not losing residential housing. So West Hollywood will be allowing a portion of our housing that is in high demand for long-term tenants to be used for people who should be staying in extended stay hotels. This opens up a whole barrel of issues.  As we experienced with Airbnb, loud parties and unruly behavior will disrupt the quality of life for those of us who make West Hollywood our actual home. 
This item arises out of the litigation filed by AKA West Hollywood after it began operating a hotel at the mixed-use project at 8500 Sunset Blvd. The city found out about the situation from the media when AKA was promoting its "extended stay" hotel in the project.
It should be noted that when this project was originally approved, the developer was required to build a number of affordable units on site. As it turned out, few if any of these units were occupied by those in need but were instead being rented out as hotel units. This situation revealed a rather shocking lack of enforcement and supervision over our historic "inclusionary housing" ordinance. It was a blatant flaunting of the city's policies to create housing and provide affordable housing.
When the city opposed AKA's rental of the units for extended stays, AKA argued that the city's definition of a dwelling unit was deficient and that as long as it defined its extended stay guests as "residents," it could essentially run a hotel on the site. The city's response was to have the Community Development Department belatedly define "dwelling units" as units meant for long term housing, which the city viewed as being of a year or more. While we can quibble about the year requirement, I think we can agree that a "dwelling unit" is a place where a person intends to live for a substantial period of time over an extended period. It is home — the place from which you register to vote, where your kids go to school and where you pay property taxes, as compared to a place where you are "visiting" for a couple of months. But obviously the common sense understanding of a dwelling unit could be called into question, particularly when millions of dollars in benefits are involved.
What has developed from the costly litigation of the AKA case is a judge's decision that the city's definition of a dwelling unit was unclear and open to interpretation. Perhaps the city's vague language in the General Plan that calls for "development of opportunities and mobility choices" and similar language came back to bite us.
Needless to say, our local hotels are outraged by any attempts to offer non-hotel options to visitors, effectively making them competitors. Expanding "extended stay" opportunities to include residential homes and condos threatens hotel jobs and diminishes income from transient occupancy taxes, (the hotel room tax). So the proposed policy will not only diminish our housing stock in a time the state is experiencing a housing crisis, it also hurts our local economy.
The AKA settlement represents a wealth of concessions that have become increasing common in an era when the City Council has been handing out development rights without meaningful return to the city, which amounts to corporate welfare.
Under this deal, AKA will be able to operate a hotel with 30% of its units, as a long as stays are over five days.  The rest of the units can be rented out for stays of at least 31 days. By my counting, five days is hardly an extended stay. I would also argue that if the developer had been required to include affordable units in the project for long term rentals, common sense would dictate that the other units would be of similar use but at market rate.  I don't see hotels being forced to include affordable units.
Sadly, rather than concede this as a defeat, city staff is celebrating the settlement as a victory for creating "diverse" and innovative "housing opportunities." The candy coating of the settlement and the other items contained in this proposed legislation is hard to stomach. They hardly reinforce the city's commitment to create and maintain residential housing. While the city says this "flexibility" enhances our role in the global economy, the detrimental impacts are obvious.
The Planning Commission rubber stamped the proposal on a six to one vote, with Commissioner John Erickson as the only dissenting voice. While I understand that the city may believe it needs to make painful concessions to settle the AKA litigation, allowing extended stay in single family dwellings and condos is not necessary to resolve the litigation.
Settling the AKA West Hollywood litigation should not be an end in itself. Important land use issues are at stake, and perhaps we should take this matter to the Court of Appeals where we may have a venue that is more open to common sense approaches to land use. We would probably find allies from the League of Cities and other jurisdictions. So perhaps the City Council could opt to simply enact the portion of this item that mandates the one-year leases on rental units in order to protect our stock of rental housing and defer the AKA issue to the Court of Appeals. I see no reason to allow single family dwellings and condos to become "extended stay" hotels. I can't see why we would undermine our commitment to creating and maintaining housing for real residents. By making concessions to AKA today we may find that we are setting the stage of other abuses in the future.