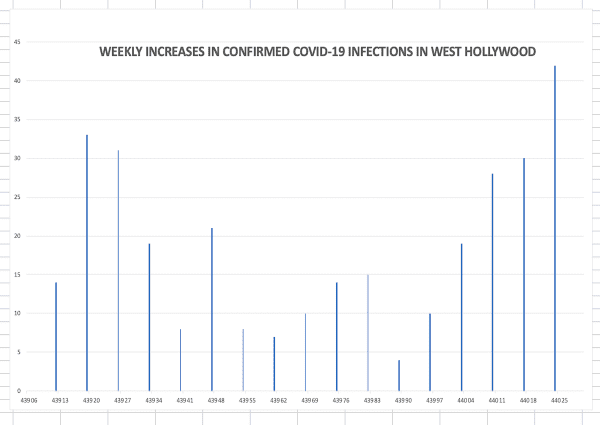 The number of people hospitalized with a COVID-19 related illness has hit a new high, with the Los Angeles County Department of Public Health reporting 2,216 in the hospital.  The previous high was 2,193 hospitalizations reported on July 15.
The Health Department today has confirmed 2,848 COVID-19 infections and 11 deaths related to the virus. Fifty-three percent of the newly confirmed infections involve people age 40 and under.
To date, the Health Department has identified 153,041 COVID-19 infections in L.A. County and 4,084 deaths.
"We continue to reach concerning milestones and today we are seeing the highest number of COVID-19 hospitalizations," said Dr. Barbara Ferrer, director of the Health Department. "Right now, young adults are being hospitalized at a rate not seen before. No matter how young you are, you are vulnerable to this virus. I urge everyone to take collective responsibility – stay physically apart from people you don't live with, properly wear a face covering when you are outside your home but stay home as much as possible."
As of today, there have been 380 infections confirmed among West Hollywood residents, an increase of seven from yesterday's count. The number of deaths remains at four. Beverly Hills now has 496 confirmed infections, up 14 from yesterday's count. The number of confirmed cases in Culver City is 284, an increase of 11 from Saturday's count.
In the Melrose neighborhood to the south of West Hollywood the number of confirmed infections is now 1,195, up 17 from yesterday. And in the Hollywood neighborhood confirmed infections have increased by seven to a total of 711.
Residents must wear face coverings when out in public and can be cited for not doing so. The citations come with a $250 fine and a $50 administrative fee.
West Hollywood residents with questions about the COVID-19 pandemic or who are looking for resources to deal with it can find answers on the City of West Hollywood's website. Here is a list of links to sections about particular subjects and issues: