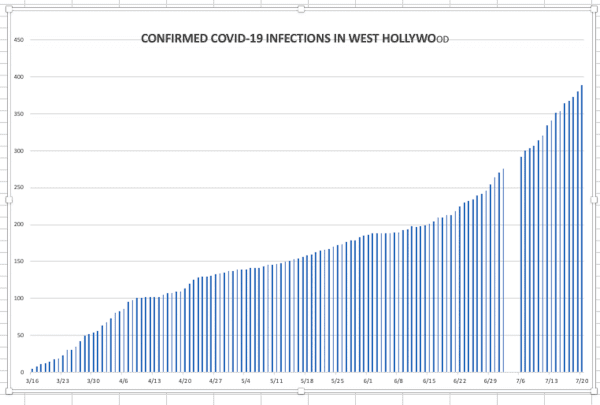 Today, for the second day in a row, the number of people hospitalized in Los Angeles County from COVID-19 related infections has hit a new high. The Los Angeles County Department of Public Health reports 2,232 people are hospitalized, with 26% of them in intensive care units and 19% on ventilators.
The number of confirmed infections is 3,160, bringing the total to date to 159,045. Today the Health Department reports nine new deaths from COVID-19 related issues, bringing that total to 4,104. There are nine newly confirmed infections among West Hollywood residents, bringing WeHo's total count to 389 so far. As of publication the Health Department hasn't updated all information in its COVID-19 dashboard, so it isn't clear whether the number of WeHo residents who have died (four) has increased.
The Health Department today announced that it was allocating $10 million to community organizations to help conduct contact tracing. That is a process in which an infected person is interviewed to get information about the person's risks, possible exposures, and close contacts and to ensure that the person who is positive is connected to support while isolating from others. The Health Department will sponsor a $20 gift card that can be given to someone for participating in the hour-long contact tracing interview.
A person who has a positive lab result for COVID-19, can expect to be contacted by a public health specialist from the county Health Department who will ask about possible exposures and the identity of others who may have also been exposed to the infection. If the person cannot be reached by phone, the Health Department will send a letter. "The information is protected and cannot be shared with others except in emergency situations," the Health Department reports. "Please also note a public health specialist will never ask for a social security number, payment or documented status. Remember that if you think you could be positive and are awaiting testing results, to stay at home and act as if you are positive for COVID-19. This means self-isolating for 10 days and 72 hours after symptoms and fever subside."
"Public Health has a dedicated call line for confirmed cases of COVID-19," the Health Department said in today's announcement of infections. "If you have not yet connected with a public health specialist or need more information on services, call toll-free at 1 (833) 540-0473."
The percentage of those tested who are confirmed to have the virus has increased from 9% to 10%. The majority of all cases have occurred in people under the age of 41.
The number of infections in Beverly Hills as of today hasn't increased from the 496 confirmed yesterday. The number of confirmed cases in Culver City is 287, an increase of three from Sunday's count.
In the Melrose neighborhood to the south of West Hollywood the number of confirmed infections is now 1,214, up 19 from yesterday. And in the Hollywood neighborhood confirmed infections have increased by ten to a total of 721.
One way the virus can be transmitted is through a cough, a sneeze or even through air that comes from the mouth when someone talks. For that reason, residents must wear face coverings when out in public and can be cited for not doing so. The citations come with a $250 fine and a $50 administrative fee.
West Hollywood residents with questions about the COVID-19 pandemic or who are looking for resources to deal with it can find answers on the City of West Hollywood's website. Here is a list of links to sections about particular subjects and issues: