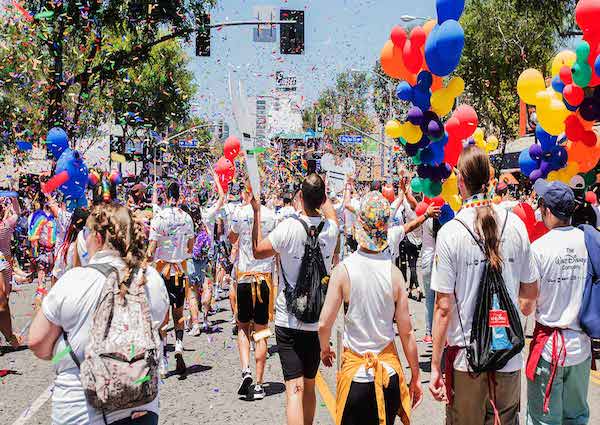 Expect the City of West Hollywood to start holding visioning workshops in the coming weeks asking what residents and businesses want in a Pride celebration now that Christopher Street West (CSW) has announced it will no longer hold its LA Pride celebration in West Hollywood. The West Hollywood City Council voted unanimously Monday night to move ahead with such visioning workshops for future Pride observances.
"Now that CSW is no longer engaged or interested and out of the discussion, we can truly reinvent our Pride experience," said Councilmember John D'Amico who initiated the item.
After years of an often fraught relationship between CSW and the city (despite the city providing large financial support as well as space for the Pride festival), CSW officially notified the city on July 14 that it intended to move LA Pride to another location in 2021. This notification apparently was made in reaction to D'Amico's suggestion in mid-June that the city should issue a request for proposals for producers of future Pride festivities.
CSW has held LA Pride in West Hollywood since 1979. However, the 2020 LA Pride festivities were cancelled due to the coronavirus pandemic.
The councilmembers viewed CSW's withdrawal as a chance to start anew, or as Councilmember Lauren Meister said, "press the reset button."
Councilmember John Duran was quick to criticize CSW saying that over the years Pride had gotten too caught up in "identity politics" and had become "stale and stagnant"
"Over time, the 2010 festival looked no different than the 2015 festival looked no different than the 2018 festival. They all looked the same," said Duran. "They became the same parade, the same order of the parade, the same floats, the same festival booths, the same footprint."
D'Amico said future Prides didn't have to be limited to CSW's idea for what Pride should be. He suggested Pride could include protests, marches, arts and cultural events, policy discussions, large scale events, nighttime events and more.
No officials from CSW appeared to speak about Pride at Monday night's virtual meeting on Zoom. However, Mayor Lindsey Horvath and Councilmember John Heilman both offered some pushback to the CSW criticism. Both reported receiving calls from residents worried about what the loss of the Pride parade would mean for area businesses. 
Heilman noted that many of the "identity politics" issues Duran was complaining about were things the Council had urged CSW to include like greater transgender representation and a sober section. However, Heilman also admitted that the partnership between the City and CSW to host LA Pride often seemed one-sided, despite providing money and space for the events.
Horvath, who is close friends with CSW board chair Estevan Montemayor, said she was impressed with the 2019 festival (the first one that Montemayor oversaw) which included a Pride on the Boulevard section with food vendors and nonprofit booths on Santa Monica Boulevard (the first time the Pride festival expanded onto Santa Monica Boulevard).
Despite the fact D'Amico serves on a Council subcommittee for CSW and Pride, it was Horvath who has been in recent contact with CSW officials. She reported that CSW officials were caught off guard by D'Amico's suggestion in June that the city issue the request for proposals (RFP). She noted that D'Amico did not contact CSW officials after suggesting the RFP be issued or after receiving CSW's letter saying it intended to leave West Hollywood.
D'Amico questioned whether CSW officials regretted sending the letter of intent to leave.  
Horvath reported they did not. "There are lots of different versions of how this story could go. Clearly if [CSW officials] wanted to articulate those opinions and feelings, they would be here tonight to say all of that," said Horvath. "If you [D'Amico] were interested in [CSW's] point of view, you would have reached out and asked them instead of coming up with your own idea."
City Manager Paul Arevalo warned that any plans for a 2021 Pride festival will probably have to be small due to the coronavirus pandemic which will likely still be happening a year from now.
"For 2021, we're going to be lucky if we can have a little street festival where we can have some of our bars have activity and late night events," said Arevalo. "I'm not looking at the state opening up for major events anytime soon."
There was no discussion of how much money the city might dedicate to future Pride events. However, the amount the city has spent on Pride events has skyrocketed in recent years, due mainly to increased security and public safety costs.
In 2015, the city contributed about $500,000 to LA Pride. In 2016, that figured increased to $660,000. In 2017, the year the Pride parade was cancelled in favor of the #Resist March, the figure jumped to $1 million. In 2018, the amount was $1.2 million and in 2019, it jumped again to $2 million. For 2020, the city was scheduled to spend over $3 million, but the coronavirus pandemic forced the cancellation of the Pride events.
After holding the visioning workshops, getting input from various boards and commissions and seeking ideas from area businesses, city staffers will return in October with a report about what future Prides might look like. After the Council reviews those ideas, the city will begin seeking producers for the various ideas the Council approves.