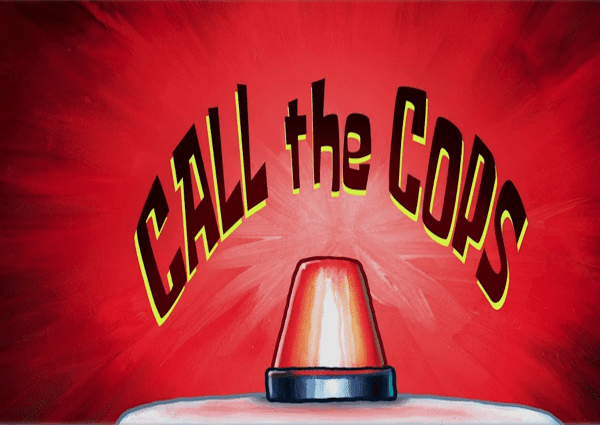 An allegedly homophobic incident on Waring Avenue on Sunday resulted in the injury of a young man riding his scooter and also an angry exchange on the NextDoor neighborhood website that included allegations of racism and homophobia.  The incident also called out the difficulty residents have reaching the Los Angeles Police Department's Wilshire Division, which patrols the area south of West Hollywood, and where no one answers the telephone.
At about 5:30 p.m. on Sunday a young white man, who discussed the incident with WEHOville on the condition that his name wouldn't be disclosed, was riding his scooter on Waring Avenue when four Black men in a white Mercedes drove by and yelled homophobic obscenities at him and threw eggs at him, hitting him in the head. Two people on the scene, one of whom lives on Waring, confirmed the incident.
The man lost control over his scooter as he tried to escape the men in the Mercedes and tried to avoid hitting another car. He fell to the ground and injured himself. Emergency medical technicians and an LAPD officer arrived on the scene.
"I do not know why I was targeted, chased, etc," the man said in an exchange of text messages with WEHOville. "I know I was yelled at. I didn't hear what was said. I have nothing on my moped that identifies me, my beliefs, or anything. It is a bright yellow scooter and I was wearing yellow, so attention might be expected a bit, but no idea why I was targeted."
The person who lives on Waring said in a NextDoor post that the incident happened in front of her house. "I didn't see the man crash but heard it and looked outside in time to see the four guys in a white Mercedes telling the driver to "Back up, back up!" There was a police officer who responded; I told him it was a white Mercedes and there were likely people with security cameras along Waring that they could use to find the vehicle, but he just asked me if I got a plate number and then basically shrugged and said "He'll be OK" about the Vespa rider."
Another man on the scene, who stopped with his wife to help the injured man, posted on NextDoor that the young man "was riding his yellow Vespa when a white car containing four Black men starting shouting homophobic obscenities at him and throwing eggs at him. He was hit by many eggs in the head, back and Vespa. While speeding and trying to get away from these thugs he crashed his Vespa on Waring Avenue close to Martel. He is suffering serious injuries to his leg and body. His brand-new custom Vespa is also badly damaged.
"Not that it matters, but this man was not even gay. He just likes yellow Vespas, and people should not be stereotyped like that or treated like that for their personal sexual preference. The four Black men hit it in reverse and drove off almost hitting a girl walking her dog when they caused him to crash. They were laughing and celebrating on their way out."
That commenter noted that one of the Black men wore corn rows, and he referenced Black Lives Matter protests in the Melrose neighborhood in June to say the residents needed to "take back" their neighborhood. Another man said "You can't cure hate (killing of George Floyd) with more hate (BLM riots/looting/vandalizing) & the assault of the guy on the Vespa. That's just stupid. This is all designed to divide and conquer us."
Those remarks sparks claims from some that the other commenters were racists. NextDoor actually removed the original comment from the man who mentioned Black Lives Matter.
The commenters on all sides of the debate about racism did express concern for the injured young man, who told WEHOville that he is recovering well. However, he has found it difficult to get any information from the Wilshire Division as to what, if anything, they are doing about the incident.
He told WEHOville that he had been told he would receive a report of the incident, which he could use to file an insurance claim regarding the damage to his scooter. WEHOville made more than a dozen telephone calls in an ultimately unsuccessful effort to get someone at the Wilshire Division to answer the telephone.  Eventually a call to the LAPD's communications division was answered by a woman who said there was no record of the incident.  It was only after that when WEHOville learned the identity of the injured young man and called back to inquire again. Another woman answered the phone and said she would check and respond in 20 minutes. She never did. Several hours later WEHOville made another call that was answered by a man who said that the injured man would have to contact the Wilshire Division to file a report.
The injured man made numerous calls to the Wilshire Division on Tuesday to inquire about a report and left messages but got no response. Today he made another call and was transferred to another line where someone told him that the responding officer had concluded the investigation. If the injured man wanted any more action, he would have to send more information to the Wilshire Division and go through a process to obtain an incident report.
In researching the incident, WEHOville made numerous calls to 877-ASK-LAPD, a number to which one is referred when calling the Wilshire Division or the LAPD itself. That results in a long rambling lists of options for numbers to press, which repeats over and over while one is on hold, interrupted frequently by piercing loud sounds that apparently are meant to transfer information to a device for those who are hard of hearing.
The inability to contact the LAPD, often even by dialing 911, which is only to be used to report serious crime incidents, was recently cited in a column titled "City of LA: Pick Up the Damn Phone," published in CityWatch LA
Bob Gelfand, a longtime writer for CityWatch LA, wrote that his effort to call a different police station using that number was "a weird and frustrating experience because I never got through, not even after more than 20 minutes (probably closer to 30) of recorded announcements, jangling tones, and waiting, followed by a repeat of all of the above, and another repeat, and yet another."
Gelfand said that when he attended a recent Community Police Advisory Board meeting others said they had experienced the same problem, sometimes being on hold for as long as 30 minutes.
The injured young man said he is doing okay. He said he was very thankful to those who came to his rescue when his scooter crashed. "I just can't stress enough how much I appreciated the people who came to my aid in SECONDS," he said. "Strangers sprang into actions."
As to whether the Wilshire Division is investigating the incident or trying to identify the men in the Mercedes who forced the young man to crash his scooter, there doesn't seem to be any way to find out.