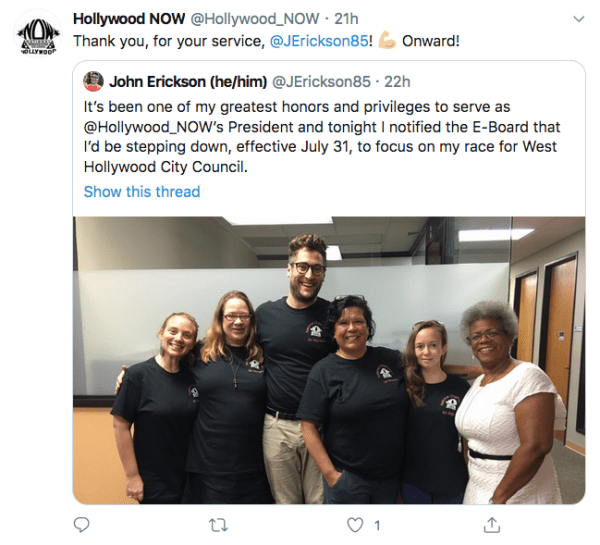 John Erickson, a candidate in the Nov. 3 West Hollywood City Council election, has resigned from his position as president of the Hollywood branch of the National Organization for Women.
"It's been one of my greatest honors and privileges to serve as @Hollywood_NOW's president," Erickson said in an online post.  He said he was resigning effective July 31 to focus on his City Council election campaign.
Erickson currently works as director of public affairs at Planned Parenthood Los Angeles. Erickson was the deputy to former City Councilmember Abbe Land and was appointed to the West Hollywood Planning Commission by City Councilmember John Heilman, who is running for re-election.  He is seen as a close ally of Heilman and Mayor Lindsey Horvath.
Erickson has emphasized that he is a feminist. However, last week he nominated himself as vice chair of the Planning Commission and was selected in a majority vote by the male members of the Commission. Erickson's nomination of himself, which is an unusual move, effectively pushed aside Lynn Hoopingarner, who was next in line for the position in terms of seniority. That upset some women who are active in civic affairs in West Hollywood.
He also found himself in the middle of some controversy when he participated in the painting of the transgender flag image at the intersection of Santa Monica and San Vicente boulevards on the night before the June 14 All Black Lives Matter protest march. Councilmembers John Duran and Lauren Meister had objected that the painting was done without those involved obtaining permission from the city in advance.
On his campaign website, Erickson notes that in 2017 he was appointed by Gov. Jerry Brown to the California Commission on the Status of Women and Girls and he says he is proud to have been involved in a campaign that overturned California's statute of limitations on rape and sexual assault.
He describes himself as "an accomplished activist, administrator, and consensus builder — both locally and nationally."