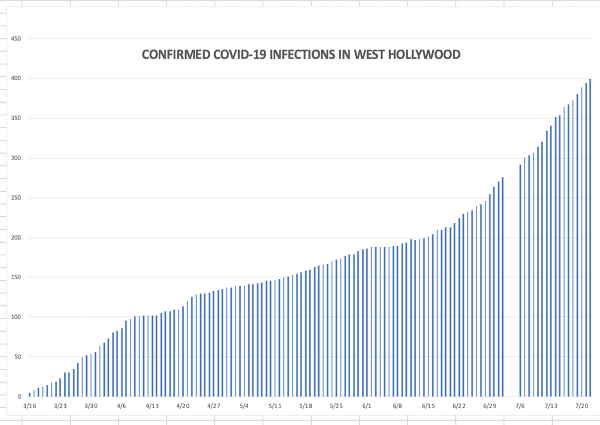 The Los Angeles County Department of Public Health late Wednesday announced 3,266 newly confirmed COVID-19 infections and 64 new deaths, signs that the pandemic is nowhere near to an end. One of those deaths was of a West Hollywood resident, which brings to five the total number of WeHo residents who have died of an illness connected to the virus.
The State of California set a new record, with 12,807 new coronavirus infections reported.  That brings the state's total to 413,576.  California as of yesterday had more confirmed infections than any other state in the nation. However, as Gov. Gavin Newsom has noted, California's population is equal to the combined total of 41 other states.
As of Thursday, there were 164,870 confirmed infections in Los Angeles County and there have been 4,213 COVID-19 related deaths since the Health Department began measuring the pandemic in March.
There are 2,207 people infected with the virus in the hospital.
As of 8 p.m. yesterday the Health Department hadn't released its daily announcement of infections in cities and communities across Los Angeles County. That information typically is made available no later than 4 p.m.  That is why WEHOville is reporting the yesterday's infection and death counts today.
The Health Department on Wednesday reported 399 confirmed infection among West Hollywood residents, an increase of five from Tuesday's count. It reported 517 confirmed infections in Beverly Hills, an increase of 15 from Tuesday's count, and 299 in Culver City, up six from the day before. The Hollywood neighborhood as of yesterday had 750 confirmed infections, up 12 from Tuesday's count. There have been 1,245 confirmed infections in the Melrose neighborhood, an increase of 15 from Tuesday's count.
As noted before, one way the virus can be transmitted is through a cough, a sneeze or even through air that comes from the mouth when someone talks.  For that reason, residents must wear face coverings when out in public and can be cited for not doing so. The citations come with a $250 fine and a $50 administrative fee.
West Hollywood residents with questions about the COVID-19 pandemic or who are looking for resources to deal with it can find answers on the City of West Hollywood's  website. Here is a list of links to sections about particular subjects and issues: