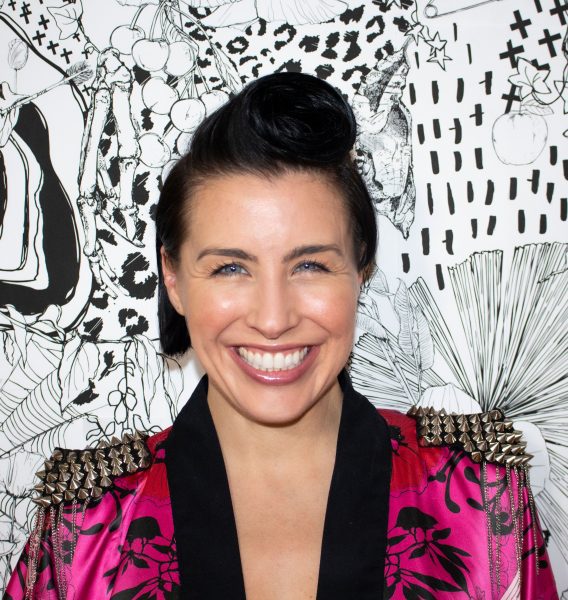 This week local artist Katie Bright joins We Know Weho to talk about her art projects in West Hollywood and her favorite neighborhood places to grab a bite to eat or a sweet treat.
With almost 20 years of experience as an artist and designer, Katie is the creator of the Welcome to the Brightside Agency. The company works with a melting pot of creatives in all spectrums of the arts to deliver unique projects, wallpaper, murals, books, illustrations, and installations. Imagination and production show no limits.
Recently, with  an  invitation  to  design  two  mural  artworks  for  Pasadena  Showcase  House,  August,  2020, Bright created a new company: The Digs Collection. Digs is short for diggings, and both words are slang for home. Its clients include Kimpton La Peer Hotel, the West Hollywood Design District, the City of West Hollywood, Disney, Sesame Street, the Magic Castle, Yamashiro, the Farmer Daughter Hotel, and many more.
Bright is involved with the local West Hollywood community including the city's Arts Division – Weho Arts. She is a member of the West Hollywood Chamber of Commerce and was due to receive the Phyllis Morris Award at this year's Women in Leadership Awards ceremony in March, which was cancelled because of the COVID-10 pandemic.  She has designed a neighborhood passport for the La Peer Hotel and recently created masks for the West Hollywood Travel + Tourism Board for hotel guests.  Her new line of kimonos will be available at the La Peer gift shop as well as online.
This week in Food and Fashion the big discussion is about what is happening at the La Peer Hotel, where sushi boxes from Soosh are available for delivery and a new Taco Thursday night out is on the dreamy outdoor patio. We love how West Hollywood is sparkling with twinkly nights at all the outdoor dining spaces around town like La Boheme, Pura Vita and the Den. It is quite unanimous that the best slice of cake in town is the triple berry from Sweet Lady Jane on Melrose with Cake Monkey as a strong second choice with its triple berry mini-cake version.
West Hollywood's newest cannabis dispensary, Calma, is now open down on the east side of town (La Brea at Santa Monica). Lauren's retail report this week includes the news that Zadig and All Saints on Melrose are closing their doors for good.
In the Health and Wellness segment, Lauren has an update on F45 and its parking lot classes, which are being offered early in the morning starting at 6:30 a.m. Katie chimes in with her report on Runyon Canyon and how people there are successfully managing social distancing and mask compliance.