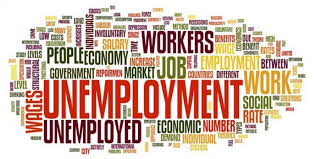 The COVID-19 pandemic has had a devastating effect on jobs in the United States, with the unemployment rate going from 3.5% in February (a half-century low) to a high of 14.7% in April before moving to 11.1% in June. California's rate as of June was 14.9%.
The decline in employment has been similar in West Hollywood, where the impact has varied depending on the neighborhood one lives in.  Those on the city's Eastside have experienced a higher unemployment rate than those on the city's more affluent Westside.
That's according to data from the last six months compiled at the census track level by Yair Ghitza and Mark Steitz. Ghitza is a chief scientist at Catalist, a data firm, and Steitz is a principal at TDM Communications.  "The federal government doesn't report unemployment data down to the neighborhood level, so the two researchers modeled these fine-grained statistics in a way that makes them consistent with state and national surveys," said The New York Times in a story about their research that includes links to a map that shows unemployment rates by neighborhood in Los Angeles, New York City, and. Chicago.
The data compiled by Ghitza and Steitz is focused on where the people who are unemployed actually live, not on where they work.  So in the case of West Hollywood, it's not likely to reflect the impact of COVID-19 on hotels, restaurants and bars, whose workers usually can't afford to live in WeHo and commute from elsewhere.
Screenshots of the data posted below show the estimated unemployment rate in areas of West Hollywood in February (where the estimated city average ranged from 3 to 5%) and in June (where the estimated average ranged from 9 to 15%). The highest unemployment rate was the estimated 16% in June in the area on the Eastside that runs from Fairfax to La Brea on the south side of Santa Monica Boulevard.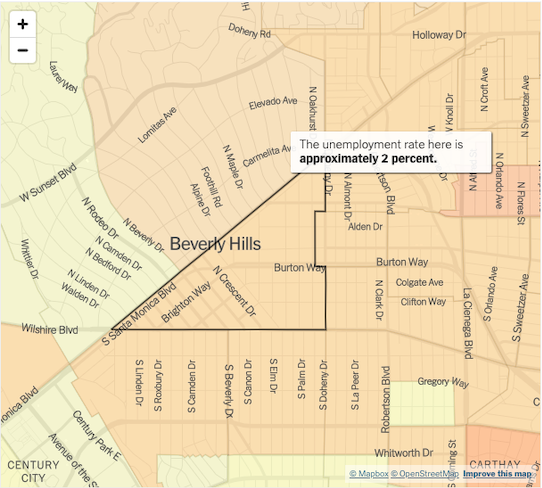 Other Westside cities and neighborhoods also have suffered, with Hancock Park's estimated unemployment rate increasing from approximately 3% in February to 13% in June. Beverly Hills saw unemployment increase from 2% in February to 14% in June. Brentwood was hit less hard, with the rate increasing from 2% to 11% over the same period.
The impact of the pandemic has been much greater in South Central Los Angeles, where the unemployment rate is 30% in some neighborhoods. Hollywood also has suffered, with the unemployment rate going from 5 to 6% in different census zones in February to 16 to 20% in June.