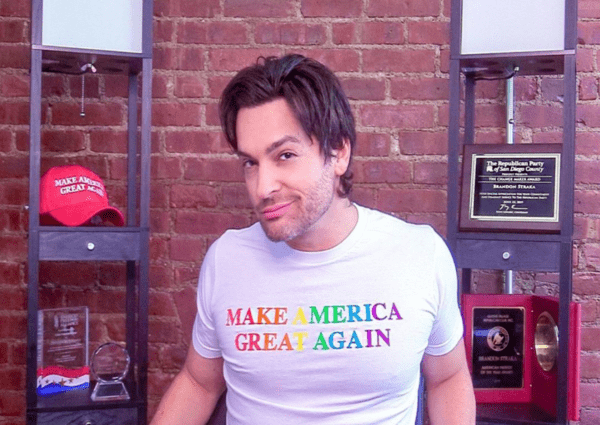 A white, gay part-time hairdresser and struggling actor in West Hollywood? Where's the news in that? Well, this white, gay part-time hairdresser and struggling actor is Brandon Straka, who will be leading the #WalkAway march in West Hollywood. And #WalkAway? That's a social media campaign that celebrates members of the Democratic Party who have "walked away" to endorse Donald Trump and condemn the "radical Left."
Today's march is set to begin at 1:30 p.m. at the intersection of Santa Monica and San Vicente boulevards. That intersection has become an important rallying point for those involved in various causes. They include the demand that Ed Buck be prosecuted for the methamphetamine death of Gemmel Moore and the All Black Lives Matter march on June 14, which attracted tens of thousands protesting police brutality and culminated in the Santa Monica / San Vicente intersection (which in another controversial moment had been painted with the image of the transgender flag.) The marchers will then head west on Santa Monica Boulevard to rally at Beverly Garden Park in Beverly Hills. The main speaker there will be Drew Hernandez, creator of the LivesMatter social media campaign that purports to call out "fake media" to support Donald Trump.
Straka, who is from New York City, is the founder of #WalkAway. That campaign took off in 2018 when he posted a video ahead of the midterm elections in which he explained why he walked away from Democratic Party. He has been a regular guest since then on various Fox News shows and in October 2018 he led a #WalkAway march in Washington, D.C., that attracted more than 5,000 participants. Donald Trump praised the movement in a Tweet in 2019.
Questions have been raised about who besides Strake is behind the #WalkAway movement. The website Hamilton 68, a product of the Alliance for Securing Democracy that tracks Russia's interference on U.S. elections, says there is evidence that WalkAway is connected to Russian bots that promote the movement as more popular than it really is.
Straka's live events in Atlanta and elsewhere have focused on Black voters, and he says that he also wants to focus more on Jewish, gay and Hispanic voters who identify as Democrats. The vast majority of voters in West Hollywood are registered as Democrats, and the city got a lot of attention in 2016 when Mayor Lindsey Horvath said Donald Trump was banned from coming to West Hollywood.
However, there are Republicans in the community. Daniel and Simon Mani, who are among the city's biggest real estate tycoons, are major donors to Donald Trump's re-election campaign (and to the campaigns of incumbent West Hollywood City Council members). And the Log Cabin Republicans of Los Angeles, an organization of gay Republicans who are avid supporters of Donald Trump, lists West Hollywood as its address. The Log Cabin Republicans are planning what sounds likely to be a very crowded pool party this weekend at a locations disclosed only to members who confirm they are attending.