Nearly 300 people rallied in West Hollywood around noon today to begin a #WalkAway protest against the Democratic Party.
The #WalkAway event is one of a number that have taken place around the country to rally members of the Democratic Party who have "walked away" from it to endorse Donald Trump and condemn what they call the "radical Left."
The event began on the southeast corner of Santa Monica and San Vicente boulevards. People were gathering there shortly after noon, waving American flags and Trump re-election banners, holding up #WalkAway posters and National Rifle Association signs and cheering when those driving by honked their horns in an apparent sign of support.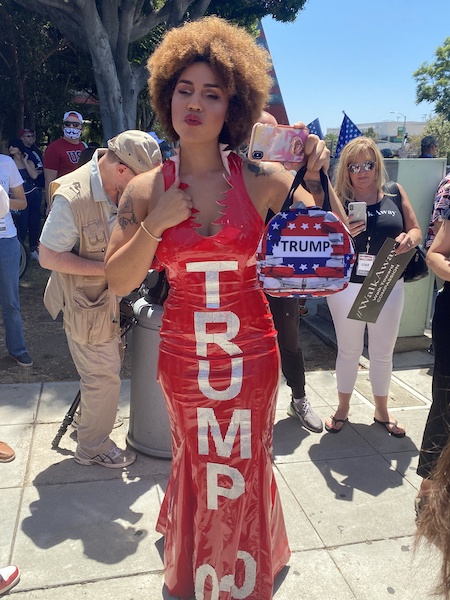 Around 1:30 p.m. people began marching west on the sidewalk along Santa Monica Boulevard to rally at Beverly Garden Park in Beverly Hills. The main speaker there was Drew Hernandez, creator of the LivesMatter social media campaign that purports to call out "fake media" to support Donald Trump.
Starting the march in West Hollywood might seem unusual given that the vast majority of voters in West Hollywood are registered as Democrats, and the city got a lot of attention in 2016 when Mayor Lindsey Horvath said Donald Trump was banned from coming to West Hollywood.
However, there are Republicans in the community. Daniel and Simon Mani, who are among the city's biggest real estate tycoons, are major donors to Donald Trump's re-election campaign (and to the campaigns of incumbent West Hollywood City Council members). And the Log Cabin Republicans of Los Angeles, an organization of gay Republicans who are avid supporters of Donald Trump, lists West Hollywood as its address. The Log Cabin Republicans have announced to their members what sounds likely to be a very crowded pool party this weekend at a location disclosed only to members who confirm they are attending. A promotion sent to the members was dismissive of COVID-19 regulations and jokingly described the event as "lawless."
The crowd at today's march and rally was peaceful and predominately white and middle-aged. However there were some Black #WalkAway supporters, some who clearly were gay and lesbian, and some in their 20s and 30s. One supporter held a sign calling out the names of Gemmel Moore and Timothy Dean, Black men who died of methamphetamine overdoses in the Laurel Avenue apartment of Ed Buck, a white man known for his donations to Democratic Party candidates.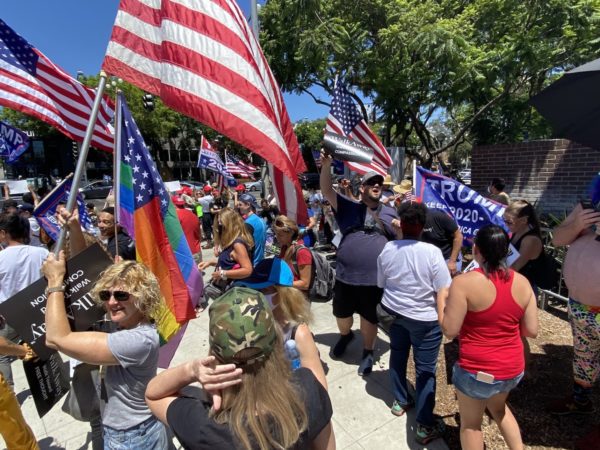 Despite the fact that they were gathered close together and cheering loudly and shouting, relatively few of those at the rally wore face coverings, which are required by law to reduce the transmission of the COVID-19 virus.
One of the crowds' biggest cheers came on the arrival of Brandon Straka, the founder of #WalkAway. Straka's #WalkAway campaign took off in 2018 when he posted a video ahead of the midterm elections in which he explained why he walked away from Democratic Party. He has been a regular guest since then on various Fox News shows and in October 2018 he led a #WalkAway march in Washington, D.C., that attracted more than 5,000 participants. Donald Trump praised the movement in a Tweet in 2019.
Questions have been raised about who besides Strake is behind the #WalkAway movement. The website Hamilton 68, a product of the Alliance for Securing Democracy that tracks Russia's interference on U.S. elections, says there is evidence that WalkAway is connected to Russian bots that promote the movement as more popular than it really is.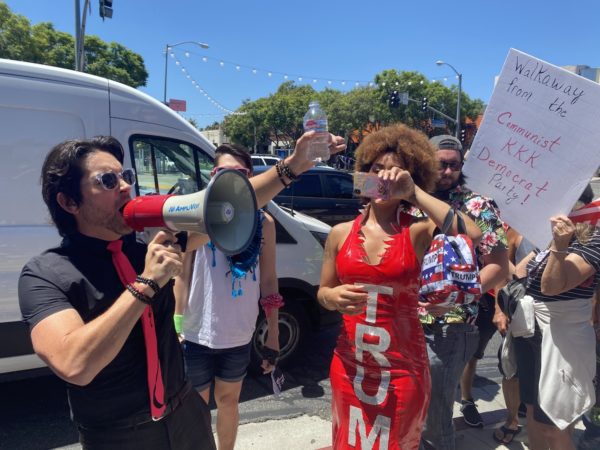 Another #WalkAway celebrity was Joy Villa, an Argentine-American singer-songwriter with a Black mother who is notorious for wearing the sort of dresses to Grammy Awards events that put Villa on Huffington Post's "Most Outrageous Looks for the 2016 Grammy's" list. In 2017, her Grammy outfit feature Trump's campaign slogan "Make America Great Again" and the name "Trump." She showed up at today's rally in a similar outfit with the letters T R U M P down the front of her body.