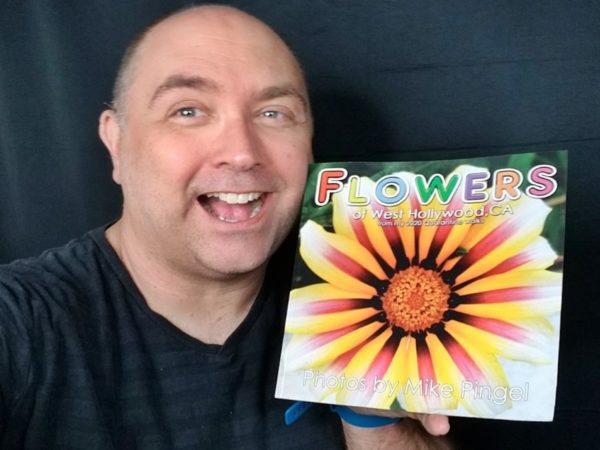 Yes, it's important to isolate as much as you can to stay safe during this unprecedented pandemic. But it's also important to stay sane, and one of the best ways to do that is to take the occasional walk outside (with a face covering and social distancing, of course).
Mike Pingel, a West Hollywood resident, works in the entertainment field as a photographer, actor, host, writer, and publicist. For many years, Pingel has enjoyed logging in his daily 10,000 steps to make his FitBit happy. When Covid-19 hit California and West Hollywood was closed down, Pingel continued to stay active with his walking to keep himself sane.
On one of these walks as the Los Angeles air began to clear, Pingel noticed that the flowers seemed to be super happy.
"On my daily walks, I started to take photos of the blooming flowers of West Hollywood," Pingel said. Pingel has posted many of those images on his Pinterest account. And now they are showcased in a new book titled "Flowers of West Hollywood" that features photos of flowers Pingel took during his daily walks from the beginning of the pandemic in March through July.
His walks around West Hollywood include La Cienega Boulevard to Fairfax Boulevard; Hacienda Place to San Vicente Boulevard, plus up and down side streets of Fountain Avenue, Crescent Heights Avenue, Laurel Avenue, Kings Road, Sweetzer Avenue, Harper Street, Havenhurst Drive — all around the West Hollywood neighborhoods.
"Funny, I never thought of publishing a book of my flowers photos. However, a friend was so complimentary about the images I posted on Instagram, it got me thinking and wondering how they would look in a book." Pingel said.
The soft back book's 102 pages include almost 100 full color images of the flowers Pingel encountered during his walks. It can be purchased on Amazon.  And Pingel invites others to share images of the flowers they see in West Hollywood by joining his Flowers of West Hollywood Facebook page.
Since the Covid-19 outbreak, Pingel has been keeping busy with filming episodes for Collector's Haven, an online show where he chats with collectors and their collections.  Pingel was the personal assistant from 2005 to 2007 to Farah Fawcett and since then has been an avid collector of Charlie's Angels memorabilia.  His collection of over 2,000 items includes the original script for the show entitled, "Harry's Angels," a pinball machine, dolls, dresses, cosmetic beauty kits, and a Farrah Fawcett "Red Swimsuit" poster.
On The Mike Pingel Show, Pingel chats with authors, actors and producers; and every Saturday he hosts "Live Chat with Tanya Roberts" featuring actress Tanya Roberts from Charlie's Angels and James Bond fame talking with her fans.  
Pingel also has written six books: "Betty White Rules the World," "Channel Surfing: Charlie's Angels,"  "Channel Surfing: Wonder Woman," "Angelic  Heaven:  A Fan's Guide to Charlie's Angels," and "Works of Pingel."