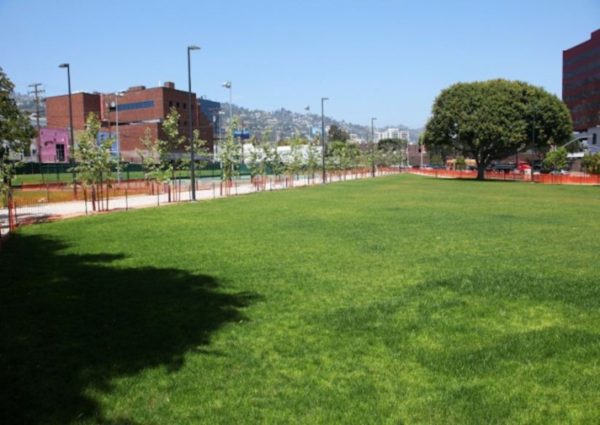 West Hollywood is reopening its parks.
The city today announced a plan for a limited reopening of West Hollywood Park and Plummer Park. Those parks were ordered closed by the City Manager on July 23 after it was revealed that as many as half of their visitors weren't wearing mandatory face coverings and weren't abiding by the social distancing rules intended to reduce the likelihood of the transmission of the deadly COVID-19 virus. Some also had altered or destroyed protective barriers intended to keep playgrounds and basketball courts closed.
City Manager Paul Arevalo's re-opening plan requires that anyone wanting to visit a park first make an online reservation 24 hours in advance. Reservations are available at Plummer Park in the Vista Lawn and Fuller Lawn areas and at West Hollywood Park in the Great Lawn area.
Numbered spaces will be outlined in the grass and Ccty staff will be available to assist users with finding their spaces.  Individuals can book a space for a two-hour block between 9 a.m. and 7 p.m. There is no cost to reserve a park space.
Park visitors at all City of West Hollywood parks are subject to the following guidelines:
Visitors at Plummer Park and West Hollywood Park shall use the park in the reserved space. At all other parks, physical distancing of six feet between groups that are not part of the same household is required. Avoid crowded areas.
Organized activities and group fitness classes, yoga instruction, dog training and personal training sessions are not permitted in any city park, including neighborhood parks.
Face coverings are required.
Water fountains will remain closed. Members of the public are encouraged to bring water from home.
Bathrooms will remain closed.
Visitors must leave the area clean and remove all personal items and trash before leaving the park.
Playground and exercise equipment will remain closed.
Reservations can be made by visiting the West Hollywood Recreation Park and Facility Reservation system online at https://apm.activecommunities.com/weho.
Those wishing to make a reservation must have an Active Net account, which can be easily created at the above link. Individuals will receive a confirmation email when their reservation is approved.
 For all other City of West Hollywood Recreation programs, visit www.weho.org/recreation.