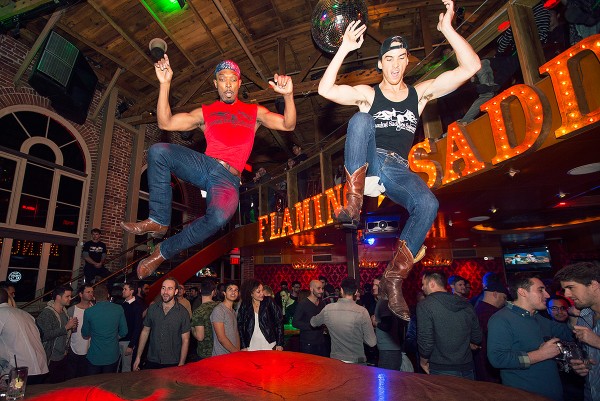 Flaming Saddles, the gay Country / Western bar in the heart of West Hollywood's Boystown, is the latest casualty of the COVID-19 pandemic.
Jacqui Squatriglia and Chris Barnes, its owners, announced the closing today.
"It has been a very long five months, very long indeed," the couple said in a text message announcing their decision. "Throughout these months Chris and I have chosen to stay positive. I had spoken to landlords, thought I worked out deals, and we were watching the science carefully as well as city and state regulations. We wanted to make sure it was as safe as possible before we attempted to re-open our doors.
"Well, as we were drawing close to opening Flaming Saddles WeHo, it was revealed to us that we did not have a secure deal. That was certainly a surprise, but we went immediately into re -negotiating. If you know Chris and I, you know that we do not give up, we fight to the end and always stay positive.  That being said, please know that we have absolutely exhausted every way possible to make a deal for our location.
"With the heaviest of hearts, we are sad to say that Flaming Saddles WeHo will not be reopening at 8811 Santa Monica Blvd."
The closing of Flaming Saddles follows that of Gym Bar, another popular gay destination, whose owners last month said they were unable to work out a deal with the landlord.
Barnes and Squatriglia opened Flaming Saddles in November 2014 in the building on the northeast corner of Santa Monica Boulevard at Larrabee that once was home to the Eleven nightclub. The building is owned by Monte Overstreet, the owner of buildings that house other gay bars such as Gold Coast and Rage and restaurants and retailers such as Halal Guys (now closed), Z Pizza, and Fiesta Cantina.  In March, Gov. Gavin Newsom had ordered bars to close in an effort to curb the transmission of the COVID-19 virus in packed places.  They were ordered to re-open on June 18 if they followed strict social distancing rules.  Then Newsom abruptly ordered them closed again on June 18 as COVID-19 infections continued to climb.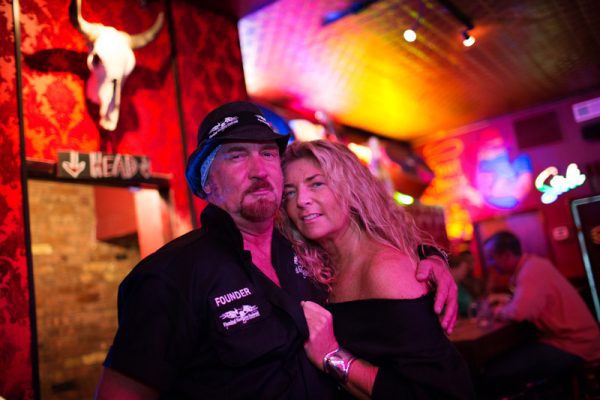 Bars that serve food and thus operate as restaurants are allowed to remain open, but only if they serve meals and drinks on the outside.  That has led to the opening of dozens of outdoor dining spaces on the sidewalks and in parking lots throughout West Hollywood, including the Den on Sunset on Sunset Boulevard and Hamburger Mary's on Santa Monica Boulevard.
The West Hollywood City Council on April 6 passed an ordinance that banned landlords from evicting commercial tenants who couldn't pay their rent because of losses associated with the pandemic. That eviction moratorium covered unpaid rents from March 16 through May 31. On May 4, the Council extended that moratorium through the end of July.  And on July 20 it voted to extend the moratorium through Sept. 30. Commercial tenants with 20 or fewer employees will have one year from the time the moratorium is lifted to repay the back rent owed. Commercial tenants with 21 or more employees will only have six months to repay the back rent.
Barnes and Squatriglia own the very popular Flaming Saddles bar in New York City. They faced challenges with the opening of their Country / Western bar in West Hollywood, where go go boys in jock straps are what pass for much of the entertainment in the city's gay nightlife area. People said it wouldn't work and there had been a rumor posted on Facebook that Flaming Saddles had failed and would be closed after the June 2015 LA Pride weekend.  But Barnes and Squatriglia kept at it. In an interview with WEHOville in 2015, the couple said their focus was creating a neighborhood saloon, — a place where you can hang out with old friends and meet new ones, and where the staff gets to know you and remembers what you like to drink (and eat). "Open up the base brand and then be aware of what the community wants to let it grow," Squatriglia said.  Over time, Flaming Saddles evolved (it wasn't just Country / Western music) and the professionally choreographed dancers weren't required to keep their shirts on.