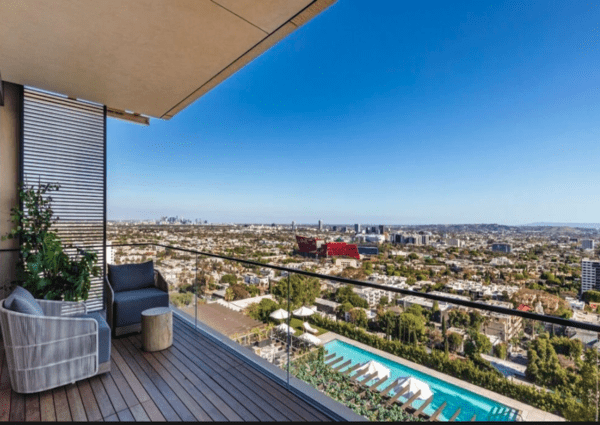 It looks like some people can afford housing in West Hollywood.
So Variety reports in "Residences at the West Hollywood Edition Lure Youthful Billionaires."
The Hollywood entertainment industry magazine reports that 15 of the 20 condo units atop the Marriott hotel on Sunset Boulevard between Hammond and Doheny have been sold at prices starting at $4 million.
And the buyers? "Some savvy moguls, some trust-funders, some possible money launderers, but all of them jetsetters with no credit limits and highly visible lives," Variety reports. And they're more likely to be late Gen X'ers or early Millennials than Boomers.
They include Steve Aoki, 42, a Gen X'er whose 1977 birthday puts him just four years short of the Millennial generation. Aoki is a DJ, record producer, and music executive. Then there's Ryan Tedder, a 41-year-old Gen X'er singer, songwriter, musician who Variety reports shelled out $6.3 million for this Edition home. Justin Mateen, at 34 a solid Millennial and a co-founder of Tinder, paid $5.2 million (a deal compared to the $19 million his other home in Bel Air cost him). Millennial Nick Gross, 32, bought one of the two Edition penthouses for $15.5 million. Gross, who Wikipedia describes as an "entrepreneur, musician and trust fund baby," is the son of Bill Gross, founder of the Pimco investment firm. He's famous (or infamous) as the funder of "Find Your Grind," a somewhat controversial program that encourages kids to explore options other than college. His co-founder in that venture is Luke "Dingo" Trembath, controversial for his explosive, and videotaped, rant of homophobic comments at an event in Colorado.

And then there are those foreigners (not the ones who have had to make the painful migration across the Mexican/United States border.) They are Jose Seripieri Filho, a Brazilian businessman arrested in that country for his involvement in a political slush fund, and Farah and Fajer Al Rajaan, the daughters of a Kuwaiti government official who has escaped his native land, where he's been sentenced to life in prison for embezzling $850 million from the government.
In addition to the Edition Residences' amazing views, "current Edition homeowners say one of the building's biggest attractions is a feature it actually lacks: affordable housing, something that has been mandated in other developments," says the Variety story. "8899 Beverly and Pendry have the low-income units, while the Edition, Four Seasons and Century Plaza, due to their size and location, do not. Residents at those developments rest easy with the peculiar comfort of knowing all their neighbors are also exorbitantly wealthy, for better or worse."
However, the hoi polloi are invited in to do the cleaning.