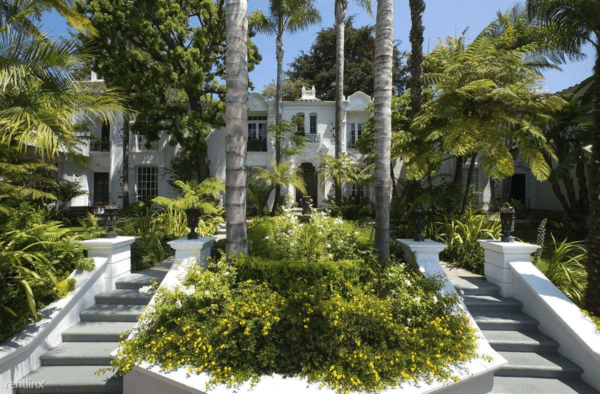 El Palacio, the apartment building on the northeast corner of Fountain Avenue and La Cienega Boulevard has been sold for $15.75 million. The 18-unit building was built in 1931 in a Churrigueresque Spanish Colonial Revival style and has been designated as a cultural resource.
The building was sold by Christina Development, a Malibu-based developer, which purchased it in 2014. A spokesperson declined to identify the buyer.
Christina Development was able under the state Mills Act to get a significant reduction in its property taxes in exchange for renovating the property to return it to its original design standards. However, residents of the building and members of the West Hollywood Historic Preservation Commission criticized Christina Development for not doing the work it was supposed to do.
A city examination in October 2016 of the El Palacio and the Lotus building at 1216-1224 N. La Cienega Blvd, which Christina Development also acquired, found that the vestibule walls had been painted improperly, and in one case the floor had been replaced with materials that didn't reflect the history of the buildings. City inspectors noted cracked stucco, finials that remained stored in the basement rather than reinstalled and painting of wood staircase posts in public areas. Christina Development's director of acquisition, Lloyd Hussey, said the company had spent hundreds of thousands of dollars to restore the buildings and that some of the company's employees may have been unaware they had to preserve the look of the interior as well as the exterior.
El Palacio was developed by renowned architect William R. Hauptman. Upon completion, Hauptman formally dedicated El Palacio to the President of Spain.