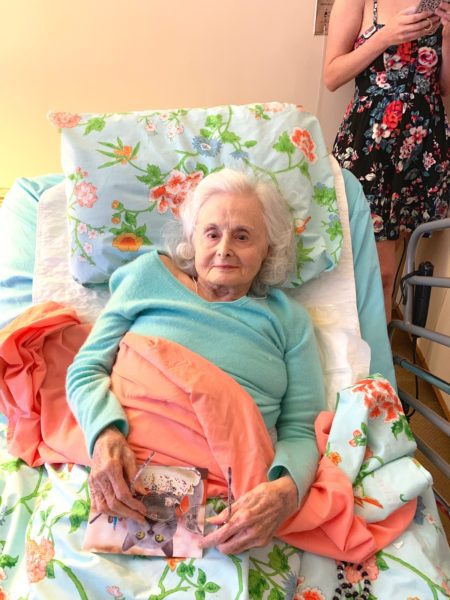 The Mayor calls up the next speaker, who nervously approaches the podium. Glancing nervously at his notes, novice speaker starts to address the Council. Suddenly the Council Chambers reverberate with a screech: "WHAT'S YOUR CITY OF RESIDENCE?" Another rattled resident has just been introduced to the legendary Jeanne Dobrin. While most cities have gadflies that haunt municipal meetings, few, if any, could compare to Jeanne Dobrin, who almost appeared to be the Platonic form upon which other gadflies could only vaguely aspire. Described as both a bane and a blessing, for nearly 40 years Jeanne played the role of community advocate in every meeting where land use was at issue.
But Jeanne was more than a generic gadfly, she was a mentor, community leader, land use expert extraordinaire, defender of the underdog, watchdog of City Hall ethics and lover and conscience of West Hollywood. Jeanne could be eloquent, bullying, disruptive, empathetic, outraged, childish and sentimental all during the course of a single meeting. Her grasp of land use and zoning issues could intimidate staff, terrorize developers and embarrass Council members. She could publicly accuse Council members of all sorts of nefarious conduct short of murder, yet still made a point to give praise when praise was warranted. In private she often expressed her love of every Council member, although she often found it difficult to respect them. While she craved the love and attention of the community, her outbursts and tantrums tried the patience of even her most faithful devotees. While not universally loved, even her critics respected her knowledge. She was a talented painter of tranquil still lifes, was devoted to her cat and loved the Sheriffs Department. She was the bane of her long suffering homeowners' association as well as a thorn in the side of countless developers. Jeanne was a fearless defender of the West Hollywood she loved and always wanted to hold municipal government to the high standards that she believed were the basis upon which the city was originally founded. Unfortunately she was often disappointed on that count.
Jeanne passed away this past January at the incredible age of 99; she would have been a hundred years old on Aug. 23. In the course of over 40 years of devotion to this community, she mentored and inspired two generations of West Hollywood activists. To the very end she had a passion for West Hollywood. Her life as a community activist was extraordinary and her life reflected the history of the city. Her dogged persistence impacted numerous developments and ultimately made West Hollywood a better place to live.
Dobrin loved West Hollywood before there even was a West Hollywood. In the years prior to the city's incorporation in 1984, she had been religiously attending meetings of the Los Angeles County Board of Supervisors. I am sure the Supervisors were relieved in 1984 when West Hollywood finally incorporated.
I met Jeanne during the Cityhood campaign, when she was one of the 40 candidates running to be part of the first City Council. I got the impression that Jeanne was a bit less than enthused about creating a new city; part of that was based upon a survey of the cast of characters who were running for office. There was a smattering of established community leaders, including Jeanne, Bud Siegel and Joyce Hundal, the formidable founder of the West Hollywood West Residents' Association, as well as a number of sharp-elbowed characters who seemed more interested in having a title than qualified to run a city, Several had only moved into the city a few years, or even months, prior to the election. After the city was incorporated, Jeanne was appointed to the Transportation Commission by Councilmember Steve Schulte, a former executive director of the Gay and Lesbian Center and the only Council member with any sort of managerial experience.
Jeanne's time on the Transportation Commission was relatively short. I recall an incident where she heatedly confronted the owner of Micky's on Santa Monica Boulevard and claimed there some sort of encroachment. As the owner, Michael Niemeyer, related the story, the run in almost ended in fisticuffs with Jeanne threatening to throw the first punch.
As a realtor Jeanne was a self-made person who prided herself as being a feminist. She certainly never tolerated any "mansplaining" by John Heilman or any other Council member. Jeanne was proud to be a founding member of the West Hollywood Democratic Club in 1984, and she was active in the Club until well into her late 90s. She always tried to keep the Club focused on local issues and was merciless in her interrogations of City Council candidates.
Jeanne made a point of researching every Council and Planning Commission agenda. Back in the days when we held meetings in the West Hollywood auditorium, Jeanne would often collar members of the audience during meetings to express outrage or concern over various items, recruiting additional speakers to help her cause de jour. That is actually how Jeanne and I bonded.
In the early 1980's Severyn Ashkenazy was a developer of dubious repute who had purchased a number of condominiums in West Hollywood that he hoped to convert to hotels. Ashkenazy took advantage of a bust in condo construction when many people purchased West Hollywood condominiums for speculation and rented out their units. As property values dropped, Ashkenazy swooped in. In 1988 he began evicting tenants, often using threats and cutting off services in order to expedite his application to convert the buildings to hotels. The homes of hundreds of tenants were at stake.
It is hard to believe but the Montrose, Le Park, the Chamberlain and Le Rêve hotels were all residential buildings at the time. Jeanne recruited me to help her in her crusade to stop what she called the "commercialization" of residentially zoned areas. To me this seemed like a simple case of protecting people in their homes, the same cause that inspired us to incorporate as a city.
But Ashkenazy had an ally at City Hall. John Heilman, who came to dominate the City Council after the fall and arrest of Valerie Terrigno, needed revenue to expand the city's social services. Ashkenazy was dangling the prospect of hotel tax revenue, so he and Heilman aligned to create the greatest loss of rental housing in the history of West Hollywood. Jeanne led a bruising battle that went on for months in her effort to stop the conversions. It was very much a personalized battle between a dogged community activist and John Heilman, the self styled "protector of tenants". Jeanne appreciated it when I branded Ashkenazy an "urban terrorist" during one hearing. It made for a nice headline.
Although it was a battle we lost, Jeanne became a life long friend. What I gained out of this relationship was having a human land use encyclopedia at my finger tips. Jeanne always had the time and patience to repeatedly explain any sort of land use issue with anyone, no matter how simple or intricate. She viewed her well of knowledge as a resource for the entire community and countless neighborhood leaders and activists found her to be an abiding source of support and inspiration.
In 1989 Jeanne worked with me to successively oppose John Heilman's plan to put a huge City Hall in West Hollywood Park, which would have destroyed green space and closed our only municipal pool. That battle was won at the ballot box and was an embarrassing defeat for the city.
In 1994, when I was a newly elected Council member, Jeanne explained the downsides of the proposed Eastside Parking Overlay, which would have allowed developers to purchase and demolish residential buildings on either side of Santa Monica Boulevard as long as they were providing additional parking. That was another harebrained scheme that Jeanne played a role in derailing.
Years later, in 2005, Jeanne asked me to organize against the city's proposed Mixed Use Overlay, which would have allowed for ten-story buildings at every major intersection along Santa Monica.
Jeanne was a foe of "development agreements," which are shady devices used to allow a developer to ignore the general plan so long as the city receives a cash "development fee." These agreements are negotiated in private and are often nothing more than a dubious form of corporate welfare. Jeanne and Allegra Allison successfully sued to force the developer of the Palm Restaurant project, just west of Pavilions, to lower the project by a story and increase its development fees to the city.
In 2010, the Los Angeles Weekly did a expose on the seedy side of West Hollywood "pay to play" politics with a cover story entitled "West Follywood." Jeanne was featured with a quarter page color photo captioned with her battle cry: "This City is for Sale!" It was a phrase she would use time and again over the next decade and still resonates today.
At times Jeanne seemed woefully out of step with the character of West Hollywood. During the 1980s and 90s when the Sunset Strip seemed out of control, Jeanne constantly ranted that "this city was founded on the three 'cations': fornication, intoxication and urination", the later being a reference to the public urination endured by homeowners adjoining the Strip.
Jeanne was a legendary bad driver, and I didn't know anyone who would get into any vehicle she was driving. In the mid-90's she drove up to see plans for the Sunset Millennium project at the home of the developer, Mark Siffin, up in the Hollywood Hills. After Jeanne left Siffin's home, he drove down the hill and discovered an overturned vehicle; Jeanne had apparently driven off a cliff. Mark rushed down and pulled Jeanne out of her vehicle, apparently no worse for wear. Those heroics did not endear Siffin to a number of people.
Jeanne even inspired a fictional character. West Hollywood gay mystery writer John Moran Wilson wrote a murder novel loosely based upon Councilmember Jeff Prang's 1999 sexual harassment episode when Prang public groped a city employee on a municipal junket. In that tome, Lydia Rottweiler was figure transparently based upon Jeanne. As many victims of Jeanne's wrath referred to her as Jeanne "Doberman," she was outraged by Wilson's caricature. Initially feeling insulted, I convinced her that ultimately Wilson was giving her a compliment. Eventually she saw it that way. I had to admit that "Lydia" was a far more interesting figure than the character based upon me.