Welcome to the 20th episode of We Know WeHo. This week, producer and host Tracy Paaso is joined by guest host Maxine Tatlonghari, stepping in for Lauren, as they chat with the Doyenne of the West Hollywood Design District, Jamie Adler. Jamie is a long-time West Hollywood business owner with a true love for the Creative City.
She was the first guest on We Know WeHo and it seemed only fitting to bring her back and see how things have evolved since those early days of WeHo pandemic. Jamie's philosophy is "adventurous with total safety." She shares some great insider tips on how we can get out, safely, as our businesses pivot and navigate the pandemic.
Dining Al Fresco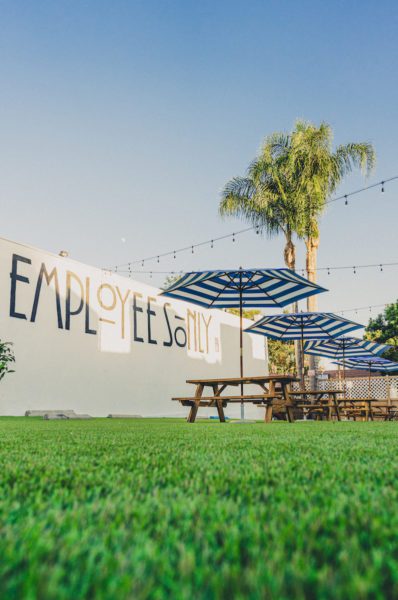 As restaurant owners traverse opening, reopening indoor dining, or not – takeout etc … one creative compromise that seems to be working is patio dining, practically a sport here in WeHo even pre pandemic. Jamie, Tracy and Maxine share some of their faves here:
Summer Social Club at Employees Only
This backyard bbq-meets-Coachella is a favorite with all three ladies. Whether it's crudo, Filipino adobo bowls or kombucha slushies, owner Tom Sopit and team have created a total experience. Their lineup also includes haircuts, yoga and activations from brands you need to know. Summer Social Club at Employees Only.
Dan Tana's (in the Alley)
"Who would think you would ever have Dan Tana's outside?" Jamie notes – admiring the way this institution has approached its reinvention.  As we all wait to see what Phase 1 and Phase 2 re-openings bring (September?), know that  Dan Tana's is here for you.
Sunset Plaza
From Petit Four to Chin Chin, the Sunset Plaza is buzzing like never before. Many restaurants have expanded their patio footprint into the ample parking lot. This is one of those iconic destinations where people watching, car ogling and good food converge. Sunset Plaza.
Olivetta on Holiday at La Peer Hotel
Chef Michael Fiorelli's signature dishes will be featured poolside while wood-fired gourmet pizzas and unique specialty cocktails from Melina Meza will be offered on the private rooftop. This outdoor residency will run Wednesday through Saturday for the duration of Summer 2020.  Olivetta at La Peer Hotel.
The Nice Guy
This sexy spot's aesthetic pays homage to a decadent era of Mafia bars and restaurants where the owners and their friends can enjoy an evening together. It's nice to see that they have expanded to bring one of our fave h.wood offerings outdoors.  The Nice Guy.
Wellness and Health
ARTHA
This new wellness oasis opened at the beginning of the pandemic and offers some of the most dynamic rooftop yoga in WeHo taught by the most popular yogis in the City.  Cryo chambers, float tanks and infrared saunas round out the offerings. ARTHA Mind Body Soul
Carrie's Outdoor
Last time Maxine was on the show, she wished for an 0utdoor Pilates offering. Well, that prayer  was answered by one of her favorite women, Carrie of Carries Pilates Plus now offering an outdoor pop up. Carrie's Pilates Plus.
Experiences & Date Night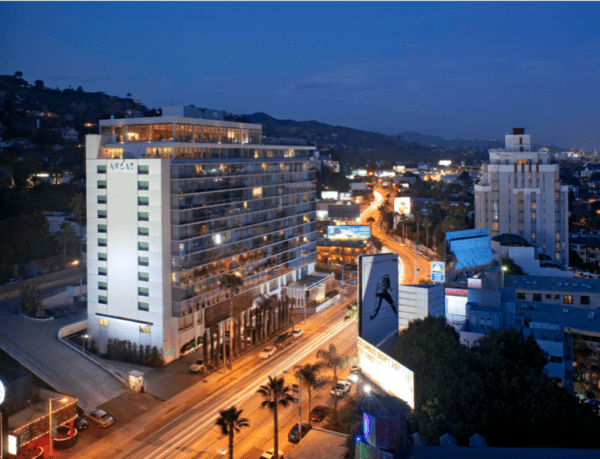 Late Night Drive In at The Andaz
The Sunset Strip Presents combines drive-In theater style shows and live comedy with acoustic shows and established and emerging artists. Launched just last week, this unique experience will run through October. Make sure to order food from the famed Andaz Hotel for a perfect night out. Late Night Drive In.
La Peer Hotel
The art-forward hotel has really become a hub for the community and out-of-town guests with Taco Thursday, a sushi pop up, awards-style gift gallery and the aforementioned Olivetta residency. This spot has always been a favorite for an intimate cocktail al fresco and this new programming makes it a must-visit.
A Fond Farewell … For Now
ShapeHouse, West Hollywood Design District
Unplug Meditation, West Hollywood Design District
Fig & Olive, Melrose Place
Flaming Saddles, Boystown
While it saddens us to see some of our faves have shut their doors in the WeHo community, we are happy that some still have locations in other parts of LA and/or online. We know everyone mentioned here will reinvent and evolve … and we can't wait to see what they do next.