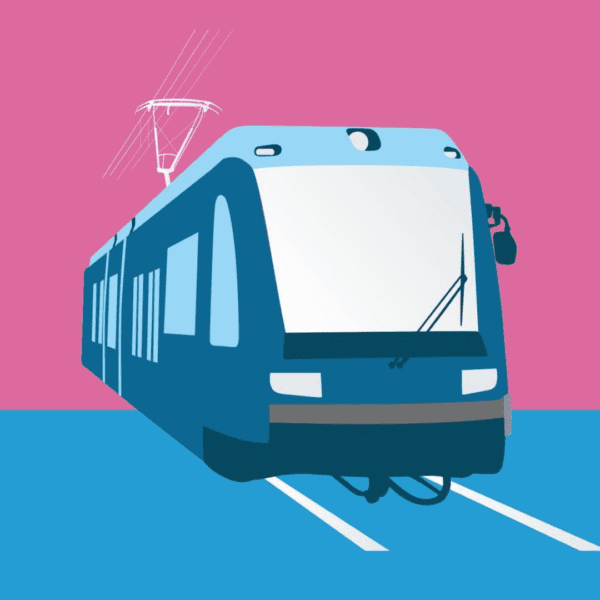 The Los Angeles County Metropolitan Transportation Authority (Metro) Board of Directors voted yesterday to award a contract for environmental analysis and engineering for the proposed Crenshaw/LAX northern extension rail line, which will bring Metro rail service to West Hollywood.
"Today's unanimous Metro Board vote means that the City of West Hollywood is one step closer to realizing our vision to #FinishTheLine and bring Metro rail service to our city and to connect the region," said West Hollywood Mayor Lindsey Horvath. "This important milestone builds on years of progress, advocacy, and community support for more transit opportunities. The Crenshaw northern extension will provide critical north-south connections and enhance the existing Metro regional rail network, which is a win not only for West Hollywood — it's also a win for the entire metropolitan region."
The City of West Hollywood has been working with West Hollywood Advocates for Metro Rail (WHAM), the All on Board Coalition, and the City of Los Angeles to build support for the Metro rail line Northern Extension to connect the Crenshaw/LAX rail line with Mid-City, West Hollywood, the Metro Red Line station at Hollywood Boulevard and Highland in Hollywood, and possibly even the Hollywood Bowl. They have pushed to accelerate the completion of the Crenshaw/LAX rail line northern extension to as early as 2028, instead of 2047, in time for the Los Angeles 2028 Olympics and Paralympics. The West Hollywood City Council, in 2015, approved its plan in support of a Metro rail line northern extension to connect to the Crenshaw/LAX rail line.
In a description of the project on its website, Metro says that "in addition to forging faster transit connections between communities south and north of the 10, the project could also serve busy job and commerce centers north of the 10 freeway, including the Wilshire Corridor, West Hollywood and Hollywood. Early ridership estimates for all the routes were very promising, showing about 90,000 boardings being taken on the line on weekdays."
The project is expensive, and West Hollywood will have to pay a share of the costs. "The Measure M spending plan provides about $2.2 billion for the project, although early cost estimates show that the expected cost could be significantly more due to expected tunneling and bridges that could be needed," Metro says . "Under Measure M, the project is scheduled to be built in the 2040s. But Metro — in partnership with the City of West Hollywood and the City of Los Angeles — is advancing planning work on two key conditions: 1) that funding can be found to accelerate the project, and; 2) that accelerating the project would not impact the timelines of other Measure M projects, as per Metro's project acceleration policy." Measure M is a ballot measure approved in 2016 that authorized a one-half cent increase in the county sales tax to fund Metro's overall growth plans.
So far, West Hollywood has spent nearly $2 million on getting input from residents and businesses, analyzing the cost of the project, and lobbying Metro in support of the project. The contract for the next steps for the extension through West Hollywood was approved because the city met one of the criteria for ranking projects, which is whether a local jurisdiction is willing to allocate at least 10% more than the required 3% contribution to the local project. The mandatory 3% contribution would cost West Hollywood between $44 million and $66 million, depending on which route Metro finally chooses. An additional contribution of between 10% and 25% could cost West Hollywood between $70 million and $550 million. Metro still must approve budgets for the contract for this and future years and choose one of the route options and a plan to fund it before the project can move toward completion.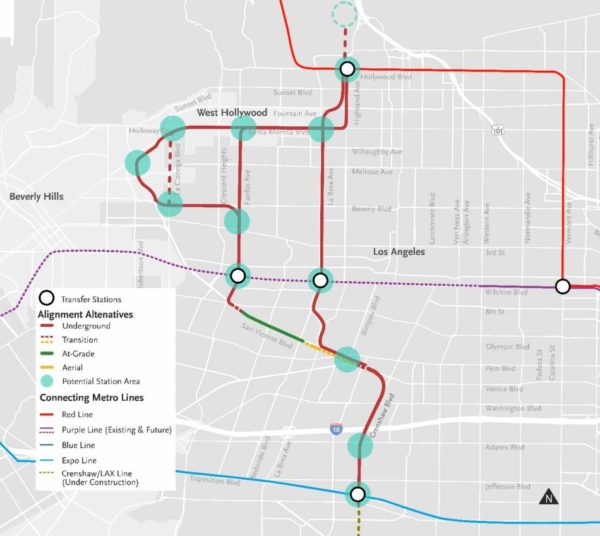 An article about the extension project on The Source, a Metro blog, says that "while the analysis and engineering contract being considered by the Metro Board is for $50.3 million, only $2.2 million of that would be spent in fiscal year 2021 in order to contain costs during the ongoing coronavirus pandemic. If approved, the contract will be awarded once the board approves a budget for Metro for the current fiscal year (that's scheduled to happen in September)."
Metro has identified three possible routes for the extension through West Hollywood:
La Brea Avenue
With this option, trains headed north would move west at Venice Boulevard and then head north up La Brea Avenue to a terminal in Hollywood.
Fairfax Avenue
This alternative would have the Metro extension run on the street level on San. Vicente Boulevard in Mid-City before turning north at Fairfax. It would run underground from south of Wilshire Boulevard under Fairfax Avenue and then east under Santa Monica Boulevard until it reached Highland Avenue, where it would head north to Hollywood.
San Vicente Boulevard
In what is called a "hybrid alignment" the Metro route would serve several business areas in Beverly Grove and West Hollywood – including the Grove and the Farmers Market, CBS Television City, the Beverly Center, Cedars-Sinai Medical Center, and the Pacific Design Center. It would run north underground along Fairfax to Beverly Boulevard, where it would turn west and then gradually curve north onto San Vicente Boulevard. It would head north to Santa Monica Boulevard, where the Metro route would go east to Highland Avenue to Hollywood.
The Source says that each of those possible routes is expected to generate approximately 90,000 daily passengers – roughly 20,000 of which would be new transit users. However, it notes, "the difference in the total distance of the three options results in starkly different expectations for speed and cost."
"The La Brea alternative, at just 6.3 miles, would take passengers from Expo/Crenshaw Station to Hollywood/Highland Station in just 12.4 minutes. Its total price tag could range between $3 billion and $4.4 billion."
"Fairfax, which would require 8.0 miles of new guideway, could ferry passengers between the same stations in roughly 15.7 minutes. Its expected cost is also significantly higher – estimates range from as low as $4.7 billion to as high as $5.3 billion."
"The winding hybrid alternative (along San Vicente and then Santa Monice Boulevard), at 9.9 miles in length, would offer a 20.6-minute trip between Expo/Crenshaw and Hollywood/Highland. Its anticipated price tag far outstrips its counterparts, ranging from $5.5 billion to $6.5 billion.