I take the bus daily to and from work as I, like many of us in Los Angeles, do not drive. I might be just like a lot of you, except that I am disabled. I have a disability — cerebral palsy — that affects my mobility and my balance. Because of this, navigating the world has never been a stress-free experience for me. In an effort to feel more empowered, I began to use public transit. Unfortunately, this has led to a new kind of navigation, navigating accessibility and accommodations.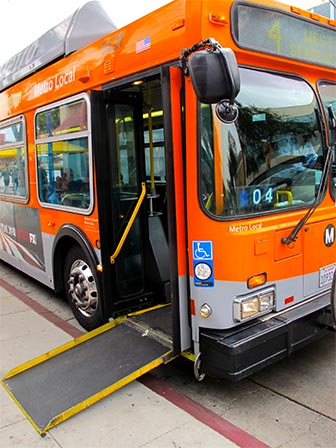 Overall the majority of Metro bus drivers are professional and ready and willing to provide assistance to those in need. The pandemic, however, has led to many changes and a need for everyone to adapt. Metro is no exception. Metro now has a new procedure — passengers must enter the bus from the back door, unless you have a disability and need to use the ramp at the front entrance. I learned early on that I needed to use the ramp or have a step lowered. That's because, when I once used the back door to exit, I fell and hit my head on the curb. I was knocked unconscious and my head was bleeding. So entering by using the ramp or steps at the front of a bus is the safest option for me.
Unfortunately, that hasn't always been easy. I have faced multiple instances when bus drivers wouldn't make the ramp available. In one instance, I was riding the bus with my arm in a sling (which I had to use after a fall). To exit the bus, I asked the driver to lower the ramp to the curb, which the driver would not do. He said something to the effect of "it's low enough or I cannot lower it anymore." So I had access to a bus for transportation, but there was a barrier to my exiting the bus. All the driver had to do was drive the bus up a few feet to allow the ramp to lower. But he didn't.
I filed a complaint about that, asking to speak a Metro supervisor. I felt like I had to do something, I had to find a way to get this sort of issue under control.
I waited for a response, I continued to ride the bus and had another incident. This time, I was told by the driver that I was not to use the disabled seating toward the front of the bus because I did not have a walker or a wheelchair. However, the driver did allow me to use those seats for that ride, but I was told that "next time" I couldn't do that. But the problem was that the regular seating, not that for the disable, wasn't accessible from the front of the bus where the ramp was. That seating had been blocked off with caution tape). So I emailed the supervisor about that and was told it was told that that issue was not under the control of their division. However, I was informed that the supervisors had reviewed video footage of my most recent complaint with the driver not lowering the ramp. They said the driver had been spoken to and the situation was handled. I felt empowered. I had advocated for myself!
But while asking to enter the bus from the front door during a later ride, I heard the driver having a conversation with another passenger. That passenger, like me, was asking to use the ramp. The driver said "I cannot let you on in the front due to the fact that you are not in a wheelchair." The passenger continued to ask that she be allowed to move to the front of the bus and that the ramp be lowered so that she could exit the bus there. "I'm just telling you what they are telling me," the driver said. It was at this moment I realized this was not just happening to me. Mine wasn't a single case of lack of training, poor customer service or bad attitudes. There clearly was a barrier on Metro buses for those with disabilities.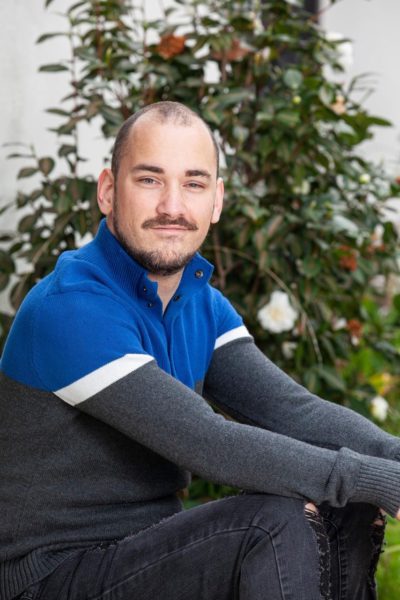 I wanted to share my story to explain that there are different disabilities — they aren't not the same for everyone. I have difficulty walking, I do not always use my crutches and I do not use a walker or a wheelchair. However, I am disabled. But am I only disabled enough to warrant the ramp accommodation when I fit the narrative others have about disability? If I were using my crutch when trying to board the bus, would it have made me appear more disabled? It would have made my disability more visible, and yes, that might have led to a more seamless access to services. But not every disability is so visible.
A physical disability is challenging enough without having to confront barriers to services. If Metro's policy truly was to not let a passenger use ramps, seating for the disabled and other accommodations unless one had an assistive device, that excludes many from services and supports that they rely on. There is a difference between requesting an accommodation and pleading for assistance. Someone's safety should never feel like an inconvenience.
I also am sharing this story want to highlight the importance of speaking out about issues like this. At a loss for what to do next, I contacted the City of Los Angeles Department on Disability. They spoke to Metro directly. They advocated for change, and I was informed that change would come, policies would be examined and training would occur. This is, I hope, a step in a positive direction for me and others with disabilities. We all deserve dignity, and we all deserve accessibility.