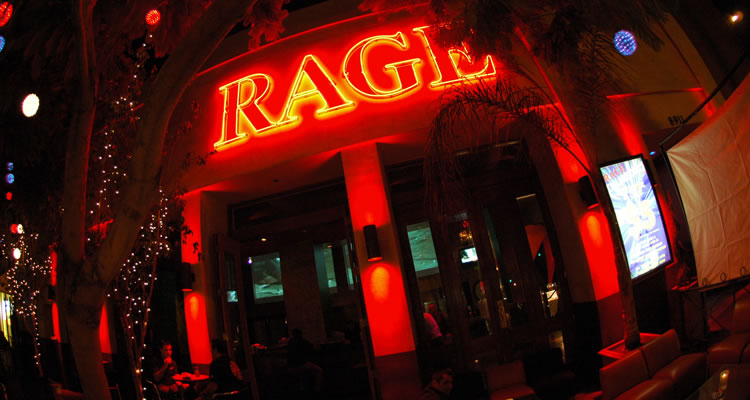 The latest blow to West Hollywood's Boystown gay nightlife district is the closing of Rage, the gay bar at the northwest corner of Santa Monica Boulevard and San Vicente.
Ron Madril, the manager of Rage, confirmed the closing. Rage was opened in 1983 by Robert Maghame and Saeed Sattari in a building at 8911 Santa Monica Blvd. owned by Monte Overstreet.  Their lease is said to have been set to expire in November, but Maghame and Sattari were unable to negotiate a renewal with Overstreet.  Jacqui Squatriglia and Chris Barnes, owner of Flaming Saddles, the gay Country / Western bar at 8811 Santa Monica Boulevard at Larrabee, announced its closing on Aug. 16 after they were unable to reach an agreement with Overstreet because of unpaid rent.
Like other bar owners, Squatrigilia and Barnes and Maghame and Sattari have struggled to deal with the financial impact of the temporary closing of bars because of COVID-19.  Los Angeles County health officials ordered the closing of all bars on March 16 because of the COVID-19 pandemic.  Gov. Gavin Newsom issued an order on June 18 allowing bars to reopen so long as they followed certain safety rules. But then 10 days later he shut them down again after COVID-19 infections surged.
Gym Bar, another popular gay bar, located at 8737 Santa Monica Blvd., announced its permanent closing in July, with its owners saying that the property owner, Elias Shokrian of Calitex LLC in Beverly Hill, had been uncooperative in negotiating a way for them to pay their rent.
Rage's popularity has waxed and waned over the years.  In 2014, Michel Thomas, who had worked as a promoter of events at Rage for 11 years, bought the business from Maghame and Sattari, making him the first gay man to own the gay bar.  Thomas had launched events such as GAMeboi, which catered to gay Asian men, and Rage also hosted special nights for other ethnic groups.  Thomas boasted that his acquisition meant that Rage would be gay-owned and -operated. " "I have a problem with a straight establishment trying to make money off of gay people," he said in an interview with WEHOville.
But Overstreet objected to the sale of the business to Thomas, pointing out that the lease on the property required Maghame and Sattari to get his approval before selling the business that occupied it. Thomas was forced out.
Overstreet has a reputation for being a tough negotiator. Squatriglia, in an announcement of the decision to close Flaming Saddles, said she "thought I worked out deals, and we were watching the science carefully as well as city and state regulations. We wanted to make sure it was as safe as possible before we attempted to re-open our doors. Overstreet declined to comment to WEHOville.
Overstreet has many real estate holdings in West Hollywood, including the real estate at 8220 Santa Monica Blvd., home to the Out of the Closet thrift store and the Gold Coast bar on the corner of Santa Monica Boulevard and North La Jolla Avenue; 8246 Santa Monica Blvd., the location of La Jolla Jewelry; 8525 Santa Monica Blvd., where the Healthy Spot pet grooming business is located; 8861 Santa Monica Blvd., the location of the Chi Chi LaRue's gay adult products business; 8869 Santa Monica Blvd., home to Z Pizza; 8917 Santa Monica Blvd., home to the now-closed Halal Brothers, 9085 Santa Monica Blvd., the location of the Beverly Hills Karate Academy, and the parking lot at 814 Larrabee St.