Tony Valenzuela has announced that he is stepping down as the executive director of the Foundation for a National AIDS Monument (FAM).
FAM is a West Hollywood-based non-profit, created in 2014, whose goal is to raise money to create a memorial to those who have died of AIDS in West Hollywood Park.
"After serving two years as FAM's executive director, I will be leaving my position at the Foundation for The AIDS Monument at the end of my current term on September 30, 2020," Valenzuela said in an email message announcing his resignation. "I'm honored to have been a part of a dynamic team of board and staff members that is bringing STORIES: The AIDS Monument to West Hollywood Park. I'm deeply grateful to the donors and funders that have contributed so generously to make this dream a reality, to the City of West Hollywood for its outstanding partnership, and to the many city employees and officials I've had the pleasure of working with while at FAM. The AIDS Monument would not be possible were it not for all of you."
Valenzuela previously served for nine years as executive director of Lambda Literary, a non-profit organization whose mission is to promote lesbian, gay, bisexual and transgender literature through programs that encourage development of emerging writers.
"During my tenure as executive director, I am proud to have led FAM during its successful completion of the capital campaign to fund construction of the AIDS Monument, guided FAM's organizational development for future success, advanced FAM's vision for its programmatic future, and been among the founders of the Collaborative of AIDS Memorial Sites (CAMS), a national coalition of AIDS memorial organizations," Valenzuela said. "As a longtime activist and nonprofit professional in HIV/AIDS and arts communities, I believe STORIES: The AIDS Monument will play a central role in guaranteeing that our loved ones lost to AIDS are never forgotten, and that the lessons learned from our HIV/AIDS activism will continue to inform and guide new generations of leadership."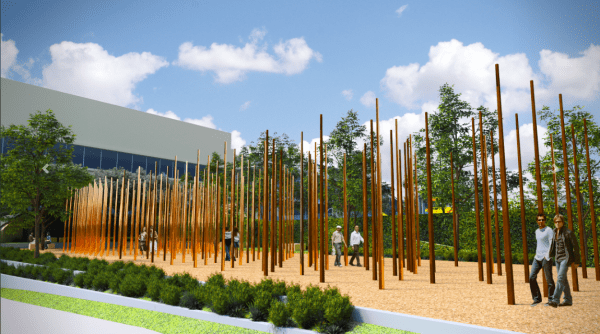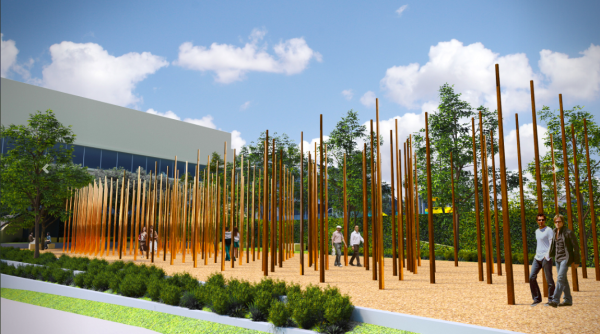 In an email message to WEHOville, Mark Lehman, chair of the FAM board, said: "We're certainly going to miss Tony, and he has done a great job for FAM and the community. Given COVID-19, FAM will proceed slowly in deciding when to bring on new staff. We are excited, however that Tony will be leading FAM in a strategic planning session before he leaves, which will assist FAM's board of directors refine its goals and needs going forward."
The AIDS memorial is designed by Daniel Tobin, an Australian designer. It is a field of 341 vertical strands on a raised platform between the park and San Vicente Boulevard through which people can walk. Each trace represents 5,000 Americans who have died of AIDS-related causes or who are living with HIV.
The AIDS monument process began in 2012, when the City Council decided to identify a site for the monument in the redeveloped West Hollywood Park. FAM began its capital campaign in 2014. Among its largest donors are Cedars-Sinai Medical Center, which made a donation of $250,000 and pledged an additional $250,000 in matching funds, and Visit West Hollywood, the city's tourism promotion organization, which pledged $250,000 over five years. The City of West Hollywood has put more than $1 million into the project.