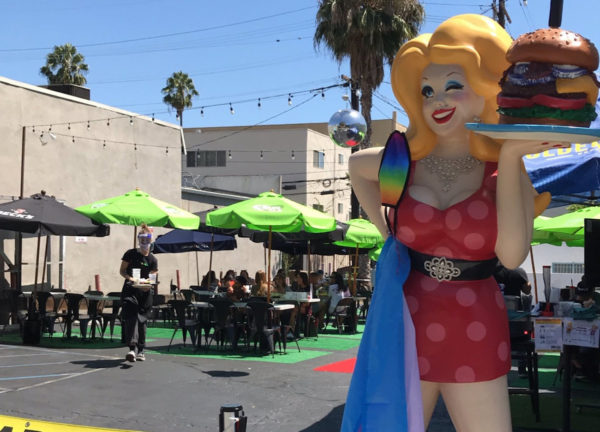 In another potential blow to the reopening of a key West Hollywood business sector, the Centers for Disease Control has issued a report saying there is evidence that dining out  puts people at greater risk of exposure to the COVID-19 virus, even when it is done outdoors.
"Adults with positive SARS-CoV-2 (COVID-19) test results were approximately twice as likely to have reported dining at a restaurant than were those with negative SARS-CoV-2 test results," says the report, which was issued Friday. "Eating and drinking on-site at locations that offer such options might be important risk factors associated with SARS-CoV-2 infection. Efforts to reduce possible exposures where mask use and social distancing are difficult to maintain, such as when eating and drinking, should be considered to protect customers, employees, and communities."
The report comes as West Hollywood continues to expand its OUT Zone program, which has allowed restaurants to put dining tables in parking spaces on the street and in parking.  That program is a response to state and county orders that banned indoor restaurant dining and to complaints from restaurant owners that they couldn't survive financially if only allowed to sell food for delivery and takeout.  West Hollywood is home to more than 200 restaurants, which, along with bars, have been a major attraction for visitors from outside the city.
Questioned about the report by CNN, Dr. Anthony Fauci, the nation's top infectious disease expert, said people shouldn't completely rule out dining at restaurants but should avoid those filled at 100% capacity.
"If I were in a zone that was a zone with significant amount of infection, I would be very concerned about going to a crowded restaurant because the data speak for themselves. Those are where you find the hot spots of infection," he said.
The National Restaurant Association issued a statement critical of the CDC report.  It says the data cited in the CDC report shows a correlation between dining out and people becoming infected with the COVID-19 virus, but not a cause and effect relationship.
"The study tells us that people who were diagnosed with COVID-19 had also dined out," says the Restaurant Association. "There is no clear evidence that the virus was actually contracted at a restaurant versus any other community locations."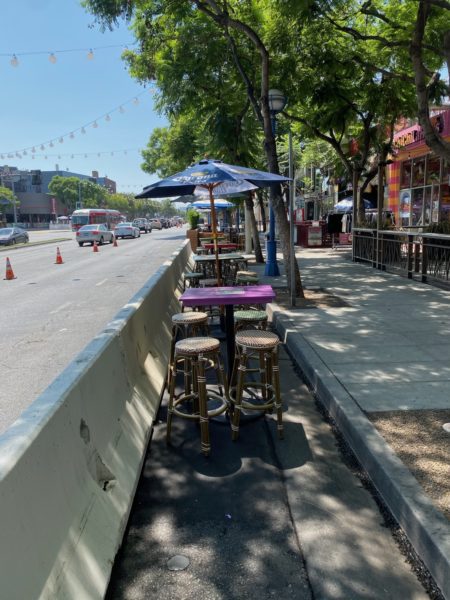 The Restaurant Association also says that risks can be reduced if restaurants follow its restaurant reopening guidelines, which recommend sanitizing measures and social distancing that is required by the Los Angeles County Health Department along with other industry-specific measures.
"We still do not find evidence of a systemic spread of the coronavirus coming from restaurants who are effectively following our Restaurant Reopening Guidance," the Restaurant Association said. "When restaurants demonstrate effective mitigation efforts, the risk is low when dining outside or inside."
So far more than 60 West Hollywood businesses have received permits to create outdoor use temporary zones (OUT Zones), which are for restaurants, barbershops, gyms and other "non-essential" businesses that aren't able to invite patrons inside. At least 38 restaurants already have opened or are in the process of opening OUT Zone dining areas on sidewalks and parking areas. The Abbey on Robertson Boulevard has expanded with an outdoor dining area that it calls The Abbey Road and is in the alley between its Chapel section and the PUMP restaurant.  Connie and Ted's has turned its large parking lot facing Santa Monica Boulevard into an outdoor dining area.  Hugo's, which already has an outdoor dining area along Kings Road, has expanded into the parking lot behind it.  Pure Vita Pizza on Santa Monica Boulevard puts out tables on the sidewalk every afternoon with plastic shields behind them to serve its customers.  Hamburger Mary's has taken over a nearby parking lot.  Laurel Hardware has continued to serve meals in its rear garden area.
To date, the L.A. County Health Department has confirmed COVID-19 infections among employees at two West Hollywood restaurants — Katana at 8349 Sunset Blvd., where five employees had been infected in July, and Laurel Hardware at 7984 Santa Monica Blvd., with three recently confirmed infections.  The Health Department has identified employees of other area restaurants who are infected with the COVID-19 virus.  They include Spago at 176 N. Canon Drive in Beverly Hills, with 11 infections and Frida Mexican Cuisine at 236 S. Beverly Drive in Beverly Hills, with four infected employees.  The Tatsu ramen restaurant at 7111 Melrose near La Brea has had four confirmed employee infections.
Latest COVID-19 Data
The Health Department reported 1,177 new cases of COVID-19 and 29 more deaths Saturday, bringing the county's totals to 253,176 cases and 6,197 fatalities. Of the new cases reported Saturday, 71% are of people under the age of 50 years old.
The number of people hospitalized in the county due to the virus continued to fall, dropping from 889 Friday to 877, levels not seen in the county since the early days of the pandemic in April. Of those hospitalized, 33% were in intensive care.
Meanwhile, the county announced that some COVID-19 testing centers would be closed this weekend due to health concerns stemming from unhealthy air quality caused by the Bobcat Fire. Testing sites at East L.A. College in Monterey Park, the Pomona Fairplex and San Gabriel Valley Airport in El Monte were closed Saturday and Sunday, while the site at College of the Canyons in Santa Clarita will be closed Sunday.
As of today, the number of confirmed infections in West Hollywood has increased by four to a total of 521.  The number of people in West Hollywood who have died of COVID-19 related illnesses remains at five.
In Beverly Hills, the number of confirmed has increased by five to 642. The number of COVID-19 related deaths in Beverly Hills remains at 12. The number of COVID-19 infection confirmed among Culver City residents remains 374. The number of deaths remains at 29. The Health Department reports a total of 1,130 infections in Hollywood, down four from Friday's count. Such reductions usually are a result of errors in identifying a person's place of residence.  The number of deaths remains at 14. The Melrose neighborhood has five new confirmed infections, bringing its total to date to 1,820. The number of COVID-19 related deaths remains at 70.
Public Health has a dedicated call line for confirmed cases of COVID-19. If you are positive for COVID-19 and have not yet connected with a public health specialist or need more information on services, call toll-free at 1 (833) 540-0473. Residents who do not have COVID-19 can continue to call 211 for resources or more information.
One way the virus can be transmitted is through a cough, a sneeze or even through air that comes from the mouth when someone talks. For that reason, residents must wear face coverings when out in public and can be cited for not doing so. The citations come with a $250 fine and a $50 administrative fee.
West Hollywood residents with questions about the COVID-19 pandemic or who are looking for resources to deal with it can find answers on the City of West Hollywood's website. Here is a list of links to sections about particular subjects and issues: