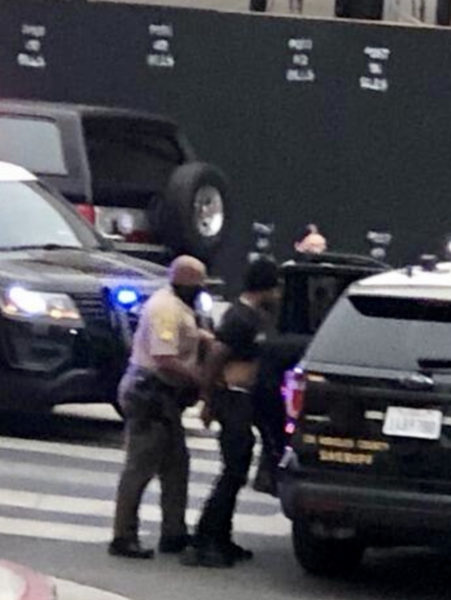 UPDATE: Sept. 17, 10:16 p.m.: The West Hollywood Sheriff's Station reports that three men were arrested in the shooting and robbery incident at 8600 Melrose Ave. They have been identified as Talon Walker of, Phoenix, Ariz., Anthony Dayron Moore of Detroit, Mich., and Dontese Emanuel of Seattle, Wash.
UPDATE: Sept. 12, 3 p.m.: Lt. William Moulder of the West Hollywood Sheriff's Station says that two men were arrested for assault with a deadly weapon (firearm) and carrying a loaded weapon, one for false personation, and one for burglary. The incident took place at 8609 Melrose Ave. in front of the RtA Melrose clothing store.
UPDATE: Sept. 12, 11:30 a.m. Sgt. Jesse Lucero of the West Hollywood Sheriff's Station confirmed today that several people were arrested last night on charges including assault, theft, and illegal possession of a firearm in the incident that took place last night on the 8600 block of Melrose Avenue between Huntley Drive and Westbourne Drive. That block is the location of the RtA Melrose apparel store and the Heroes Motorcycle shop and the now-closed Le Pain Quotidiene restaurant. Lucero said he could not confirm which if any of those businesses were affected. Given that an investigation is ongoing, he said the number of those arrested and their names cannot be released at this time.
The shooting was reported about 6 p.m. on Melrose Avenue between San Vicente Boulevard and La Cienega Boulevard, according to Deputy Eric Ortiz of the Los Angeles County Sheriff's Department.
Neighbors told KCAL9 a group of young people were at the corner shortly before the shooting.
All of a sudden we heard seven gunshots, and then police fled down the street kind of immediately," witness Matthew Jones said. "After a few moments, there was this BMW that sped by, clipped two cars to go toward the scene, and then just sped away."
People were advised to avoid that stretch of Melrose Avenue, along with Huntley Drive between Melrose Avenue and Santa Monica Boulevard, according to the West Hollywood Sheriff's Station.
Multiple people were taken into custody in the area, KCAL9 reported, but their involvement in the shooting was not immediately clear.
One business was struck by the gunfire, according to KCAL9.