Keeping renters in their homes and getting the local economy going again amid the COVID-19 pandemic are the two most urgent issues facing West Hollywood right now. That was the general consensus among the nine candidates vying for the two open seats on the West Hollywood City Council in the November 3 election during a candidate's forum held Wednesday night.
WEHOville sponsored the two-and-a-half-hour debate held virtually on Zoom and broadcast live on YouTube. Activist and public policy analyst Chris Bowen moderated the debate, reading 11 questions which he and WEHOville publisher/editor Henry Scott wrote. Readers wanting to watch the video of the debate can access it on Youtube by clicking here.
While there was general agreement about protecting renters and the businesses, incumbent Councilmember John Duran phrased it as "we're in triage and salvage, trying to keep as many people afloat as possible." He added that it is important the city maintain the "brands" West Hollywood is known for – the Sunset Strip and the Boystown district – so tourists will have a place they want to come to once the pandemic is over to pump money into the local economy.
Along those same lines, challenger Marco Colantonio said it is also of utmost importance to maintain the city's operating budget, one heavily dependent on tourist dollars from hotel taxes, so the city can continue to offer rental assistance funds to renters in need.
However, challengers Jerome Cleary and Mark Yusupov both said public safety, along with housing issues, were of utmost importance. Cleary added that addressing homelessness was tied to public safety.
Candidate Larry Block also said housing issues were important, specifically saying allowing senior residents to age in place was essential. Block also suggested stopping gentrification by creating affordable housing co-ops for tenants to become owners of their units was vital.
Meanwhile, John Erickson named climate change as the most urgent issue, stating the wildfires ravaging the Western United States and the smoke currently covering the Los Angeles basin are due to climate change.
Helping Renters and Businesses
On the matter of helping renters and businesses get through the pandemic, Duran pointed out that he authored the eviction moratorium for both residents and commercial tenants, something incumbent Councilmember John Heilman also supported. Both also noted they supported the city's rental assistance program, which provides funds to residential tenants unable to pay their rent.
Cleary said the paperwork involved in applying for those rental assistance funds can be intimidating and suggested the city should do more to help residents know about the program and how to fill out the forms.
Challenger Sepi Shyne urged the city increase the amount offered in that rental assistance program beyond the $1,000 a month currently offered (with a three-month linit), while also doing more to protect residents from landlord harassment.
Colantonio said the city should look to what other cities are doing for creative ideas to bring people to West Hollywood to spend money at local businesses, suggesting that establishing a business task force to develop inventive ways to promote the city.
Meanwhile Erickson said the city needed to do more to address food insecurity among residents who don't have the money to buy food.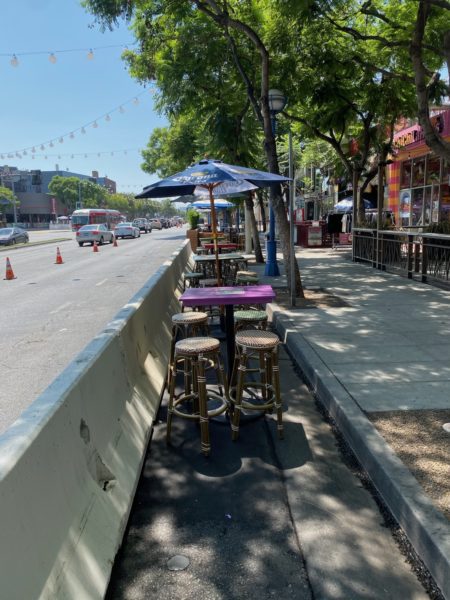 Transportation and OUTzones
Incumbents and challengers alike favored continuing the OUTzone program where the city installed K-rails in parking spaces to create more space for restaurants to serve diners outside. Several want to see the program expanded.
As for transportation, none favored reducing the number of lanes of traffic on the major arteries at rush hour. Shyne said if the city were to ever reduce traffic lanes, that should be done when the Metro subway line is opened in West Hollywood, not before.
Challenger Noemi Torres said that expanding the bike lanes in the city is needed, noting that bicycle riding isn't safe in places where there are no bike lanes.
 Block added that any new bike lanes the city creates should be protected bike lanes (separate from automobile traffic lanes). Meanwhile, Cleary urged synchronizing the traffic lights so traffic will move better.
Homelessness
On the question of homelessness, Block said he  is disturbed the city's current homeless services provider, Ascencia of Glendale, does not offer nighttime or weekend outreach to help those in need and suggested the city change providers when the current homeless services contract expires. Cleary and Heilman both concurred. Colantonio said creation of homeless outreach street team was vital.
Several challengers said the city should create transitional housing to help both those in danger of becoming homeless and those coming out of homeless situations. Shyne suggested the city draw on Measure H money (voter approved tax money dedicated to helping homeless people) to build transitional housing. Heilman concurred that more money should be spent to create the transitional housing. Meanwhile, Erickson said he supports transitional housing but noted when it comes time to approve a location for such housing, residents will likely complain about not wanting it in their neighborhood.
Duran noted that transitional housing would work for those who become homeless because of a loss of income due to a job, but said many people are homeless because of mental health issues. He said the state laws need to be amended so homeless people can be forced to go to places where they can get mental assistance,  Heilman concurred with that as well.
Shyne suggested the city move the homeless services drop-in center away from the library, while also urging the city establish some 24-hour location where homeless people can shower and use the bathroom.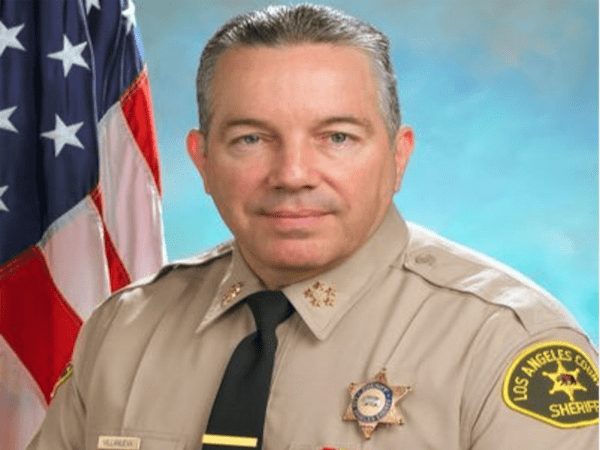 Sheriff's Department and Public Safety
Addressing the matter of the city's contract for services with the LA County Sheriff's Department and problems with some deputies, Block suggested creating a joint Beverly Hills-West Hollywood Police Department.
Several others preferred keeping the sheriff's department, but suggested greater sensitivity training for the deputies. 
Shyne even suggested going beyond sensitivity training to do anti-racism training.
Colantonio recommended quarterly or even monthly evaluations of deputies, noting that if deputies know they are being routinely scrutinized, they will be more responsive to residents.
However, Duran noted that the city can have problem deputies transferred to other cities. Heilman said the city should work to make sure problem deputies aren't even employed by the sheriff's department anywhere, noting that it was West Hollywood which forced the LA County Sheriff's department to add sexual orientation to its non-discrimination list many years ago.
Sheriff Alex Villaneuva has come under fire for various misdeeds including blocking the County Coroner from releasing information about people who died at the hands of deputies, refusing to comply with subpoenas from the Civilian Oversight Commission and failure to release documents under the Freedom of Information Act (the LA Times is suing over that). Consequently, Villaneuva was also discussed.
Duran summed up the situation by saying, "Villaneuva has been a disaster."  However Duran stressed his support for the Sheriff's Department and noted his endorsement by the deputies union, which is a strong supporter of Villanueva. Shyne urged the City Council take a stand on Villaneuva's poor leadership (something the City Council so far has refused to do), while Torres said that Villaneuva should be reassessed.
Candidate Mark Yusupov urged improving public safety with greater funding for the Block by Block security ambassadors foot patrols and bike patrols so they can expand services and be more familiar with the neighborhoods. He also suggested more funding for the sheriff's department's Mental Evaluation Team (MET) to help residents. Meanwhile, Shyne noted that improved street lighting on residential streets could go a long way to improving public safety.
Taking Stands on Non-Local Issues
Over the years, the City Council has taken stands on international issues such the dog meat market in Wuhan, China, the University of North Carolina's gender-specific dormitory policy, and Japan's violation of international whaling agreements. A question posed was whether the City Council should instead focus on local issues like Sheriff Alex Villaneuva's poor leadership, Likewise city officials traveling to international conferences also came up.
Heilman defended the city's actions saying that "for a small city we've had much larger impact than similar sized cities," noting that a lot of movements get started at the local level and West Hollywood supporting such movements has helped to give them momentum.
Duran noted that West Hollywood has been a leader on LGBT issues as well as many HIV/AIDS related issues and that city officials often lead workshops at conferences where they provide guidance for how other cities can handle issues. He also noted that conferences are intended as places where leaders network and share ideas.
Cleary said the city has been and should continue to be the standard bearer for civil rights issues.
Yusupov contended other cities look to West Hollywood as a progressive beacon especially on issues of diversity and minority rights.
Others felt the City Council should stay focused on local issues, Torres saying the city has to deal with local priorities first and foremost.
Meanwhile, Block noted his campaign slogan is "Think Local, Think Larry," pledging that local issues are his focus and he is not interested in using the City Council as a stepping stone for higher offices.
Chamber of Commerce Funding
Another was whether the city should be funding the West Hollywood Chamber of Commerce when the Chamber's Political Action Committee (PAC) endorses candidates for City Council.
Several candidates argued that the Chamber PAC is separate from the Chamber of Commerce (although it is composed of Chamber members and carries its name.).  Heilman noted that the city only funds about 5% of the Chamber's budget and that it contracts for specific services.
Twas unanimous praise for the work the Chamber and its president Genevieve Morrill does, especially since the pandemic began.
Raising Campaign Donation Limits
In February, the City Council raised the maximum an individual can donate to a local candidate from $500 to $1,000, per the recommendation of the city's Ethics Task Force. Candidates were asked to weigh in on the ethics and the optics of this.
Block blasted the move, noting it came at the start of this election's  fundraising and benefitted the incumbents the most. He pledged that if he's elected, he'll push for publicly funded elections.
Colantonio called it an "abominable decision" that gave special interests ways to buy the election. Cleary noted the special interests and developers have corrupted the political system. Yusupov felt if candidates want to serve the city, they should only take money from residents, not any outside interests.
Torres said she is running a grassroots campaign, so the maximum donation level is irrelevant. Shyne said she supports raising the limit to $1,000, but believes developers should be limited in how much they can donate. Shyne noted she's also running a grassroots campaign, but nonetheless has managed to raise $56,000.
Meanwhile Duran explained raising the limit was a way to help others compete. He explained that in West Hollywood, most campaigning is done via mailers, which are expensive. Heilman noted that raising the limit was suggested by the Ethics Task Force as a potential way to keep special interest PACs out of the election.
Along similar lines, the issue of behesting (candidates soliciting donations from city vendors and developers to nonprofits they are associated with) was also raised.
The challengers condemned the practice noting that the optics look as if its is a "pay to play" move where Council members will support a developer or vendor's project if they donate to the nonprofit. Yusupov said influence money should be taken out of politics while Torres called for greater transparency when such money is donated.
Erickson said he is involved with several nonprofits and plans to continue since civil liberties are under attack and money is needed to fight for that. He said greater transparency is what was needed.
However, both Duran and Heilman defended the practice (they are the two Council members most often criticized for behesting). Both said they raise money for causes they believe in and report it to the city clerk, as the law requires.
Council Deputies
The City Council eliminated the council deputy system in 2015 following the "Deputygate" scandal in which the city ultimately paid $500,000 to settle a sexual harassment lawsuit against Duran from his deputy Ian Owens.
Surprisingly, most of the challengers bemoaned the loss of the deputy system, saying that it was effective and that  residents got excellent "customer service" from the deputies in helping to get problems resolved. Several noted that phone calls were returned, something that said frequently does not happen now when people phone City Hall.  
Cleary said he  wished the deputy system could return but with a better way of vetting the people being considered for the job. Erickson suggested creating a field deputy system where deputies are in the community and report back to everyone (not just a specific Council member) about what's going on.
However, Heilman said the new system with several people serving all five Council members rather than a specific deputy for a specific Council member as before) works much better. He said Council members and City Hall employees should be held to the highest standards of behavior.
Duran noted the question was clearly directed at him. He said the independent investigator Steve Rodig's report cleared him of wrongdoing (actually, it said his behavior was inappropriate for an office setting, but did not rise to the level of sexual harassment). He pointed out the voters returned him to office in 2017 and suggested it best to leave that in the past. At the same time, he hoped voters would elect him again since experience is needed to get the city through the pandemic.