It would be laughable, if it weren't so disturbing.
On the West Hollywood City Council's Monday agenda is an item brought forth by Mayor Lindsey Horvath that asks that the city condemn the execution by the Iranian government of Navid Afkari, a popular wrestler convicted of murdering another man who worked for Iran's government water and sewage department. (Horvath's request that the Council condemn Lithuania's government over its shaping of the story about its role in the Holocaust was passed by the Council on Aug. 3).
On that very same day that Afkari was executed 7,809 miles away in the Iranian city of Shiraz, five Los Angeles County Sheriff's deputies were videoed 21 miles away as they pushed to the ground and handcuffed a reporter for KPCC who was covering a protest outside St. Francis Medical Center in Lynwood. Criticism of that incident by the American Civil Liberties Union, the Committee to Protect Journalists, the Reporters Committee for Freedom of the Press, L.A. County Supervisor Mark Ridley-Thomas, and State Sen. Holly J. Mitchell led to Sheriff Alex Villanueva spewing out a series of lies about the incident, lies that have been called out by LAist.com and the Los Angeles Times.
But no statement yet from the Mayor of West Hollywood.
Then on Tuesday, two members of the Los Angeles County Board of Supervisors — Sheila Kuehl and Mark Ridley-Thomas — joined Civilian Oversight Commission member Robert Bonner in demanding that Villanueva resign. (Kuehl's district includes West Hollywood). It was the latest condemnation of a Sheriff who, since taking office in 2018, has worked to dismantle reforms put in place by his predecessor, Jim McDonnell, who has re-instated deputies fired for violent and other bad behavior, who has refused to comply with subpoenas from the Civilian Oversight Commission, who has been less than transparent about the killing by deputies in June of 18-year-old Andres Guardado, or the killing by deputies earlier this month of a Black man who was stopped for riding his bike in the wrong direction. He is the Sheriff with whose department the City of West Hollywood has a $20 million a year contract for public safety services.
But no statement yet from the Mayor of West Hollywood.
Readers of WEHOville's earlier editorial — "Opinion: Lithuania. Yuhan, China. Donald Trump. But What About Alex Villanueva?" — may wonder why I am bringing this issue up again. (And yes, I'm certain it will lead some elected officials to demand that the City of West Hollywood stop advertising with WEHOville. No worries, we're doing fine.) But I think the more appropriate question is: Why is the Mayor of West Hollywood still not addressing the issue?
Horvath says she is working with the Contract Cities Association of California, where she serves as president, to address law enforcement reform issues. I'm hopeful that that quiet, behind-the-scenes series of discussions has an impact a few years from now. But what about today? What about speaking up and out now about the man who now symbolizes the issues that have led to an increase in public distrust of law enforcement? A man who in so many ways makes one think of Donald Trump.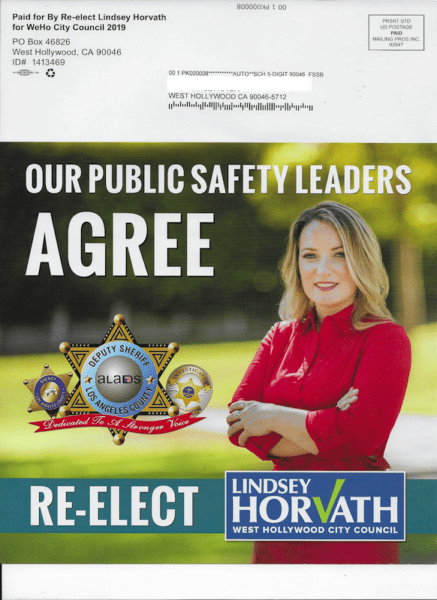 We know that Mayor Horvath has bigger political aspirations. And in Los Angeles County, taking a stand against Villanueva will upset the Association of Los Angeles Deputy Sheriffs, the powerful union that helped Villanueva defeat McDonnell and whose support is considered important by ambitious politicians (Councilmember John Duran is bragging that he got its endorsement for the upcoming election. Horvath got its support in the 2019 election). I'm also sure there are members of the affluent Persian community in Southern California who will appreciate Horvath's stand on the execution of Navid Afkari.
But at the moment, Lindsey Horvath is the Mayor of West Hollywood. Her rumored plan to run for Sheila Kuehl's seat as L.A. County Supervisor for the 3rd District in 2022 is still a few years away.
Let me be clear. I am not arguing that members of the West Hollywood City Council should vote against Horvath's proposal to condemn Iran over the execution of that popular wrestler (after all, I don't know whether he really killed that water and sewage worker or not).
But I would suggest that City Council members who really believe they should focus on our community and its issues abstain from voting on Item 2Q.  And I'd also recommend that anyone with the guts to do it actually ask that a resolution condemning Villanueva's behavior be put on the next City Council agenda.
But I am not holding my breath.