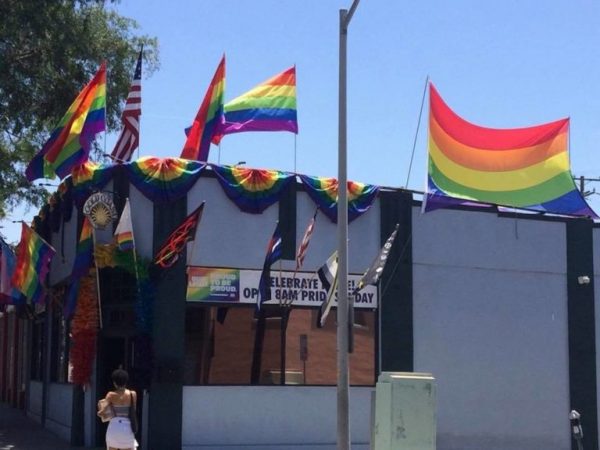 Gold Coast, one of gay West Hollywood's most popular bars, is closing. Bryan Worl, co-owner of the bar, confirmed the closing in a post on Facebook today. "
"This is heart breaking for all and especially the employees of the GC who I wouldn't trade for the world," Worl wrote. "They were so loyal and worked so hard.  I can't even start with the customers right now and what unconditional love you gave to this little neighborhood dive bar."
Bob Hastings opened Gold Coast in 1981. Over the years, the bar, which sits on the southeast corner of Santa Monica Boulevard and North La Jolla Avenue, became popular for its down-to-earth, neighborhood vibe and inexpensive drinks.  It became what is known as a "dive bar," a term that has evolved to describe a bar known for its welcoming atmosphere and lack of pretension.
Worl, who has been Hastings' partner in the enterprise for 26 years, said that beginning Saturday they would begin cleaning it out, with the front door and the back door open. "If you want to stop by and say hi or come in for a quick pic or last goodbye…I feel a lot of people would like that … just make sure you have a mask..with the luck we are having the health dept will stop in…A lot of people called the GC home, and we just want everyone to have a chance to say goodbye," he said.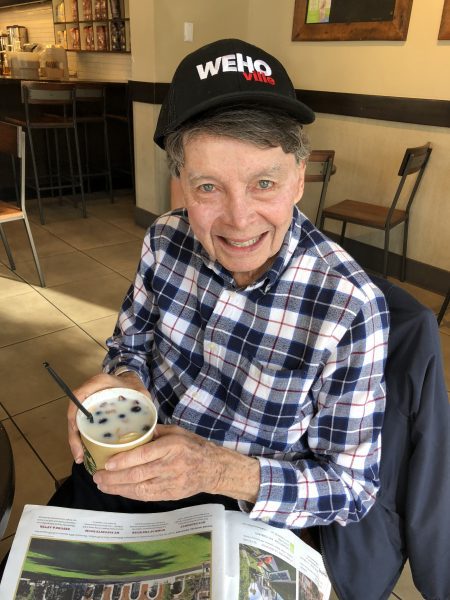 Gold Coast is the fourth popular gay bar on Santa Monica Boulevard to close since the beginning of the COVID-19 pandemic.  It, Rage, and Flaming Saddles, are all owned by Monte Overstreet, a gay man some call the "king of Boystown" in reference to his real estate holdings. The other popular bar that closed is Gym Bar, located at 8737 Santa Monica Blvd., whose landlord is Elias Shokrian of Beverly Hills.
In his Facebook post, Worl said of the closing: "We do not have a choice … We have fought and tried everything in our power to keep this bar and dealing with pressure from very very selfish and heartless people. "
Worl also complained about people spreading the news of the closing before he and Hastings, who lives in Palm Springs, could let Gold Coast employees know.  Gold Coast is one of the few bars in West Hollywood whose staff has been on the job for a long time.  One of its most popular D.J.'s, Jeff Spain, has been performing there for 32 years.
Gold Coast also is known for its annual Red Dress Party.  That started with a vow many years ago between two Gold Coast bartenders, Mark Ferguson and Yves-Claude, who both were HIV positive and, given the lack of effective treatment at the time, were in and out of the hospital. Their grim and yet humorous pact was that when one of them died, the other would show up at the memorial service in a red dress.
When Mark Ferguson died from HIV-related complications in 1997, Yves-Claude happened to be out of town. But, not one to renege on his promises, Yves-Claude decided to take it to a higher level. He decided to celebrate his friend and co-worker's life with a party at Gold Coast at which everyone was invited to wear a red dress.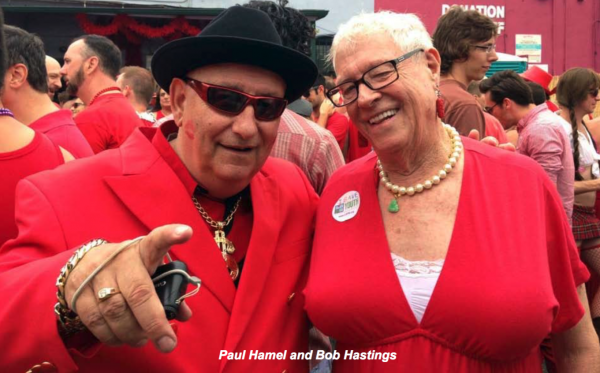 The Red Dress Party has been held at Gold Coast every July for since then, which some of its proceeds going  to a gay-related charity. Paul Hamel has chronicled the event in his book "Drag Queen for a Day." The book, which can be purchased online, contains photos of the event that were taken by Hamel from 2003 to 2013.