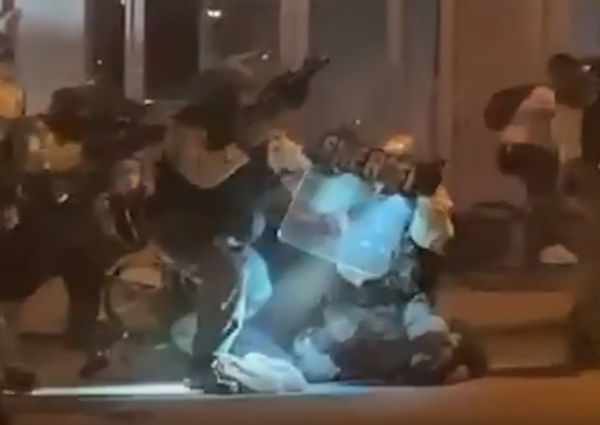 The L.A. County Sheriff's Department is conducting an investigation into an incident Friday in which a West Hollywood Sheriff's deputy is seen hammering a person on the legs and ankles multiple times with a riot shield while the person was face-down on the ground and not resisting arrest.
The attack on Sunset Boulevard took place during an aggressive response by Sheriff's deputies to people marching to protest the recent decision by a Louisville, Ky., grand jury to not indict a police officer who shot and killed a 26-year-old emergency medical worker during a botched "no knock" raid on her apartment on March 13. The decision not to issue an indictment in the death of Breonna Taylor, a Black woman, has sparked another wave of demonstrations around the country and in Los Angeles County against violent police behavior against Black people.
The assault by the deputy has attracted the attention of a variety of media including TMZ and the U.K.'s the Daily Mail, which erroneously described the deputy as an officer with the Los Angeles Police Department. Other deputies were seen firing rubber bullets into the crowd of demonstrators, with some protestors claiming they had been fired on before being asked to disperse. A video of the assault was posted on Instagram and has gotten thousands of views.
This is what I was filming last night when the LA County Sheriff lit me up in West Hollywood. They are beating a protestor, who is already on the ground and not resisting, with their shields. Full video to follow on @StatusCoup pic.twitter.com/lgKYHi85nb

— Lefty-Desiree McLeftyFace Slaps Otter Pops (@TinaDesireeBerg) September 26, 2020
Five of the six protesters arrested on Friday have been cited and released, a watch sergeant at the West Hollywood Sheriff's Station said Saturday. The sixth protester remains in custody on a separate charge that could not be cited out, according to the watch sergeant. The sergeant did not immediately know what the charge was. The watch sergeant told City News Service that he knew nothing about the video of the deputy assaulting the protestor, but the Los Angeles Times cited a department spokesman who said the department was aware of the video, and that an investigation was being conducted into the use of force during Friday night's arrests.
Meanwhile, more Southland demonstrations in Taylor's name were planned or held this weekend, including a Saturday morning march in Hollywood, a candlelight vigil Saturday at the Sherman Oaks Galleria on Ventura and Sepulveda boulevards, and a planned 11 a.m. rally Sunday in La Canada Flintridge, at the intersection of Angeles Crest Highway and Foothill Boulevard
It was at 7 p.m. Friday that demonstrators had gathered on De Longpre Ave near William S. Hart Park in West Hollywood. As many as 100 marchers headed southbound on La Cienega Boulevard and turned west on Santa Monica Boulevard to head to its intersection with San Vicente Boulevard.  Meanwhile, Sheriff's deputies had blocked off Sunset Boulevard, where an organizer of the De Longpre gathering told WEHOville that she expected those demonstrating on Vine Street in Hollywood would be marching.
During the protest on Sunset Boulevard, "several acts of vandalism took place, at which point an unlawful assembly was declared and an order to disperse was issued to the protesters," Sheriff's Sgt. Jennifer Roth said. "After the order was given, two pickup trucks were seen driving recklessly on Sunset Boulevard with multiple subjects hanging out of the truck beds. Both vehicles then blocked traffic taking over the street on Sunset Boulevard, near San Vicente Boulevard.
"Deputies approached and detained approximately 10 adults. Six adults were subsequently arrested," she continued. "The charges included reckless driving, unsecured passengers in a truck bed, taking over the streets, battery on a peace officer, lynching, resisting/obstructing deputies, and failure to disperse."
California Penal Code 405a PC defines lynching as "a person who participates in the taking by means of a riot of another person from the lawful custody of a peace officer," according to the California state Legislature.
The City of West Hollywood hasn't issued a statement on the deputy's assault on the protestor on Sunset Boulevard. WEHOville has reached out to Mayor Lindsey Horvath for a comment but as of publication she had not responded. West Hollywood officials have been reluctant to speak out about allegations of police misconduct. However, Council members John D'Amico and Lauren Meister recently asked the city to report back on issues with Sheriff Alex Villanueva, a move that Councilmember John Heilman said he supported.
However, U.S. Rep. Adam Schiff (D-Burbank) did issue a statement on the Breonna Taylor decision.
"Breonna Taylor was sleeping when police raided her apartment and killed her. She deserves justice. Breonna — and all Black Americans — deserve a system of policing that prioritizes justice and dignity over fear and bigotry, so a tragedy like this never happens again," he tweeted Thursday.
Black Lives Matter founder and Executive Director Patrisse Cullors, who is based in Los Angeles, said she was "completely mortified that our criminal justice system has failed Breonna Taylor, her family and friends, and frankly, it has failed our country."
"We are going to continue the work that we have started in the name of Breonna Taylor and countless Black lives cut short at the hands of police brutality, systemic racism, and white supremacy," Cullors said.