Two separate protests against police violence against Black people took place in West Hollywood tonight — one featuring a peaceful procession of people and cars from De Longpre Avenue down La Cienega and onto Santa Monica Boulevard with no police in sight, and the other a protest on Sunset Boulevard in which helmeted Sheriff's deputies were videoed shooting protestors with rubber bullets and apparently assaulting one with a plastic riot shield.
Both protests were in response to a decision Thursday by a grand jury in Louisville, Ky., to not prosecute a police officer who shot and killed Breonna Taylor. Taylor, a 26-year-old Black woman, was shot and killed on March 13 by the officer during a botched raid on her apartment. The officers burst into her apartment in search of a man — someone Taylor had once dated — who they thought had been involved in an illegal drug deal. Hearing the break-in, Taylor's boyfriendfired his gun, which led to the officers firing theirs and killing Taylor.
More than 100 people gathered on De Longpre Avenue behind Hart Park tonight to begin a march protesting police violence against Black people. The protestors marched from De Longpre to Fountain, where they headed west to La Cienega. They then headed south to Santa Monica Boulevard, where they turned west to march to the intersection with San Vicente. No law enforcement officers were present.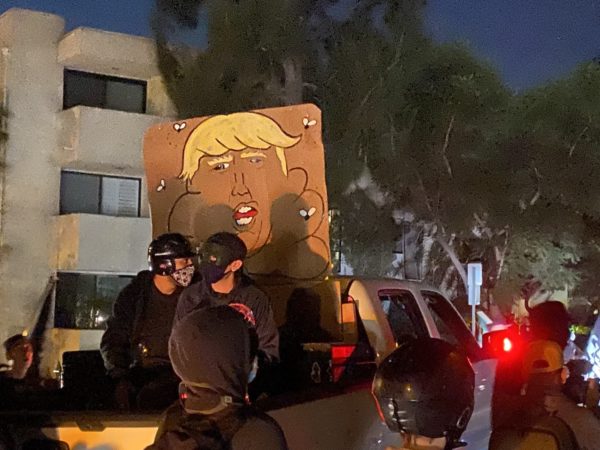 The march included dozens of cars and pickup trucks, which one of the organizers said were intended to protect those who were protesting on foot. In explaining that protection, one speaker called out the incident on Thursday in which the driver of a pickup truck drove into a similar protest on Sunset Boulevard in Hollywood, seriously injuring one of the protesters.
The protesters tonight repeatedly demanded "justice for Breonna" and chanted that "Black lives matter.". However, this protest wasn't organized by the official Black Lives Matter group. One of the organizers, who declined to give her name, said there were five individuals representing different groups who cooperated in organizing the protest.
The protestors were for the most part young men and women, and of a variety of ethnicities. And they wore face coverings. Like the similar protest that took place on Sept. 19 at the intersection of Santa Monica and San Vicente boulevards, this one not only featured a number of rhythmic chants denouncing the police but also included a little music from the DJ in the lead pickup truck.
When they arrived at the intersection of Santa Monica and San Vicente boulevards, there were dozens of sheriff's deputies standing across San Vicente near the West Hollywood Sheriff's Station. They were wearing helmets and carrying riot shields and backed up by military-looking vehicles. Deputies lined the westbound lanes of Santa Monica Boulevard at Robertson to keep the march from proceeding there.
The protest on Sunset Boulevard apparently began at 5 p.m. in Hollywood at the intersection of Sunset and Vine Street. The West Hollywood Sheriff's Station had announced that it was closing Sunset Boulevard to traffic beginning at 7 p.m. when the demonstrators were expected to enter WeHo.
When the marchers entered West Hollywood on Sunset they encountered Sheriff's deputies that were helmeted and armed with so-called "non-lethal" rifles. That march ended with Sheriff's deputies firing rubber bullets at protestors, which was depicted in several videos posted on Instagram and shown below. In one video an officer appears to be assaulting someone with a plastic riot shield. Six demonstrators including those on a pickup truck that was part of the march, were arrested by deputies.
"Several acts of vandalism took place, at which point an Unlawful Assembly was declared and an Order to Disperse was issued to the protesters," said Sgt. Jennifer M. Roth of the West Hollywood Sheriff's Station. "After the order was given, two pickup trucks were seen driving recklessly on Sunset Boulevard with multiple subjects hanging out of the truck beds. Both vehicles then blocked traffic taking over the street on Sunset Boulevard, near San Vicente Boulevard," Roth said.
"Deputies approached and detained approximately 10 adults. Six adults were subsequently arrested," she said. "The charges included reckless driving, unsecured passengers in a truck bed, taking over the streets, battery on a peace officer, lynching, resisting/obstructing deputies, and failure to disperse."
California Penal Code 405a PC defines lynching as "a person who participates in the taking by means of a riot of another person from the lawful custody of a peace officer," according to the California State Legislature's web site. The Sheriff's Station is conducting a "use of force" investigation, which is typical in a situation where deputies use force.
The videos attracted thousands of views, and many comments from people criticizing the deputies for their use of weapons to stop the protest.
#US: Police in West Hollywood, California brutally beat and repress anti-police impunity protestors, pedestrians, and drag motorists out of their cars. In latest series of human rights abuses. (📹@PplsCityCouncil) #JusticeForBreonnaTaylor #BlackLivesMatter pic.twitter.com/DBiF6fjdQV

— Anonymous (@YourAnonCentral) September 26, 2020
Well there's the attack pic.twitter.com/dcj83zu9dp

— Border Photog #blm (@desertborder) September 26, 2020
Clearer footage of LASD rushing protesters in WeHo tonight. LASD had issued dispersal orders before this.

You can clearly see a deputy striking a protester's leg with his riot shield.

According to @buffalobaff, who filmed this, LASD fired on press and NLG. pic.twitter.com/QD905xR4GG

— Samuel Braslow (@SamBraslow) September 26, 2020