Welcome to the Suite Life. As featured co-host Maxine Tatlonghari extends her residency, she and host Tracy Paaso podcast for the first time on location at Andaz West Hollywood.  The GM Matt generously offered to have the girls in to see the drive-in set up first hand, spend a bit of time at the pool after work during this triple digit heatwave and podcast from the Tutti Frutti Suite aka Little Richard's Room (he was a resident for 20+ years) at the former Riot Hyatt. It's amazing how "work from home" takes on a whole new meaning when high atop Sunset Boulevard with sweeping views – staycation style.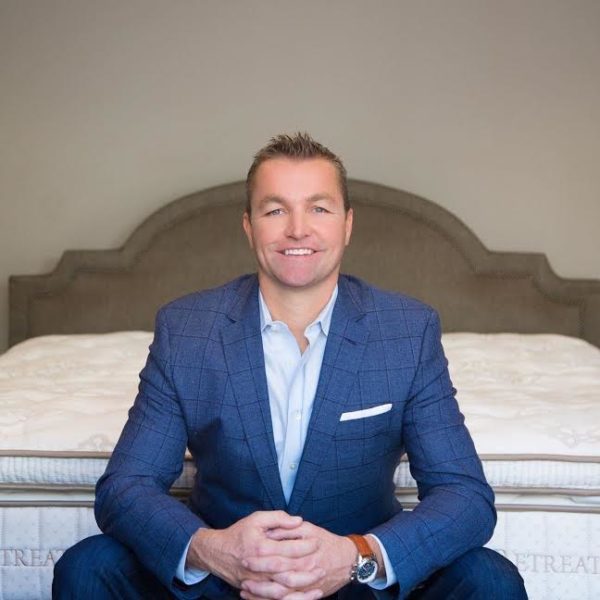 Neighborhood
Custom Comfort: The girls welcomed co-owner Gary Trudell to talk all things mattress/sleep/rejuvenation. As a community leader (and lover) of the West Hollywood Design District, Gary shares helpful mattress-shopping tips for our listeners as well as his insider pics for some of his favorite neighborhood spots. You may remember that Tracy and Maxine shared some sleep tips at the end of Episode 22, and a good mattress was key to optimum zzzzs. Gary and his team offer private appointments and concierge-level service to help you find the exact fit for your needs.
Amazon Pop Up: The first iteration of the concept store features the latest from Samsung and a peek at Amazon's new furniture line called Rivet. We're excited to see what other brands they bring to life in future activations right across the street from Urth Cafe. 8551 Melrose Ave.
Food & Fashion
La Peer Hotel: Lauren, Tracy and Tallahassee headed into the La Peer hotel last Sunday to enjoy Soosh for your Pooch and a bit of shopping via the GBK activation. Tracy noted it was relatively quiet at the hotel, which makes Maxine willing to venture out for girl's night out shortly. We'll let you know what the Olivetta holiday residency looks like on a Thursday evening.
Tracy's Cravings: It's official. Tracy cheated on Maxine not once, but twice, this week to check out Found Oyster and Andrew's Cheese. She declared both spots "worth the drive." Tracy's cheese obsession also continues locally and identifies AOC and Conservatory as two must-nosh places in the city.
National Taco Day: Tell me I'm pretty and feed me tacos. We've seen it on more than one Tinder profile, so we are excited that this Sunday is National Taco Day. Check out Sugar Taco serving $1 tacos with purchase of any drink and Marvito with a $30 all-you-can-eat fiesta complete with a DJ. We invite you to share your favorite taco spot in the comments down below to help design the perfect taco adventure.
Health & Wellness
Society Salon: This Melrose spot boasts some of the best blowouts in L.A. It doesn't hurt that owner Sam gives us serious Ruby Rose vibes and that the salon is practicing great COVID compliance.
Pressed Juicery: As Tracy gets ready for Libra birthday season, her holistic health practices are in overdrive. She finds herself a new monthly member of Pressed Juicery with a monk-fruit lemonade and chlorophyll water habit.
You'll Be Missed
We're sorry to bid adieu to the following businesses:  PVolve, GNC and Gold Coast Bar. Thank you for your years of service and fun times and wish you the best as you reinvent.
Bored in the House?
DP Hue: Maxine isn't quite ready for the salon yet, so she is opting for a self-care Sunday with her favorite Italian dye brand in Dark Brown. The conditioner is also a must try for those newly minted DIY hair stylists.
Love Island: Sorry not sorry. The US Summer 2020 version of the UK runaway hit will announce its winners this week, and Maxine is sincerely crossing her self-manicured fingers that #jaleb will win. This couple is mutually respectful, emotionally mature and just damn cute #goals. It's nice for some light-hearted TV watching after catching the first Presidential debate.
That's a wrap for this week. What about you? What are you loving and who would you like us to talk to next? Please drop it in the comments down below and make sure to subscribe to the podcast and follow them on Instagram.
Catch us next week and thank you once again to Andaz West Hollywood for the #workfromsuite experience.